Biscuits are a family favorite to eat for breakfast or to serve instead of regular bread with hearty, comfort-food meals. If you ever find yourself with leftover biscuits, you'll be excited to learn there are a number of creative ways you can give them a little upgrade.
Sure, you could just reheat them and serve them the same way you did to start with, but where's the fun in that? Mix things up with these creative and tasty ways to use leftover biscuits, and no one will ever suspect they're actually leftovers.
Freezer Breakfast Sandwiches
For a tasty make-ahead breakfast, use leftover biscuits to assemble breakfast sandwiches for the freezer.
Slice each biscuit in half and top them with your favorite breakfast meat (ham, bacon, Canadian bacon, etc.), scrambled eggs, and cheese.
Wrap each sammie individually in plastic wrap and store your upgraded biscuits in a freezer bag until needed.
Take the number you need out of the freezer the night before and thaw in the fridge.
Before eating, unwrap, cover with a damp paper towel, and microwave on the defrost setting (50%) for a minute, then turn over and repeat. What an over-easy breakfast!
Biscuits Benedict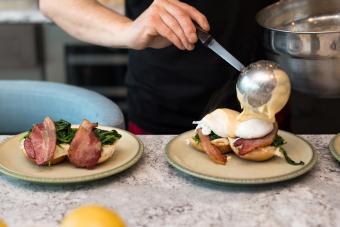 Throw together a leftover biscuit benedict recipe by first whipping up a rich, delicious Hollandaise sauce.
While the sauce is cooking, slice your leftover biscuits in half and heat them in the oven (10 minutes at 325°F) or microwave (one to two minutes at 50% power).
Top each biscuit with a few slices of bacon and some stir-fried spinach, followed by a poached egg, and then your freshly prepared Hollandaise sauce.
Southern French Toast
Who says French toast has to start with plain old bread? Slice your leftover biscuits in half and use them instead of bread in your favorite French toast recipe. For a shortcake-like treat, top with syrup and fresh strawberries. If you'd rather go super-Southern, serve your biscuit toast with a dollop of grape or apple jelly and a side of country ham. Yum, yum!
Biscuit-Crusted Quiche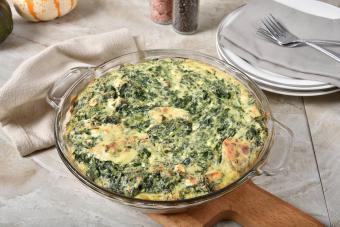 Make your favorite quiche recipe, but use leftover biscuits to form the crust.
Slice your leftover biscuits in half and brush them with melted butter.
Place all the biscuits in the bottom of a pie pan; you can fill in the gaps by chopping up extra biscuits into smaller pieces.
Spoon the quiche filling over the top and bake following according to your recipe. Et voila.
Personal Pizza Biscuits
Anything personal-sized is a hit, including these leftover biscuit pizzas. To make them:
Slice your biscuits in half and partially reheat by microwaving on 50% power for one minute.
Meanwhile, preheat the oven to the broiler setting.
Place the biscuit halves in a single layer on an oven-safe pan and spoon jarred or homemade pizza sauce onto the biscuits, spreading it to form a layer across the surface.
Top with your favorite pizza items, such as sausage, pepperoni, olives, diced onions, diced peppers, or whatever else calls out to you (or you have in the fridge).
Sprinkle mozzarella or Italian cheese on top, then place in the oven and broil for around five minutes or until the cheese is bubbly.
Baked Biscuit Bites
A variation of the biscuit pizza is a biscuit bite that tastes just like pasta bolognese. No, seriously.
Start by slicing your leftover biscuits in half, then place them on a baking sheet that has been sprayed with nonstick cooking spray.
Top with a cooked savory ground meat combination, like what you'd use to make stuffed zucchini or taco meat with corn and black beans stirred in.
Sprinkle shredded cheese over the top and heat in a 325°F oven for 15 minutes or until heated through.
Beef Stew Over Biscuits
Looking for a comfort meal for a cold or rainy evening?
Make your favorite beef stew recipe or open and heat a can of store-bought beef stew.
Slice a few leftover biscuits in half and heat on 50% power in the microwave for one minute, testing to see if they are warm.
If not, continue heating for 30 seconds at a time until warm.
Place your biscuit halves on a plate and ladle the hot beef stew over them.
Open-Face Meatball and Gravy Sandwiches
Biscuits with gravy is a classic dish and the perfect way to use up your leftover biscuits.
Start with your favorite meatball recipe.
While the meatballs are cooking, whip up a batch of brown mushroom gravy.
When the meatballs are done, stir them into the gravy and keep warm.
Slice biscuits in half and reheat.
Spoon the meatballs and gravy over the warm biscuit halves.
Helpful Hack
To save time, you could use store-bought frozen meatballs and a package of gravy mix.
Chicken Tender Biscuit
To make this tasty sandwich, prepare your favorite fried chicken finger recipe.
Cut your leftover biscuits in half lengthwise and reheat the halves in the microwave on 50% power for one minute.
Continue heating at the same level for 30 seconds at a time until they're hot enough.
Put some lettuce and tomato on the bottom half of each biscuit, then top with a chicken tender or two.
Spread a bit of honey mustard or ranch dressing on the top half of the biscuit before putting it in place to form a sandwich.
Chicken Pot Pie
Chicken pot pie with leftover biscuits? Yes, please!
Start with your favorite chicken pot pie recipe, but skip the crust step.
When there is about ten minutes of cooking time left, remove the casserole from the oven and top with leftover biscuits.
Brush melted butter over the top of the biscuits, return the pan to the oven and cook for approximately 10 more minutes. This will definitely hit the spot.
Chipped Beef on Biscuits
Chipped beef was made popular during WWII, but it's still an easy and tasty dish you can easily whip up today.
Mix a store-bought container of chipped beef into your favorite homemade cream sauce recipe for a decadent dinner. This is usually served over toast points, but you can use leftover biscuits instead.
Slice leftover biscuits in half and reheat in the microwave on 50% power.
When the cream sauce and beef mixture is heated through, spoon it over the biscuit halves.
To dress it up, consider stirring some peas and carrots into the meat and gravy mixture before serving.
Biscuits With Sausage Gravy
Eat this easy leftover recipe for breakfast or any time of day.
Cook a batch of crumbled sausage.
Stir in a package of white gravy mix, adding water per the package instructions.
Stir the mixture until your gravy is lump-free, and cook until it's heated through.
To finish, pour over reheated leftover biscuits.
Helpful Hack
If you want to save a step, just put the biscuits directly in the pan with the gravy and allow to simmer until the biscuits are heated through.
Frugal Meatloaf
Leftover biscuits in meatloaf? Yep, we did it, and it's even better than you could imagine. Just substitute cut-up biscuits for torn bread in any simple meatloaf recipe.
You can also do the same thing with other ground meat recipes that call for the addition of bread, like Salisbury steak or Swedish meatballs. You can even add crumbled biscuits to ground beef or turkey when preparing hamburgers if you're searching for frugal ways to stretch your grocery budget.
Biscuit Croutons
It's incredibly easy to make your own croutons using leftover biscuits.
Cut leftover biscuits into small chunks.
Place them on a baking sheet and drizzle with olive oil.
Toss to combine, then sprinkle with salt, pepper, and any other dried herbs you'd like to use for flavor.
Bake for around 15 minutes in an oven that has been preheated to 350°F.
Throw them on your salads, in soups, or munch on them right out of the oven (we won't tell).
French Onion Soup With Biscuit Croutons
Once you have some biscuit croutons, put them to good use by whipping up a batch of your favorite French onion soup recipe. Instead of using a piece of French or focaccia bread on top, top the soup with biscuit croutons, then cover with cheese and toast in the oven.
Buttery Biscuit Stuffing
Use leftover biscuits to make a delicious homemade stuffing that's uniquely yours. Substitute somewhat dry chunks of leftover biscuits, or even biscuit croutons, for some or all of the dried bread in your favorite stuffing recipe. Whether you like to make stuffing in your slow cooker or you prefer an oven or stovetop version, biscuits will give it a wonderful, buttery flavor.
Leftover Biscuit Bread Crumbs
You can also use leftover biscuits to make breadcrumbs. If you've made croutons and still have some left, you can use those. If not:
Preheat the oven to 250°F.
Cut up leftover biscuits and spritz them with oil.
Bake in the preheated oven until they become dry and hard. This usually takes around 15 minutes.
When the bread has cooled, cover it with cheesecloth and hit it with a meat mallet until it resembles breadcrumbs. Or toss them in your blender for the same effect without the extra effort.
Biscuit Bread Pudding
For a creative take on bread pudding, start with biscuits as the base rather than ordinary bread. There are tons of ways to make bread pudding, all of which use some type of bread (often stale), along with fruit, sugar, eggs, and milk or cream.
We love a berry bread pudding, but you could even make an apple bread pudding recipe that features Chinese five-spice for a unique spin on the classic. Whatever variety you choose, you'll definitely be delighted when you use leftover biscuits in your favorite bread pudding recipe.
Fruity Biscuit Shortcake
For a super simple dessert, make shortcake!
Preheat your oven to 325°F.
Cut leftover biscuits in half and place them in a casserole dish in a single layer.
Open a can of your favorite flavor of fruit pie filling (apple, cherry, blueberry, peach, etc.) and spoon it over the biscuits.
If desired, sprinkle a bit of cinnamon and/or nutmeg over the top.
Bake in the preheated oven for 15-20 minutes or until heated through, then serve warm.
For an even more special treat, top with vanilla ice cream or fresh whipped cream. You can even put a second biscuit half on top.
Leftover Biscuit Cobbler
Give your leftover biscuits a sweet second chance by turning them into an easy cobbler.
Preheat your oven to 375°F.
Break the biscuits up into chunks and place them in a bowl.
Pour a bit of milk, melted butter, and vanilla over the biscuit pieces to rehydrate them, giving them a good stir.
Place a layer of your favorite pie filling (canned or homemade) in the bottom of a casserole dish, then spoon the soaked biscuits overtop.
Heat covered for 10 minutes in the preheated oven.
Biscuit Trifle
Layered trifle desserts are usually made with sponge cake, but you can substitute it for leftover biscuits in a pinch.
In a casserole dish or trifle bowl, spoon a layer of custard, then fresh fruit, whipped cream, then small pieces of your leftover biscuits.
Continue this method of layering until you've filled your dish or used up all your biscuits.
Helpful Hack
If you're feeling extra sassy (or want a more traditional trifle experience), brush the biscuit pieces with Sherry before layering them.
Biscuit Panzanella Salad
Have leftover biscuits and an excess of tomatoes? This Italian panzanella salad is the way to way to go.
Cut your biscuits into cubes and toast them in the oven.
Make your salad by combining tomato pieces, chopped onion, cucumber, bell pepper, and basil.
Top with your favorite vinaigrette, then stir in your toasted biscuit pieces.
This leftover biscuit recipe is fresh, filling, and super easy.
Use Those Leftover Biscuits in Style
No longer do you need to wonder what to do with leftover biscuits! Any time you have extra circles of flaky and flavorful buttery biscuits, turn to one of these great ideas. What a great way to keep meals interesting while avoiding food waste and making the most of your grocery budget! You just might want to whip up a batch of buttermilk biscuits (or your favorite biscuit recipe) specifically to have leftovers to use in some of these dishes.