Delicious Breakfast Casseroles
Casseroles aren't just for dinner. Breakfast casseroles are easy to make, tasty, and great for busy mornings, special occasions, or even brunch. Whether you're vegetarian or looking for something fast and easy, give one of the tastiest breakfast casserole recipes available a try.
Basic Breakfast Casserole
This breakfast casserole goes together fast and is made with fridge and pantry staples such as sausage, refrigerated crescent roll dough, and shredded cheese. It also takes less than 30 minutes to bake.
This dish is easily customized which makes it even better. To change things up, substitute diced ham or bacon for the sausage or add a 1/2 cup of your favorite chopped veggies like mushrooms or bell peppers.
Hash Brown Casserole
Like a basic breakfast casserole, the hash brown version has eggs, cheese, and sausage, but also includes shredded or diced hash browns. You'll save time by serving this all-in-one option rather than making hash browns on the side! Garnish it with sliced cherry tomatoes.
Make this casserole on Sunday and your kids will enjoy a stick-to-their-ribs breakfast throughout the week. The casserole takes about an hour to cook.
Zucchini Casserole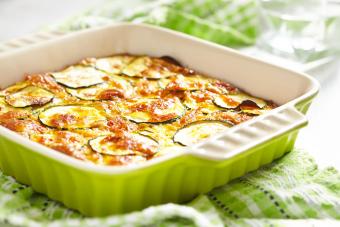 A zucchini breakfast casserole is perfect for vegetarians or those who don't eat sausage or other breakfast meats. It's chock full of eggs, zucchini, and tomatoes. Ricotta cheese adds creaminess and makes it stand out from other casseroles that use shredded hard cheeses. Try adding other fresh veggies you have on hand like mushrooms or red onion. The dish cooks in around 30 minutes.
Blueberry Bread Pudding Casserole
If you prefer sweet over savory for breakfast but want something more impressive than a muffin, this blueberry bread pudding fits the bill. It's made with stale challah bread, eggs, vanilla, cream, milk, sugar, and blueberries. Your family will love this decadent dish, but it's pretty and elegant enough to serve at brunch or even a bridal or baby shower. The casserole bakes in about 50 minutes.
Overnight French Toast Casserole
French toast is a breakfast staple, but it's time-consuming and messy to prepare on a busy morning. Not only is this overnight french toast casserole about as kid-friendly as it gets, but it can also be made the night before so the bread has plenty of time to soak up all the ooey-gooey goodness. It's made from eggs, vanilla, spices, sourdough bread, and milk, and has a crumb topping. The casserole bakes in about 45 minutes.
Tator Tot Breakfast Casserole
Kids go ape over tator tots. But frozen tots straight from bag can be boring. When you combine them with bacon, cheese, eggs, and milk, your kids and your taste buds will thank you. This recipe takes about 50 minutes to bake and is very economical. It can also be made vegetarian by omitting the bacon.
Baked Oatmeal for Breakfast
One of the latest health food crazes is baked oatmeal in a casserole. This recipe features oatmeal, apples, pears, spices, milk, and chopped walnuts, and bakes in about 45 minutes. It's a tasty way for you and your kids to get more fiber. If you like, substitute almond milk for dairy milk.
Biscuits and Sausage Gravy Casserole
If comfort food is your idea of the perfect breakfast, try making a biscuits and gravy casserole. The recipe stays true to the traditional version of biscuits and sausage gravy. It's inexpensive and a nostalgic blend of cooked ground sausage and a buttery cream sauce topped with fluffy biscuits.
You can also enjoy the casserole if you're a vegetarian. Simply omit the sausage or use meatless sausage crumbles. The dish cooks in about 20 minutes and is an awesome option for a holiday morning breakfast.
Spinach and Cheese Strata
This casserole is worthy of Popeye himself thanks to its content of spinach, a blend of cheeses, cubed bread, eggs, and milk. A dash of nutmeg gives the dish a sweet and spicy flavor. Spinach, even cooked, is a great source of vitamins A and C, calcium, iron, protein, and fiber. The dish can be made up to one day ahead and takes about an hour to bake.
Cauliflower and Egg Casserole
If you're watching your carb intake or on a Paleo diet, breakfast casseroles that include potatoes or biscuits are off-limits. But this low-carb, baked cauliflower and egg breakfast casserole is not. It contains a blend of cheddar and Swiss cheeses and garlic powder. For a heartier dish, add diced cooked ham or bacon. The casserole bakes in around 40 minutes.
The Most Important Meal of the Day
Enjoying a hearty casserole for breakfast helps fuel your body for a busy day. And with so many casseroles and other breakfast recipes to choose from, there's no excuse for skipping this all-important meal. Whether you're a meat-lover or a vegetarian, there's a delicious option for everyone.