It's lunchtime, dinner time, meal time, and you're at zero. Cooking? Now that feels like moving mountains. Thankfully, we compiled the easiest recipes, and none that involve the blender. At worst, you'll have a skillet and spatula to clean up.
Remember, fed is best. Let's get eating!
Baked Potato
Baked potatoes, in all their undressed glory, are perfect. But add some shredded chicken, or some veggies, or even a can of chili and suddenly, you have a meal that took you all of 5 minutes to prepare. Whether you cook them in the oven, zap them in the microwave for about 8 minutes, or cook them in an air fryer, a fluffy baked potato makes a tasty low-effort meal.
Pasta With Frozen Vegetables
With red sauce, cream sauce, or pink sauce, pasta with a frozen veggie like peas, carrots, or broccoli makes for an easy meal. Keep a few jars of sauce on-hand for just such an occasion. Boil your noodles (easy!), warm up the sauce (easy), and add in some warmed frozen veggies. Boom. Dinner done.
Easy Quesadilla
You can fold a tortilla in half or sandwich your quesadilla toppings between two tortillas. Add some cheese, maybe veggies, maybe chicken or steak, or, heck, just cheese. It's supposed to be easy. Pop it in a skillet on medium-high or, even easier, stick it in a Foreman grill, and you'll be eating gooey goodness in minutes.
Pantry Buddha Bowls
The Buddha bowl is PACKED with nutrients and, for the most part, these are ingredients you already have on hand. Better yet, you can classify this as a one-pan meal, roasting all of the ingredients together.
Prepare for just such an occasion when a Buddha bowl becomes your dinner by precooking and freezing single servings of grains like quinoa or brown rice. Give them a quick thaw in the microwave. Chop a few veggies and give them a fast stovetop saute with some seasonings and maybe a can of chickpeas (drained). Grab a handful of greens. Artfully (or not) arrange it all in a bowl. Add a pre-made sauce of your choice (sweet chili garlic sauce, anyone?). Now wasn't that easy?
Buffalo Chickpeas
If you're like me, sometimes frozen chicken can give you the mouth sweats if you take a bite into a rubbery piece. Chickpeas are the perfect alternative to Buffalo chicken. Grab yourself a can of chickpeas and a splash of olive oil if you don't have nonstick pans. Allow those to get toasty over medium heat for a few minutes or until they look a little crisper than when you started. Add as much or as little of Buffalo sauce as your heart desires and allow the pair to mingle over medium to low heat for a few minutes.
Add these beauties to your wraps, salads, mash them into a chunky hummus, or throw 'em on your baked potatoes or in your Buddha bowl. Wherever you want a little bit of heat and some protein, these belong.
Rice Bowls
Part taco bowl, burrito bowl, poke bowl, and then some. The rice bowl is where dreams take form, and you can clean out your fridge or pantry without much effort. The art of the rice bowl is to use leftover ingredients for when you have those low-spoon days.
Add beans, tomatoes, and corn for something closer to a burrito or taco bowl. Leftover fish such as salmon or even canned tuna with some shelled edamame and pineapple can be an easy poke bowl riff. Save time by purchasing precooked rice or making your own and keeping it in single servings in zipper bags in the freezer. Easy peasy.
Shrimp Salad
Grab your almost not good bag of lettuce, weed out any pieces that you certainly don't want, and throw that in a bowl. Defrost your shrimp, and you can even saute it if you're feeling up to it. Toss those on your salad, add a few veggies, and don't forget the dressing.
Five-Minute Pizza
That's right, five-minute pizza. Grab a flatbread, naan, or even a tortilla wrap. Slather on a few spoonfuls of pre-made sauce and your preferred cheese. Depending on the dexterity of your "dough," you'll want to consider your toppings carefully. Or you can live dangerously. Chopped veggies, crumbled bacon, pepperoni - you get to decide. Toast it up in your toaster oven or bake in a 350°F oven until it looks how you like.
Breakfast for Dinner
You know it, you love it, brinner. Scrambled eggs with toast, a breakfast sandwich, or even frozen waffles. You know what? Even cereal counts. Oatmeal for those who want something warm. There's something so indulgent and cozy about getting in your jammies and eating your favorite breakfast foods after work. Now that's self-care at its finest.
Easy Chicken Nuggets
A tried and true easy homemade chicken nugget is perfect for when you don't feel like cooking. Preheat the oven at 420°F and cut up chicken breasts into cubes while you wait. Toss those in breadcrumbs or panko along with any seasoning you may prefer. Spread your nuggets-to-be out on a greased sheet pan. Cook for approximately 25 minutes or until they're fully cooked at 165°F.
Dip in whatever sauces make your heart sing.
Helpful Hack
Save cleanup time. Line your sheet pan with foil before adding the nuggets. After dinner, dispose of the foil and give the pan a quick rinse. Dishes done.
Grilled Cheese and Paninis
Cheese and bread, and some mayo for those who are feeling up to it. Toast up a grilled cheese in a pan or in your toaster oven. Consider a slice or three of protein, too, such as ham, pepperoni, or chicken. Do you have a panini press? Slap your preferred sandwich ingredients on some bread and press away. Got a Foreman grill? Instant panini press.
Quick Rice and Salsa Bowl
Microwave rice, leftover rice, rice cooker rice, stove top rice, brown rice, white rice, sticky rice, pre-cooked rice. It makes no difference. Warm up your rice, add a few spoonfuls of salsa, then mix. You can always add a few chunks of tomatoes if that's the journey for you.
Easy Slow Cooker Chicken
It does require you to think ahead, but here's the thing. It really only needs four hours to meal time. So if you're a remote worker, you can set a timer, or you want a no-fuss weekend meal, this is the answer.
Grab two to three chicken breasts and toss them in your slow cooker. In a bowl, add your two cans of your preferred "cream of" soup - this can be mushroom, broccoli, cheese, whatever you want. Alternatively, you can add half to three quarters of a large jar of pasta sauce with some parmesan cheese. A third option is mixing a packet of ranch dressing with two cups of sour cream and a can of cream of mushroom soup.
Whatever you've mixed, dump it onto your chicken. Give it a stir. Cover. Pop it on high until the chicken is fully cooked. Shred the chicken or cut it.
Serve alongside some veggies, throw it over pasta, or add it to a rice bowl.
Loaded Baked Sweet Potato
Cooking the sweet potato in the oven or microwave makes no difference. Be sure to pierce the skin first. Then load it up with bacon bits, black beans, shredded chicken, or other cooked veggies such as broccoli or corn.
Open-Face Cheesy Toast
Ah, cheesy toast! It's a quick and easy comfort food that brings some carbs, protein, and dairy into your day. Grab your bread, and your favorite cheese (sliced or shredded). Toast your bread until it's almost how you like it. Add your cheese and preferably some spinach or tomato, but arugula and mushrooms are also a delicious spin. Toast until you're happy.
Personal Charcuterie Snack Board
Graze your way through the fridge. Grab some cheese, slice up some fruit, grab crackers, and pick out a protein, like some deli meat or even pepperoni. Maybe add some mustard or jam, and you have a meal that requires no cooking and is a lovely spread of meats and cheese.
Stuffed Crescent Rolls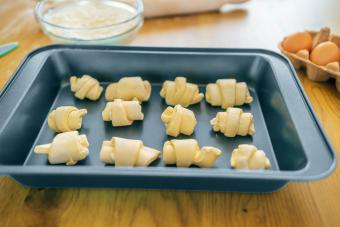 Store-bought crescent roll dough and leftover protein and cheese will send you on your way. Pop the can, unroll the crescent dough, add your ingredients, roll up, and bake in a 375°F preheated oven for 8-10 minutes, until golden brown.
Dips for Dinner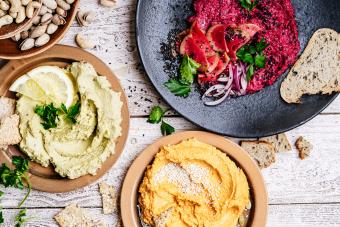 There are no rules that say you can't have dips for dinner. Just think of Oliver Putnam in Only Murders in the Building and his love of dips. Hummus, salsa, tapenade, chip dip. There's a world of dips. Use crackers, chips, veggies, fruit, or all of the above.
Butter and Parmesan Pasta
Cook up some pasta, or even microwave it. Once you have it warm, enjoy with a few pats of butter and shredded parmesan. Want more flavor? Add a sprinkling of pepper.
Tuna and Avocado Salad
If you're not a mayo person, this may be your new favorite approach. Mix your canned tuna with a bit of mashed avocado, celery, and some seasoning. Enjoy with crackers, on a sandwich, or straight out of a bowl.
Ravioli Lasagna
Boil pre-made ravioli or make use of your leftovers. Instead of lasagna noodles, you'll use ravioli for your layers in this classic dish. Put them in a baking dish, pour on some jarred sauce, sprinkle with shredded cheese, and bake in a 350°F oven until the cheese is melty and gooey, about 30 minutes.
Vegetable Ramen
Grab your 99-cent ramen, it's time for a meal. Cook how you like, then add veggies. This can be bean sprouts, broccoli, whatever you want. Go a little further with a soft boiled egg or some tofu. Or don't.
Tater Tot Nachos
Pre-bake your tater tots according to package instructions. Pull them out of the oven, and add your favorite nacho ingredients. Bake until everything is crispy and gooey - 5 to 10 minutes more. Voila, your food is ready.
The Freezer Is Your Friend: Easy Foods to Have On Hand
Fast Easy Meals for Long Days
You don't need to explain to us why you don't want to put a lot of effort into any meal. Save that energy for something else, like a bubble bath or a getting cozy on the couch. Pick a nom and enjoy an easy meal.