Of all the recipe books, perhaps the most famous is the Betty Crocker Cookbook.
Who is Betty?
Most people do not know that the author of the Betty Crocker Cookbook was not a woman named Betty Crocker. The American company, General Mills, is the creator of the famous book that has served many kitchens over the decades.
The Betty Crocker concept originated in 1921 when a write-in contest was held by Gold Medal Flour. With the entries came thousands of questions about baking. The employees of the Washburn Crosby Company, a forerunner to General Mills, responded to the questions. They asked their female staff members to come up with a signature to place on the written responses. Betty Crocker was born.
In 1936, the company had an artist come up with a wholesome-looking woman. Unlike her signature, Betty's look has changed with the decades, although she never appears a day older.
Description
Published in 1950, Betty Crocker's Picture Cook book was a hit. This was a time when women stayed at home to be homemakers and cooking was a priority. The book not only had recipes and hundreds of black-and-white photos, color pictures of dishes, and animated drawings, there were also useful tips. Some of these fascinating tidbits included:
How to measure ingredients - ideal for novice cooks
How to choose the most economical cuts of meat
How to cut sheet cakes and round cakes for serving
How to set the table for guests
How to make housework easier
How to stock your pantry
How to make a different birthday cake every month
There was even advice for the weary cook that advised lying down on your back on the kitchen floor for three minutes or more to rejuvenate.
The Betty Crocker Cookbook Phenomenon
This picture cookbook revolutionized cooking across homes in suburban kitchens. The cookbook did the following:
Made cooking easy
Made cooking simple
Provided homemakers with confidence
Provided a fun outlook to cooking
Recipes
Some of the signature recipes the cookbook is known for include:
Chicken tomato aspic
Homefront macaroni
Toasted oatmeal cookies
Ham loaf
Salt pork gravy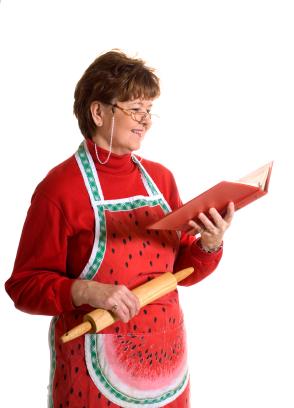 Other Books
In addition to the first Betty Crocker cookbook, others were printed. There is Betty Crocker's Pie Parade and Betty Crocker's Cooky Book. For children, there is Betty Crocker's Cookbook for Boys and Girls. A bridal edition to the Betty Crocker Cookbook was even published and given to many brides as wedding presents. For the barbeque lover, Betty Crocker's Outdoor Cook book was printed in 1961 and a seasonal edition proved valuable with the Betty Crocker Christmas Cookbook.
It seems the first books used cook book as two words where the more recent publications deem cookbook as one word in the titles.
Bringing Back Memories
People who grew up with this book will want it because of the nostalgia. Many adults today hold fond memories of seeing their mother using the cookbook to make a pie, cake, roast, or other family favorites. Those who have never seen the book before will enjoy perusing it for its novelty and history. An early edition of the Betty Crocker Picture Cook Book is, of course, a vintage item now and sought after by antique collectors. It is hard to believe that over the years, a fictitious homemaker has become so famous that her name has been inscribed on thousands of publications, food products, and cookbooks.
Best-selling Cookbook
Everyone believes that Betty Crocker gave cooking a wholesome face, warmth, and a sense of good quality. In 1950, her cookbook was the best-selling non-fiction book in the United States.
Filled with caloric recipes, today's television-based cooks appeal to the masses with more health-conscious recipes and the desire to cook with less fat and red meat. Vegetarian recipes were virtually unheard of during that era. Regardless, Betty Crocker is an icon and particularly sentimental for baby boomers. Her books have sold more than 62 million copies since 1950.