Fancy Enough for Company
When you're trying to take care of the family and outside obligations, time for dinner is limited; easy dinner ideas save the day. Sometimes it seems that fast food or restaurant meals are the only way to get dinner served. Luckily, you can make dinner. These quick, easy dinner recipes make it possible.
Convenience foods such as bagged salad, precooked meats, canned soups, and frozen cut vegetables cut out preparation time, making dinner much easier.
For a meal that seems elaborate but actually takes only 20 minutes, try mango chicken.
Restaurant-Style Food at Home
Made with frozen vegetables and instant rice, a stir fry dinner is on the table in less than 30 minutes.
Restaurant-Style Food at Home
Looking for exotic taste that's easy to make? Put chicken curry with steamed rice and veggies on the menu.
Convenience Food at It's Best
Since this chicken and spinach bake is made with frozen vegetables, canned soup, and chicken breasts, prep time is at a minimum. Serve over rice.
Simple and Satisfying
Chicken Alfredo is one of the easiest dishes around. For added nutrition, add broccoli, mushrooms, peas, or any other vegetable you like.
One-Dish Meal
Pork Cutlets Forester Style is a quick, easy one-dish meal.
Easy Italian Cuisine
Shrimp is fast-cooking, and sherry shrimp is a tasty, easy Italian recipe. Serve with pasta, salad and crusty bread.
Sesame Chicken
To make Sesame Chicken even easier, try baking it instead-- this article has both versions. Serve with hot rice.
Beef Kebobs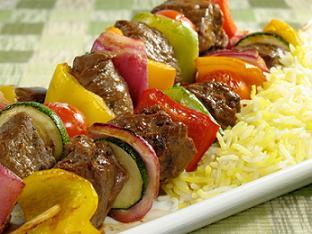 Beef kebobs are quick and easy, and may be cooked on the grill or in the broiler. Serve with rice or mashed potatoes.
All American Fare
Put your BBQ chicken in the crockpot before work, and dinner is ready when you get home. Serve with mashed potatoes and steamed veggies.
Kids' Favorite
Baked macaroni and cheese is healthier than the boxed version. Add cooked ham, turkey, or ground beef to make the dish more substantial. Sweet peas or green beans round out the meal.