Tacos are pretty much the ultimate crowd pleasing meal, but that doesn't mean you have to stick to the standard ground beef and spice packet. Try out some new taco filling ideas that will take your taco game to a whole other level. Everything tastes better in taco form, after all. From favorites like fish tacos to fusion cuisine that's creative and fun, there are so many ways to make a taco.
Flavorful Fish Tacos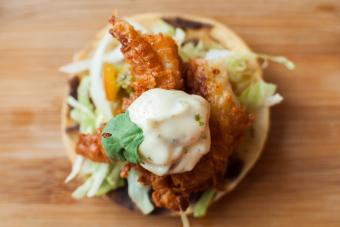 Start with some tilapia and other fresh ingredients and end up with an incredible meal everyone loves. Natasha's Kitchen has a great fish taco recipe that uses cabbage, avocado, cheese, and a totally scrumptious sauce. It's quick and easy to make, which is perfect for week nights or if you're entertaining friends.
Vegan Enoki Mushroom Taco Filling
Enoki mushrooms are an important part of Japanese cuisine and make an incredibly flavorful vegan taco filling. This recipe uses Asian flavors like mirin, soy sauce, and sesame seeds to create the ultimate shake-up for the traditional taco. Top these with spinach, avocado, and pickled red onions.
Slow Cooker Chicken Tacos
Let dinner cook while you're at work with this easy taco filling recipe that uses chicken breast, canned picante sauce, and some spices you already have in your cupboard. This makes enough filling to serve six.
Ingredients
3 boneless, skinless chicken breasts
1 (16-ounce) jar of picante sauce, any brand
2 teaspoons chili powder
1 teaspoon dried oregano
2 teaspoons cumin
1 teaspoon garlic powder
Instructions
In a medium bowl, mix the picante sauce and spices.
Place chicken breasts in the bottom of a slow cooker. Pour picante mix over the top.
Cover and cook for about six hours on low or four hours on high.
Shred the chicken with two forks. Serve in flour tortillas with cheese, sour cream, avocado, lettuce, and other toppings.
Tasty Turkey Gyoza Taco Filling
Gyoza are dumplings usually filled with meat and cabbage, but like everything else, they taste amazing in taco form, too. This recipe makes enough for six servings.
Ingredients
1 pound ground turkey
1 tablespoon olive oil
2 teaspoons sesame oil
2 tablespoons soy sauce (more if desired)
3 cloves of garlic, minced
1 tablespoon grated fresh ginger
2 cups finely chopped cabbage
3-4 green onions, chopped
1 small can of diced water chestnuts, drained
Instructions
In a large skillet, cook the ground turkey on medium heat with the olive oil, sesame oil, soy sauce, garlic, and ginger until the meat is no longer pink.
Add the green onions, water chestnuts, and cabbage. Continue cooking until the onions are fragrant and translucent.
Serve in flour tortillas with fresh cabbage, pickled ginger, soy sauce, and rice vinegar. Add chopped chili peppers and onion if you'd like more heat.
Mexican Street Corn Filling
Mexican street corn is a delicious treat that works super well as a taco filling. This recipe from Ambitious Kitchen combines street corn with chicken and a tasty cashew sauce for the ultimate creative taco option. You'll also love the tips for charring the tortillas to give them incredible flavor.
Tofu Char Siu Taco Filling
Char Siu is traditionally a pork dish, but it's just as tasty with tofu. The vegetarian char siu tofu taco filling has enough complex flavor and texture that meat lovers will like it too. Top your tacos with shredded cabbage, pickled ginger, avocado, and mango for a wonderful combo of crunch, sweetness, and savory flavor.
Roasted Cauliflower Tacos
Another amazing meat alternative is roasted cauliflower. Minimalist Baker has a wonderful recipe that's easy and fast, and there's a simple-to-make sauce that gives plenty of flavor and zip to this hearty meatless meal. Serve cauliflower tacos with avocado, cabbage, and all your favorite fillings.
Spicy Pork Carnitas
Pork carnitas, or braised pork, makes an incredibly flavorful and delicious taco filling. This simple slow cooker recipe is perfect for those days when you want dinner to be mostly done when you get home (to a house smelling divine). The spices include cinnamon and coriander for a beautifully complex flavor.
Quick Tip
Want to add extra heat to any taco filling? Serve it with diced chilis. People can add as many as they want to customize the spicy goodness.
Hearty Breakfast Tacos
Who says tacos are just for dinner? If you're having a group over for brunch, try this recipe from Gimme Some Oven. It's easy and quick, combining beans, eggs, avocado, and spices to make the ultimate tasty taco that you can really serve any time of the day.
Thai Chicken Curry Tacos
Curry is a delicious alternative to the traditional Mexican taco flavors. This simple Thai chicken curry recipe uses coconut milk, lemongrass, and coriander to create a beautiful flavor combo everyone will love. Use it as the base for your corn tortilla tacos with toppings like cucumber for crunch, mango for sweetness, and a little fresh mint.
Sheet Pan Shrimp Taco Filling
Shrimp is pretty much as good as it gets, and like everything, it's a winner when you put it in a taco shell. This simple recipe from Damn Delicious makes a wonderful shrimp taco, especially when you top it with cabbage, avocado, and cheese. It's also really quick, so it's ideal for those weeknight dinners when everyone is busy.
Vegan Falafel Tacos
Falafel is so tasty, and this easy meatless recipe from Nutritiously turns it into a wonderful taco filling. It's also baked in the oven on a sheet pan, which makes it easy to multitask and prep the toppings while the falafel cooks. Serve the falafel tacos with sour cream, avocado, spinach, and flour tortillas.
Pulled Pork Tacos
Pulled pork is a family favorite for a reason, and it also makes a great taco filling. Our grilled pulled pork recipe is perfect in a flour tortilla, topped with barbecue sauce, sweet corn, lettuce, and avocado.
There's No Wrong Way to Fill a Taco
Try lots of different taco filling ideas to put a little extra spice in your taco night. Tacos are such a great hand-held meal for parties or family dinners, and they're also easy to customize with different toppings. After all, there's no wrong way to make a taco.