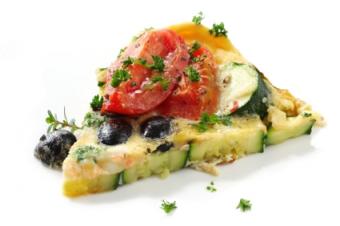 For people that don't use animal products, a vegan egg substitute is practically essential when they want to make any type of baked goods. Fortunately, there are several products they can use without having to compromise on taste, consistency or their beliefs. People who aren't vegan but are watching their fat and cholesterol can also benefit from these solutions.
The vegan egg substitute a person should use depends on the recipe he or she is making. This is because eggs can be used for several different purposes. In the lists below, each substitution is the equivalent of one egg.
For Cookies and Brownies
In these and similar relatively dense desserts, eggs serve as binding agents, keeping the batter together while it cooks to keep the items from falling apart. Other foods that can serve the same purpose are:
A cup of soy milk
One small banana
Two tablespoons of applesauce
Half a cube of silken tofu
One tablespoon of apricot or squash puree
One tablespoon of flaxseed meal and three tablespoons of water
These substitutes can also be used to bind together veggie burgers and vegan meatloaf.
For Breads and Cakes
When eggs are used in bread or cake recipes, they serve as leavening agents, helping foods rise and maintain a light and airy texture. Vegan foods that can help with this task are:
Two teaspoons of baking powder and a half cup of soy yogurt
Two ounces of Ener-G egg substitute
One teaspoon of yeast in a quarter cup hot water
For Savory Dishes
When making a savory dish, people want their egg substitutes to taste like eggs. For example, if someone makes a casserole substituting applesauce instead of the eggs, it will taste fairly bad. Since this is the case, it's important to use substitutes as close in taste and texture to real eggs as possible. Some to consider are:
One tablespoon of soy flour or arrowroot and two tablespoons of water
A cube of traditional tofu and two tablespoons of vegetable oil
Six ounces of margarine and a half cup of cold water
Tofu will work best in recipes that have eggs as the main ingredient, such as quiches. Ener-G egg substitute is also a good choice here.
What Is Not a Vegan Egg Substitute
Some people, when trying to accommodate vegans, substitute eggs with the following ingredients they think are vegan but are actually far from it:
Egg Beaters: These egg substitutes, made by ConAgra Foods, are simply eggs that have some of the fat and cholesterol taken out of them. Some are egg whites and some are the entire egg. None of them are vegan.
Better'n Eggs: Again, these substitutes are made from eggs and are just meant to be healthier than the traditional variety since the fat is skimmed out. These are made by Papetti.
Organic or cage free eggs: Though it may seem pretty obvious, there are a surprising number of people who think these are vegan. Although the chickens that produce these eggs are raised more humanely than those kept in cages, they are still very much an animal product.
Considerations
It's important to experiment with vegan egg substitutes to see which ones work best with what you're trying to cook. Just because one works perfectly with a particular recipe doesn't mean it won't fall flat with another. When you're first starting to cook vegan style, you may want to stick to recipes that are already vegan instead of altering others. That way you'll know they are tried and true, and it won't be quite so touch and go.