The holidays don't feel the same without a glass of eggnog in your hand, and that can be difficult for some people when their friends and family serve up the booziest eggnogs they can make. So, if you're craving a nonalcoholic eggnog recipe that you can either enjoy straight or mixed into mouth-watering mocktails, then look no further.
Nonalcoholic Eggnog Recipe
Making eggnog from home requires about 5½ hours of time, but all the labor is well worth the wait. This recipe makes about 12-15 individual servings of eggnog and will keep for 48 hours if refrigerated right after you make it.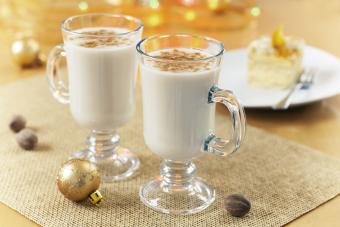 Ingredients
6 eggs
2 egg yolks
? cup sugar
¼ teaspoon salt
4 cups whole milk
1 tablespoon vanilla extract
½ cup heavy cream
½ teaspoon of nutmeg
Dash ground cinnamon for garnish
Instructions
In a saucepan, crack the 6 eggs and add the egg yolks.
Whisk in the sugar and salt, slowly pouring in the milk as you continue to whisk.
On medium heat, stir the mixture until it reaches a simmer.
Continue stirring through the simmer and until the mixture has begun to thicken. Once it begins to thicken, remove it from the heat. The mixture may take up to an hour to become properly thickened.
Add the vanilla and nutmeg to your cooling mixture. Once it's cooled enough to pour into a container, do so and refrigerate it for about five hours before serving.
About fifteen minutes before you're ready to serve, take your custard mixture out of the fridge and set aside.
In a mixing bowl, whip the heavy cream and add in the custard mixture.
Stir until the mixture is uniform and then transfer it into individual mugs, topping each with a dash of cinnamon.
How to Customize Your Nonalcoholic Eggnog
To make this recipe your own, you can try one of the following tricks:
Non-dairy options - Substitute your milk and cream ingredients for non-dairy options like soy, almond, oat, and so on.
Spice substitutes - Switch the nutmeg for another spice you prefer, like cinnamon, allspice, or clove.
Add syrup - Drop in a half of a teaspoon of flavored syrup, like chocolate or caramel, to each cup for a touch of sweetness.
Garnishing goodies - Chopped nuts, candies, candy canes, and sprinkles can be thrown on top of a cup of nonalcoholic eggnog for a fun and festive touch.
Mocktails to Add Your Homemade Eggnog To
While the most common way to enjoy eggnog is to drink it by itself, there's actually a number of creative ways that you can use eggnog as an ingredient to make more complex, festive beverages. Check out these delicious mocktail recipes, which put your homemade eggnog front and center.
Eggnog Martini
Try out this festive and creamy take on the classic Martini, which highlights your homemade eggnog in the perfect way.
Ingredients
Lemon wedge for garnish
1 tablespoon cinnamon sugar for garnish
½ teaspoon almond extract
¼ ounce vanilla extract
2 ounces homemade eggnog
1½ ounces ArKay Alcohol Free Vodka
Ice
Star anise for garnish (optional)
Cinnamon stick for garnish (optional)
Instructions
Run the lemon wedge around the rim of a cocktail glass and dip it into a plate of cinnamon sugar. Refrigerate the glass to help the sugar stick.
In a cocktail shaker, combine the almond extract, vanilla extract, homemade eggnog, and nonalcoholic vodka.
Add ice and shake until chilled.
Strain the mixture into the prepared glass and garnish with the optional star anise and cinnamon stick.
White Russian Eggnog
This nonalcoholic white Russian eggnog recipe creates a thick and rich mocktail that can serve as both a delicious drink and a dessert.
Ingredients
½ ounce expresso
2 ounces nonalcoholic eggnog
Ice
Dash of nutmeg for garnish
Cinnamon stick for garnish
Instructions
In a cocktail shaker, combine the expresso and nonalcoholic eggnog.
Add ice and shake until chilled.
Strain the mixture into a rocks glass and garnish with a dash of nutmeg and a cinnamon stick.
Eggnog Latte
If you've got any eggnog leftover from your holiday party and you need to kick start your work week, throw a glass of this eggnog latte together.
Ingredients
2 shots freshly brewed espresso
1½ cups homemade eggnog
Whipped cream for garnish
Dash of ground nutmeg for garnish
Cinnamon stick for garnish
Instructions
In a blender, combine the hot espresso and homemade eggnog.
Gently blend until frothy.
Pour the mixture into a glass and garnish with a dollop of whipped cream, a dash of nutmeg, and a cinnamon stick.
Peppermint Kiss Mocktail
Peppermint rules the winter months and adding a bit of peppermint syrup to your eggnog recipe can turn the sweet drink into a delicious minty mocktail.
Ingredients
½ ounce peppermint syrup
2 ounces homemade eggnog
Ice
Candy cane for garnish
Instructions
In a cocktail shaker, combine the peppermint syrup and homemade eggnog.
Add ice and shake until chilled.
Strain the mixture into a glass and garnish with a candy cane.
Homemade Eggnog Is Egg-treme Fun
Drinking eggnog has become a major part of many people's winter holiday traditions, and making a batch of homemade eggnog is a great way to bring your whole family together. Whether you prefer a glass of pure eggnog or want to dress it up in one of these fun mocktails, through these recipes you can enjoy the holiday spirit all year-round.