Barbaresco is one of the most iconic Italian wines. Produced in the foggy, rolling hills of the Langhe in northwest Italy, it is a powerful, yet elegant wine that is a beautiful expression of the grape characteristics and the terroir. Full of red fruit and floral aromatics, this austere, structured wine, is one you will most definitely fall for.
Barbaresco Flavor Profile and Characteristics
Barbaresco is a medium-bodied wine with a light ruby hue made from 100% nebbiolo grapes. It is earthy and structured with layers of red fruit, high acidity, powerful tannins, and stunning aromatics of cherry, rose petal, cranberry, red plum, and violet. On the palate, it is rich with red-fruit notes and earthy characteristics of dried leaves and spice. Barbaresco is aged to allow the tannins to soften and to develop more complex, tertiary aromas of tobacco, prunes, leather, and licorice. Often thought to have slightly more subtle tannins than its counterpart, Barolo, Barbaresco has a large, yet refined, personality.
Serving Recommendations
If you have red wine glasses in your cupboard, polish them up for a bottle of Barbaresco. Because nebbiolo is a particularly aromatic grape, using the proper wine glass will enhance your tasting experience, capturing all the floral characteristics in the wine. Barbaresco DOCG is aged for a minimum of two years, and it needs sufficient time to open up. It should be decanted for 2-4 hours depending on the vintage. Serve between 55-60°F (12-15°C).
Food Pairings
Barbaresco has grippy tannins that can be overpowering on their own. It is, however, a great food wine when paired with rich and rustic Italian cuisine. Traditional Piemontese dishes like tajarin, rich egg noodles with butter sauce and local truffles, pair wonderfully. Try pairing Barbaresco with braised beef, cheese stuffed tortellini, gnocchi with savory tomato sauce, or roasted mushrooms over polenta.
Region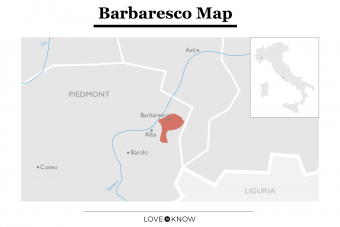 The designate wine region of Barbaresco lies within the Langhe, a larger designation in the southern part of Piemonte, Itay. Influenced by the Maritime Alps and the Ligurian Apennines, these foothills are undulating, with the best vineyards planted on southern-facing slopes. The region is small and only encompasses three villages with one other outlying area, San Rocco Seno d'Elvio. The villages of Barbaresco, Neive, and Teiso all have similar soil composition of clay and limestone. The soils are slightly higher in nutrients here than the designated wine region of Barolo, which translates to grape skins that are slightly less tannic. The appellation is also situated at a lower elevation than Barolo (between 650-1,300 feet above sea level), so the grapes ripen earlier and produce ever so slightly fruiter and less perfumed wines. While nebbiolo is particularly hard to grow, being the first to bloom in spring and the last to ripen in fall, the conditions here are well-suited to the grape, and it is home to some of the most renowned vineyards, producing wines with structure and finesse.
Ageing
The appellation requirements here stipulate that Barbaresco DOCG must be aged for a minimum of 24 months, nine of which must be in oak. The ageing potential for many bottles is often between 5-10 years. In this time, the tannins mellow and the harshness of its youth dissipates while smoky and earthy notes develop. For a Barbaresco Riserva, an additional two years are added to the ageing minimum.
History
Nebbiolo is thought to be indigenous to the Langhe region. Along with many European vineyards, most of the plantings suffered severely from phylloxera, and it really didn't find its footing again until after 1950. The Gaja family is attributed to helping bring Barbaresco back to life through their production of high quality, terroir-driven wines. In 1966, Barbaresco was given the geographical indication that dictates its production methods today, and producers started to harness the bold characteristics of the grape, producing age-worthy, structured wines.
A Wine to Savor
A glass of quality Barbaresco alongside a classic plate of pasta al ragù di coniglio (rabbit ragù) is most likely not your typical Wednesday night dinner plan. Save this wine for a day when you can give it the proper time to open up and pair it with something hearty and luscious that balances the acidity and tannins and lets the rich aromatic characteristics sing.