Merlot is recovering from a bad rap and finally finding itself in good favor again. The fuller-bodied wine with rich black cherry, Italian plum, and chocolate is a great match for food. Whether you go with a Right Bank Bordeaux or a lush, saturated fruit merlot from sunny Napa Valley, there are a handful of great merlot food pairings to be had.
What Merlot Is All About
Full of prominent dark fruit flavors with subtle tannins, merlot is an easy drinking red that deserves your attention. Originally from France's Bordeaux region, it's also grown in the warm climates of California like the Napa Valley and Sonoma County, along with parts of Washington State, Australia, Argentina, and Chile.
Its cooler climate profile is deep purple and full of boysenberry, blackberry, and fig with a spice cabinet element of anise, licorice, and cassis. These tend to be slightly tighter across the palate with bright acidity and a bit of minerality. Alternatively, in warmer climates, merlot expresses black raspberry and ripe cherry with undertones of spice, mocha, and chocolate. These merlots tend to be a bit more full, rounded, and soft on the palate. They are also higher in alcohol from the warm ripening conditions.
Drinking Merlot? Here Are the Best Merlot Food Pairings
In each iteration of merlot, the wine's silky tannins and pinch of acidity make it easy to drink. The set of brambly hedge fruit flavors pair great with slightly heavier richer foods. Think about anything roasted or particularly saucy dishes with a luxurious flare. Crack a bottle of merlot and get cooking with these perfect merlot pairings.
Turkey With Cranberry Sauce
Sound a bit like Thanksgiving dinner? Yeah, merlot is a great wine to pull out after that first lighter bottle has been drained during the appetizers. It pairs well with the lean protein and the saucy, tart cranberry mimics similar notes in the wine. Because big meals like this one are marathons and not sprints, find yourself a merlot that's lower in alcohol, likely from a cooler-climate like Bordeaux. It's one of those meals you'll want a juicy fruity red rather than a big alcohol bomb.
Porchetta
If you can ever get your hands on some good porchetta or want to take on the culinary project in your backyard, it is a great match for merlot. The savory moist pork loin is packed full of flavors of garlic, sage, and fennel with a to-die-for crispy crackly crust. Because merlot has mid-weight tannins, it pairs really well with lighter meats like pork, and the smooth dark fruit notes in the wine add a whole other dimension to the meal.
Aged Cheddar, Parmigiano-Reggiano & Manchego
Merlot is a great match for aged cow's milk and sheep's milk cheese. You don't want anything particularly smelly or robust, but rather cheeses with the buttery lactic flavors and that distinct umami, salty bite that hits at the far back corners of your mouth. Crumble large chucks of aged cheddar, Parmigiano-Reggiano, or Manchego onto a wooden board and open your favorite bottle of merlot to serve alongside. Your guests will be impressed. Promise.
Pizza
A tomato based pie with roasted mushrooms and fennel is a great pairing for merlot. The earthy, savory flavors are balanced by the forward fruit notes in the wine, while the acidity is highlighted in each. You can also lean into a pizza with Grana Padana, caramelized onions, and sweet spicy sausage. The combination of caramelized flavors and piquantness from the cheese and sausage loves the bold brambly fruit and hints of spice in merlot.
Baked Vegetarian Pasta
You can really go with whatever vegetables are in season with this one. But whatever you choose, the idea is to roast them prior and mix them with the noodles and plenty of ricotta and Parmigiano-Reggiano to make a decedent vegetarian dish with underlying notes of umami from the caramelized vegetables. A heady Napa Valley merlot or another warm climate expression is a great pairing for this dish, especially if you're using roasted tomatoes, onions, zucchini, or mushrooms.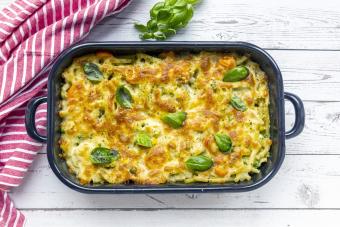 It's Time to Get on Board With Merlot
If you're still hanging onto that "I don't drink merlot" thing but you don't actually even know why, it's time to hit the bottle shop and get to know it again. Its bold fruit and silky tannins make it a food friendly wine that you'll want to serve up with all sorts of hearty meals or even chocolate.