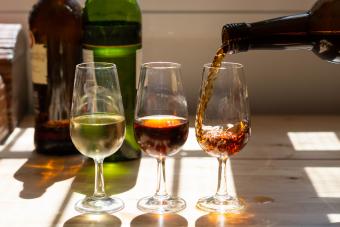 Dessert wines have their place at the table, and the sweet Spanish wines set themselves apart from the crowd. From sweet sherry to Málaga, these rich and luscious wines make a mark on your palate that you won't soon forget. Statements on their own or part of a well-balanced duo when paired with a mature Manchego, these Spanish dessert wines are great value.
A Tour of Spain's Sweetest Vintages
You can find sweet wines throughout Spain, with each region producing its own version of a sweet-style wine. Spain has carved out its own niche in the wine world, and easily keeps up with some of the best. Most sweet Spanish wines, however, remain very reasonably priced outside of the exceptionally aged, rare sherries.
Málaga
Málaga is a sweet, fortified Spanish wine. These wines were popular for centuries, and Catholic priests often used them at the altar. However, after the 19th century, the fashion for sweet wines waned, and Málaga consumption dropped dramatically. Today, there has been a renewed interest in sweet wines and dessert wines, so much so that Málaga is once again becoming a household name. Vinters of Málaga this from the Pedro Ximénez and moscatel grapes, which are naturally high in sugar. After baking out in the Spanish sun, much of the water content in the berry evaporates, further concentrating the sugars. There are five types of Málaga, which vary from six months of age to over five years. Similar to sherry, winemakers use the solera system for the aging process. This system blends different vintages across oak barrels to develop a rich complexity of flavors and aromas of coffee, caramel, nut, spice, plum, violet, and cocoa.
Sherry
The most well known of all Spain's sweet wines, sherry is produced in a small Spanish wine region called the Sherry Triangle, which includes the towns of Cádiz, Jerez de la Frontera, and El Puerto de Santa María. Sherry makers craft this wine from the palomino and Pedro Ximénez grapes, occasionally including a bit of moscatel. One of the key characteristics of sherry is the impactful Albariza soil, which is white and chalky and provides a distinctive terroir when combined with the local warm, Atlantic climate. Unlike most wines, sherry is intentionally exposed to oxygen in order to develop the distinctive flavors it's known for. After fermentation, the sherry passes through a solera system, where it becomes a mix of various vintages, taking on a variety of complex flavors. Sherry can be made in a dry style as well, but the sweeter versions are often referred to as cream sherry. These are full-bodied, robust fortified wines with notes of roasted nuts, nougat, caramel, and a velvety smooth texture. Vintners can also make dessert sherries from Oloroso wines and sweeten them with the Pedro Ximénez grapes.
Priorat and Montsant
In Catalonia, the wine region called Priorat is to many, one of the most interesting wine regions in the world. It is a mountainous region near the Mediterranean, approximately two hours south of Barcelona. Red dessert wines come from this area of Spain. They are very different from sherries because the main grapes used are garnacha, or grenache, and cariñena, also known as carignan. These are unique to Spain, as the rest of sweet wine grapes are white varietals. These wines have a rich ruby red color and express a pronounced nose of black cherry and black plum along with vanilla, leather, and an earthy element.
Navarre
East of Spain's famous Rioja region, Navarre is known for its rosé wines and dry reds. However, the region is also producing some excellent moscatels that are fruity and sweet, yet balanced by good acidity. These wines are very food friendly and are becoming some of Spain's hottest new buys. Highly aromatic with a bouquet of honeysuckle, apricot, mango, lemon zest, and stone, they are bright, with a rich mouthfeel and punchy acidity that kicks in to balance the palate.
How to Drink Spanish Dessert Wines
Dessert wines are best served cool, between 45-50°F (7-10°C). In this temperature range, the wine's aromas and flavors will come through without the wine tasting too sickly sweet or cloying.
Pairing Sweet Spanish Wines With Food
Spanish dessert wines can be enjoyed solo or paired with food. The richness of the sweet wine pairs beautifully with a piquant, aged Manchego. When accompanied by a medley of cheese, stone fruit, and nuts, the fruit balances with sweetness of the wine while the nuts mimic those roasted, rich notes. Matching these wines with a cocoa and chocolate-forward dessert also works, as the sweetness of the wine is brought into balance by the bitterness of the cocoa.
Step Into Spain's Sweet Side
If you are looking to dapple in dessert wines, Spain offers a range or delicious and reasonably priced options. A great way to test the waters is to order a glass after a meal out. Dessert wines will come in a small pour, and you are able to try it without committing to buying an entire bottle at the store. Between the rich aromatics and silky mouthfeels, you're bound to find something that hits just right.