Moscato wines are made from the Moscato - or Muscat - grape variety. The most well-known type of Moscato wine is a lightly sweet, semi-sparkling white wine called Moscato d'Asti from Italy's Piedmont region, but there are a variety of Moscato wines from all around the world including frizzante, sparkling, still, white, pink, and even red Moscato wines.
Moscato Grapes
Moscato grapes, also known as Moscatel in Spain and Portugal and Muscat in other regions around the world, are a vitis vinifera grape, the most common grape type used in winemaking. Some varieties are also used as table grapes. Moscato grapes are one of the oldest species of grape known in winemaking around the world with probable origins in the Middle East. Varieties of Muscat grow best in warm to hot climates such as the Mediterranean, although there are a few cool weather varieties as well. Moscato grapes have a high sugar content which, after fermentation, yields a low-alcohol, high-sugar wine that ranges from off-dry to very sweet depending on the style and winemaker. There are also a few dry Muscat wines, although the prevailing style tends to be sweet.
Names of Moscato grapes include, but aren't limited to, the following:
Muscat Blanc à Petits Grains (France)
Muscat Canelli (US)
Moscato Canelli (Italy)
Muscat of Alexandria (New World)
Muskateller (Austria and Germany)
Muscat Lunel (Hungary)
Muscat Frontignan (France)
Muscat de Frontignan (South Africa)
Muscat Ottonel (Loire Valley, France)
Chasselas (Switzerland)
Muscat d'Eisenstadt (Switzerland)
Muscat de Saumur (Switzerland)
Muscat of Hamburg (New World)
Black Muscat (New World)
Black Hamburg (US)
Muscat de Hambourg (France)
Moscato Giallo (Italy)
Moscato Rosa (Italy)
Moscatel (Spain and Portugal)
Hanepoot (South Africa)
Flavor of Moscato
Lighter and milder than a Riesling, Moscato is often classified as a sweet wine, although it can actually range from semi-dry to sweet. It has medium acidity to help balance the sweetness, and it's a particularly grapey-tasting grape. In wine, this expresses as grape flavors, as well as with hints of apricot, peaches, pear, tropical fruits, honeysuckle, citrus blossoms, and citrus fruits.
Moscato's Aroma
Moscato is considered an aromatic white wine grape. The result is a strikingly fragranced finished wine. You'll notice the scent of sun-warmed flowers like orange blossom, as well as citrus fruits and peaches and raspberry preserves. In addition, there are spicy undertones to this wine's aroma, especially the scent of ginger.
Types of Moscato Wine
Moscato is a highly varied grape variety. The best known Muscats are white (Muscat Blanc), but you'll also find black varieties (Muscat Noir) used to make pink and red Moscato wines.
Moscato d'Asti
Italy is the top producer of Moscato wines, using the Moscato Blanco grapes (known in France as Muscat Blanc à Petits Grains) to make their delicious, semi-sweet, semi-sparkling (frizzante) Moscato d'Asti wines. These wines are produced in the Piedmont region and are light sparklers with a sweet and acid balance.
Asti Spumante
Sometimes just called Spumante, Asti Spumante is made from the Moscato Blanco grape and is a full sparkling wine version of Moscato d'Asti. This wine is made using the Charmant method in which secondary fermentation takes place in tanks (as opposed to in bottles as used in the traditional méthode champenoise used for making French Champagne). The result is a sweet, low-alcohol full sparkling wine.
Muscat de Beaumes de Venise
In France, winemakers use the Muscat Blanc à Petit Grains to make the equally well-known sweet, fortified Muscat de Beaumes de Venise, a Rhône Valley appellation and wine, along with a few other regional wines of similar flavors and character. Muscat de Beaumes de Venise wines are made from both blanc (white) and noir (black or red) varieties, and they may contain one or a blend of both of these grapes. Because of fortification, these sweet wines are both high in sugar and alcohol, but nice acidity creates a well-balanced and aromatic wine.
Muscat of Alexandria
Muscat of Alexandria is a sweet, low-alcohol, moderate acidity dessert wine made from the Muscat of Alexandria grape. You'll find Muscat of Alexandria wines from around the world, including Australia, Portugal, and even in Spain, where it is used to produce Moscatel Sherry wines. In Chile, the grape is used to make Moscatel de Alejandria wines as well as to produce Pisco, a famous Peruvian and Chilean brandy used in the popular cocktail, the Pisco sour.
Muscat Canelli
In the United States, you'll often find American Moscatel wines labeled as Muscat Canelli. These still (not sparkling) wines are typically made from the Muscat Blanc à Petits Grains grape. The wines tend to be semi-sweet to sweet and are often used as dessert wines.
Pink Moscato
This rosé wine is made from the Muscat Blanc grape, and it usually has a splash of Merlot added for color. It is a still wine (not fizzy) with typical Moscato flavors and aromas along with a touch of strawberry.
Red Moscato
Red Moscato, also known as black Muscat, is made with either orange or black Moscato grapes. The result is a still red wine with traditional Muscat flavor profiles along with hints of raspberry and roses.
9 Moscato Wines to Try
Often very inexpensive, Moscato is a great wine to try. You can easily find many options priced below $30 per bottle, although some of the dessert wines will cost significantly more.
1. Ceretto Santo Stefano Moscato d'Asti
Moscato d'Asti Ceretto Santo Stefano is consistently well-received by wine critics. It's light and spicy with ginger notes alongside melon and peaches. It retails for around $25 per bottle.
2. Campbells Rutherglen Muscat NV
This dessert wine is a classic Australian sticky with notes of raisins and spice along with toffee and brown sugar. The Campbell's Rutherglen Muscat costs around $22 per bottle, and it's well worth the price. Critics like it, with ratings in the 90 to 92 point range.
3. Klein Constantia Vin de Constance
The Klein Constantia Vin de Constance is a highly collectible vintage dessert wine from South Africa. The 2013 vintage received a 95 point rating from James Suckling, and Wine Spectator awarded the 2009 vintage 95 points as well. It's not inexpensive; plan to pay around $85 for a 500 mL bottle, but it's sweet and delicious and with its high sugar content, it will lay down well.
4. Quady Elesium Black Muscat
This sweet black Muscat dessert wine from California often receives high praise from critics including ratings in the low 90s. It's an intense violet color with beautiful honey, fruit, and floral flavors. Expect to pay around $22 for a 375 mL bottle. Quady also has a dessert orange Muscat called Essensia that is similarly priced and receives low-90s ratings from wine critics.
5. Bellafina Pink Moscato
From Veneto, Italy, the pink Moscato from Bellafina offers traditional Moscato flavors with a rosy pink hue. It's affordable at around $15 for a 750 mL bottle. The wine is lightly sweet and frizzante.
6. Yellow Tail Pink Moscato
If you want to see what pink Moscato is all about without paying an arm and a leg, then try Yellow Tail Pink Moscato from Australia. It's a great budget option, costing around $5 for a 750 mL bottle, and it's sweet, bright, and lightly fizzy.
8. Double Dog Dare Moscato
Not to be outdone in price, Double Dog Dare Moscato from California only costs $4 per 750 mL bottle, but wine drinkers give it high ratings. It's a still, sweet Moscato with flavors of apricot and crisp acidity.
9. Maryhill Muscat Canelli
The Muscat Canelli from Maryhill, from a winery in Washington State that grows its grapes in the Columbia Valley AVA, is a still, lightly sweet Muscat that costs around $17 per 750 mL bottle. Expect floral notes along with pears and apricot flavors in this tasty and affordable white.
Moscato Food Pairings
Always serve Moscato chilled, since this wine has the best flavor at a cold temperature. It works well with brunch, as an apéritif, and as a dessert wine.
Brunch
The light foods and mix of flavors that typify brunch make this the perfect meal for Moscato. Consider serving it with some of the following foods:
Baked goods such as croissants and danishes
Light cakes with fruit flavors or fruit-flavored quick breads and muffins
Mixed fruit dishes
Pancakes and waffles
Light egg dishes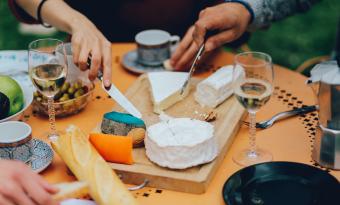 Before Dinner
Moscato makes an excellent choice as an apéritif, or before-dinner drink. Serve it with these hors d'oeuvres:
Cheeses, especially havarti, gruyere, mild chèvre, and brie
Crab-based hors d'oeuvres, such as mild crab cakes
Stuffed dates
Charcuterie platters
Dessert
Moscato is in its element as a dessert wine. Try it with one of the following:
Fruit tarts and pies
Fruit-based cakes
Almond cakes and pastries
Peach cobbler or crisp
Cheesecake
Fresh berries and shortcakes
Moscato Wine Is Light, Crisp, and Lovely
Whether you're looking for a great sipping wine or need something to accompany a fruit dessert, Moscato is a great choice. There's a reason for the recent popularity of the sweeter wine. It is aromatic, light, crisp, and affordable, and it's an exceptionally food-friendly wine.