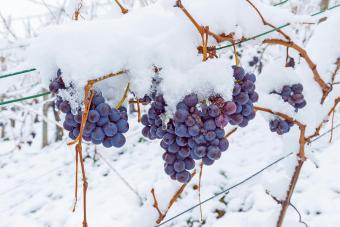 While Germany produces world-class riesling ranging from dry to floral to sweet, the diverse vineyards of Germany are also home to numerous other cool-weather white and red grape varieties. In this cold climate, the vineyards' relationship to rivers, their acute slope aspect and exposure to sunlight, and their unique soil characteristics are all key factors in producing quality wines that express their terroir. From dry, high-acid whites, to rounded, fruity reds, Germany can throw down with the rest of the Old World in offering the perfect glass or pairing.
Key Grapes of Germany
With a diverse range of climates and soils, Germany produces brilliant white and red wines throughout the country. German winemakers have absolutely mastered the art of winemaking, and they create some of the most exquisite and pure expressions of riesling in the world. Along with riesling, they produce a handful of other wines that echo their unique terroir and artistry.
Riesling
Known for its exceptional expressions of riesling, the northerly vineyards of Germany are well-suited to grow this variety, and they produce over 56,800 acres (23,000 hectares) of riesling. The white grape is grown in all 13 wine regions within the country and varies from region to region and vineyard to vineyard. A naturally aromatic grape varietal, German rieslings can range from delicate and floral with aromas of apple and racing acidity to richer, stone fruit forward wines, with a lingering sweetness. The fragrant nature of riesling paired with its high acidity makes it a great food wine. Bone-dry, light rieslings with crisp apple notes pair well with white fish, like halibut or snapper, whereas fuller-bodied rieslings with residual sugar pair well with spicy food such as Indian curries or Thai.
Müller-Thurgau
Müller-Thurgau is the second most widely planted white variety throughout Germany. Bred in the 1880's, it is a cross between riesling and madeleine royale and is more or less considered a good table wine with its easy drinking floral and fruity characteristics and mild acidity. Müller-Thurgau can have some residual sweetness, assuming a fuller-body, with notes of peach, lemon, and flint. As it is not an overly dominating varietal, the best pairings are more delicate dishes such as asparagus, salads, and roasted vegetables.
Silvaner
Silvaner is planted throughout Germany; however, it is most traditional in the regions of Rheinhessen and Franken. This white wine is made in both dry and sweet styles, but silvaner is more subtle than riesling with a milder acidity and less opulent aromas. The best expressions of this wine tend to have earthy characteristics and are more full-bodied with a juicy youthfulness. It can have flavors of peach, passionfruit, and subtler herbaceous notes. Herb-forward dishes, delicate white fish, or spring frittatas filled with peas, asparagus, and mint are the perfect pairings for this underdog.
Weissburgunder (Pinot Blanc)
Weissburgunder, also known as pinot blanc, is primarily planted in Baden, Rheinhessen, and Pfalz. It grows well in chalky soils and in climates slightly warmer than typical German riesling prefers. With high acidity, they are crisp and bright white wines with notes of citrus, pear, melon, green plum, and salinity. Another innate food wine, weissburgunder is a great pairing with young cow's cheese, crackers, and green apple, or tarragon roasted chicken with new potatoes and herbs.
Grauburgunder/Ruländer (Pinot Gris)
With a growing number of plantings of grauburgunder (pinot gris), this white wine is increasingly popular throughout Germany. The cool climate produces golden hued, high-acid styles, typically dry with medium body. They tend to have notes of green fruit, nuts, and subtle spice. The more robust version of this grape is known as ruländer, which has a richer mouthfeel, higher residual sugar, and tends to be more aromatic. Grauburgunder is best paired with chicken, roast pork, or lightly sauced herb pasta, while ruländer pairs better with slightly heavier foods, such as rich cheeses or even marzipan desserts.
Spätburgunder (Pinot Noir)
Spätburgunder, also known as pinot noir, is the third most planted grape in Germany and the most popular red variety produced there. Primarily seen in vineyards in the warmer regions of Pfalz, Baden, and Ahr, spätburgunder is light, dry, and savory, though more concentrated versions are also produced. It tends to have medium-high acidity and medium tannins with notes of cherry, cranberry, and blackberry and a lasting finish. They are often aged in oak, which contributes an allspice element. Germanys' top red pairs well with heartier, savory foods like sautéed mushrooms over polenta or grilled pork.
Dornfelder
The other red grape that is widely planted across Germany is dornfelder. Bred in 1955 as a blending wine, it is valued as a single varietal now, and it expresses distinct fruity notes of sour cherry, elderberry, and blackberry. It is typically fermented to dryness and can be matured in barriques in order to develop tannins and structure. This deeply-hued red is full of brambly hedge fruit and goes best with hearty winter stews and roasts.
Trollinger
Trollinger is a light and fruity red, akin to France's Beaujolais, with bright notes of fresh strawberry, cherry, and red currant. Meant to be enjoyed in its youth, it also is produced in a rosé style or blended with other similar red grapes. The mild tannins and fresh fruit punch make trollinger an easy drinking wine. It is great slightly chilled, on a warm day, paired alongside a picnic of marinated artichokes, charcuterie, young cheeses, and pasta salad.
German Wine Regions to Know
With vineyards situated in cool climates across most regions in Germany, the growing conditions can be quite challenging. Small differences in vineyard location can have a substantial impact on the quality of the wine. Generally, steep and rocky slopes facing south are preferred across the country. The best soils retain the day's heat and radiate it back into the vines. Additionally, vineyards situated near rivers or tributaries benefit from reflected sunlight during the day, while the increased circulation of air helps to protect crops from frost at night. There are 13 wine regions within Germany, primarily located in the southern part of the country. Below are six of the most important regions to be familiar with.
Mosel
The oldest wine-growing region in Germany, production in Mosel is concentrated in the center of the region. The best vineyards are situated on steep slopes next to a river where the grapes get southern exposure, allowing them to ripen in the cool climate. The region primarily produces white grapes, known for their crisp and refreshing nature. Rieslings from here are delicate, yet acid-driven, with notes of green apple and spring blossom and a pronounced minerality from the slate soils.
Nahe
Though one of the smaller regions, Nahe has a diverse geology and micro-climate, producing a variety of expressive wines. Here, sun fills the valley while the Hunsruck Hills protect the vineyards from cold winter winds. Volcanic and red slate soils produce lighter bodied riesling with a spiced quality, whereas lower vineyards of loess and loam produce aromatic müller-thurgau and earthy silvaner. Quality dornfelder and spätburgunder can also be found in Nahe.
Rheingau
The majority of the Rheingau is planted in riesling with prominent plantings of spätburgunder as well. The riesling from here is fuller-bodied with riper fruit flavors of peach compared to riesling from the Mosel. Rheingau riesling spätlese (late harvest) is well known and the highest quality is labelled as "first growth" which comes from premier cru sites.
Rheinhessen
This is Germany's largest wine region, with flat, abundant farmland yielding large quantities of grapes. Along with riesling, müller-thurgau and dornfelder are widely planted here. Sparkling wines are also prominent in Rheinhessen and continue to grow in popularity.
Pfalz
The Pfalz is among the most southern winemaking regions of Germany. Influenced by the Haardt mountain range, Pfalz vineyards enjoy a sunny, protected climate where grapes can ripen more easily than some of the more northerly regions. Riesling is only one of the grapes grown successfully here; quality weissburgunder and grauburgunder are widely planted along with silvaner and müller-thurgau. White wines here are richer and have more exotic flavors including vanilla, citrus, tropical fruit, and ginger. Pfalz is the largest red wine region in Germany, producing exceptional spätburgunder and dornfelder.
Baden
Nestled between the Black Forest and the Rhine River, Baden is a long, narrow region and the southernmost of all the regions in Germany. It produces some of the fullest-bodied German wines. Sun-drenched vineyards are primarily planted in spätburgunder, müller-thurgau, and grauburgunder. It is the most important region for spätburgunder, where there is a range of styles made depending on the vineyard site.
Understanding Wine Quality
Germany's labeling system starts with Deutscher Wein (table wine) which can come from anywhere in the country. It then goes to Landwein, which is from a broader geographic area. Next is Qualitätswein bestimmter Anbaugebiete (quality wine from a certain wine region), and finally, Prädikatswein, which will also have the specific region listed and a Prädikat on the label indicating the level of ripeness of the grapes. The riper the grapes are, the more likely they are to have residual sugar, meaning they may be sweeter on the palate. There are six Prädikats as follows.
Kabinett
Theses are the least ripe and are light wines that are generally refreshing and bright. They can be ever so slightly off-dry.
Spätlese
Spätlese translates to late harvest; spatlese are picked after grapes intended for Kabinett. Therefore, they offer riper fruit flavors that are more concentrated and tend to be slightly sweeter than Kabinett.
Auslese
This style is made from fully ripe berries; these have intense aromas and relatively concentrated flavors, often with some residual sweetness.
Beerenauslese (BA)
Made from overripe berries that are affected with Botrytis cinerea, or noble rot, these can only be produced when the right weather conditions occur, allowing the grapes to over ripen and the noble rot to develop. They are full-bodied, fruity, luscious dessert wines that age well, developing rich honeyed flavors.
Eiswein
These wines require even rarer weather conditions. Made from grapes with the same level of ripeness as BA, they must be picked and pressed while frozen. The juice is highly concentrated, creating a wine balanced by acidity and fruity sweetness.
Trockenbeerenauslese (TBA)
The highest quality, TBA is made with naturally dehydrated berries affected by noble rot. They are highly concentrated wines with a rich, luscious characteristic that can age for decades.
A Journey in German Wine
Once you get past some of the long, hard-to-pronounce foreign words, German wine has a diverse spectrum of whites and reds well-suited for many occasions. The refined flavors and finesse expressed across varieties and regions will leave you wanting to take a deep dive in this country's exquisite wines.