Elton John. David Bowie. Fleetwood Mac. Queen. Musical geniuses like these don't need an introduction when their names say it all. What do they all have in common? They cut their teeth on 1970s audiences and created albums that defined the decade. With vinyl making its big comeback in the 2010s, music lovers everywhere are clamoring to find original first pressings from the past. There's a good chance your parents owned at least one of the most valuable records of the 1970s, and with a little luck, they still have them stashed in a safe place.
Check Your Closets for the Most Valuable Records From the '70s
| | |
| --- | --- |
| Most Valuable 1970s Records | Recent Sales Price |
| Sex Pistols' God Save the Queen | $15,691.21 |
| David Bowie's Diamond Dogs | $8,037 |
| Electric Light Orchestra's Eldorado Test Pressing | $7,500 |
| Queen's "Bohemian Rhapsody/I'm in Love With My Car" | $4,927.38 |
| Pink Floyd's Dark Side of the Moon | $3,718.95 |
| The Misfits' "Cough/Cool" | $1,000 |
Though it's been 50 years since these albums rolled off the assembly lines, they've left such an indelible mark on pop culture that they're even more relevant today. The albums you or your parents bought for some pocket change are now bringing in thousands of dollars in private sales and public auctions. Since the most valuable albums from the 1970s spans genres, don't count your collection out of the running - you just might have a winning record on your hands.
Electric Light Orchestra Test Pressing
Electric Light Orchestra (ELO) is a bit of a deep cut for most millennials, but if you watched Mark Wahlberg prance about as a lead vocalist stand-in on Boogie Nights, you bopped along to their massive hit "Livin' Thing." Interestingly, one of the highest selling old ELO albums wasn't actually released to the public. A test pressing of their 1974 studio album, Eldorado, came up for sale on eBay in 2022. It sold for $7,500.
What makes an album from an underrated band like ELO worth so much money? The fact it's a test pressing means it wasn't the fully completed version of the album that people know today. It's very rare for test pressings to make it out of musicians' personal collections or studio archives, so when one comes to auction, people pull out their billfolds.
Pink Floyd's Dark Side of the Moon Album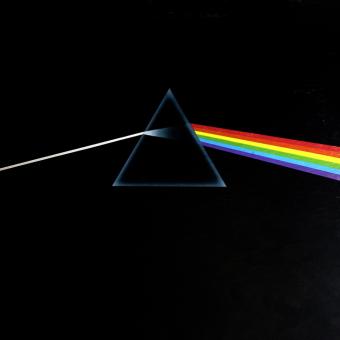 Pink Floyd released Dark Side of the Moon in 1973, and it's an album that's as infamous for its cover art as it is for its music. The simple triangle prism with a rainbow stripe on a black background marked the album that made Pink Floyd a household name. Original copies aren't anything to turn your nose up at, but the really special vinyls are the UK first pressings with a solid blue triangle on the center label.
Only the very first pressings had this solid blue triangle, and the transparent triangle replaced it pretty quickly after launch. So, rare album art like this justifies jumping from a price tag in the hundreds to the thousands. Recently, a copy in mint condition sold for $3,718.95 online.
Queen's Bohemian Rhapsody/I'm in Love With My Car Single
Thanks to Wayne's World, everyone knows their "Mama, just killed a man" cue, but you might not know about the record's interesting B-side song written and sung by drummer, Roger Taylor. Experimental and in-your-face, this single was released in 1975. Yet, it isn't an original pressing that cracks the top list for most valuable records from the '70s. A limited-edition pressing from 1978 on deep blue vinyl sold in a Bonham's auction for nearly $5,000.
The record marked an important award given to Queen by their record label, EMI. Albums that mark special events or commemorate an anniversary are unique because they're usually one-of-kind, which makes them valuable.
David Bowie's Diamond Dogs Album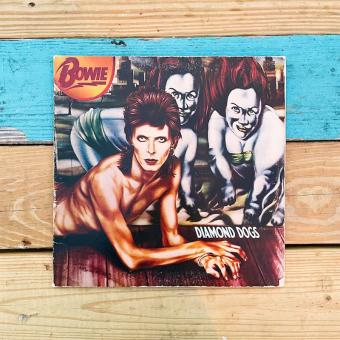 A concept artist and musician in his own right, David Bowie was known for pushing boundaries and having a distinct artistic vision. His eighth studio album, Diamond Dogs, is less known for its music than it is for its controversial cover. When completely folded out, the album shows Bowie as a half-man, half-dog creature. But it wasn't this Frankensteinian illustration that got people talking. It was the uncensored dog's lower half that did. The album was quickly pulled from shelves, but a few made it into circulation, and those sell for thousands of dollars when they come to auction. For example, Bonham's sold one in 2018 for $8,037.
Sex Pistols' God Save the Queen Album
The Sex Pistols are one of the rowdiest and most tragic bands to come out of the 1970s. An early example of British punk rock, people nowadays know them for the 'Nancy and Sid' romance that ultimately ended in Sid's death. Yet, they were breaking rules and faces from the minute they stormed their way onto the stage. While musicians debate over the quality of their work, they've got a dedicated fanbase who pays top dollar for finding a first pressing of their song, God Save the Queen.
Only 25,000 copies were pressed before the record label broke their contract with the Sex Pistols. While 25,000 might sound like a big number, London's population is almost 9 million people. Puts into perspective how wild it is that the single actually became a hit. When copies of the single hit the market, they usually sell for around $10,000. According to Vinylom, the most expensive sold in 2006 for $15,691.21.
The Misfits Cough/Cool Single
Another punk band, except this time from the other side of the pond, broke new ground in 1977 with their 45 single record "Cough/Cool". A pioneer in the horror punk genre, only 1,500 copies were made in the first round of prints. This makes finding an original copy really difficult, and auction goers are competitive when any surface. Depending on where you find one and who you're competing against, you might make out for under $1,000, like this copy from 2010. Yet, if you have one signed by the artists, that price tag goes way up. For instance, one signed copy is currently listed for nearly $30K on eBay.
Signs That You've Got a Valuable Vintage Record
Not every vintage record is worth money, but that shouldn't stop you from looking through the racks and boxes of them in thrift stores around town. It'll help if you're in the music scene, but you don't have to have a sonic soul to look for these valuable characteristics.
Look for signatures. Albums that have signatures from band members and producers are worth double their money because of how valuable the autograph is. This increases in proportion to how famous the person is. So, Elvis signatures are worth way more than your Uncle's from his garage band days.
Observe an album's condition. Check albums for warping, scratching, and other signs of wear. The less-used an album is, the more it'll be worth.
Look for original inserts. Albums with their covers are valuable, but ones with their original inserts are really valuable. That's because they're so easy to rip apart that they often get replaced.
Records You Should Keep on the Shelf
One of the most depressing things about vinyl is that there's a set number of times you get to listen to it. Every time you play a record, you damage it, and eventually, it'll be unplayable. So, your vintage albums from the '70s and beyond that're special or signed shouldn't be on rotation in your record player. Keep those records on the shelf for safekeeping.