Before festive butter cookie tins became the modern grandma's sewing case, natural and earthy vintage sewing boxes were all the rage. Invoking a simplistic design and marrying it with function, many of these old sewing boxes have survived to the 21st century in great condition. Rediscover their magic for the perfect retro aesthetic.
Styles of Vintage Sewing Boxes
Long before you could run to a store and rely on the fast fashion industry to provide you with any article of clothing you could imagine, people had to make and mend the clothes they owned. This meant that people were familiar with both hand and machine sewing, and every household amassed a collection of sewing notions that helped them maintain their outfits. Over the years, the cases these items were held in have evolved, and many beautiful, earthy, and decorative boxes became popular during the 20th century.
Wicker Sewing Boxes
Undoubtedly, the most common type of vintage sewing box was made out of wicker. Cheap to make, wicker sewing boxes picked up speed in the post-war period, and you could find little picnic basket sewing boxes in homes across the United States by the 1960s. Your parents or grandparents probably have their own straw basket filled to the brim with trim, threads, needles, and more. Thanks to mass-manufacturing, most of these boxes weren't marked, meaning that the easiest way to identify them is based on their characteristics:
Painted or not - While you could find painted wicker sewing baskets, many of these vintage examples were untreated with paint or stains.
Fabric coverings - Not all of them were covered in fabric, but for a time, the lids and sides of these boxes were covered in cheap cotton prints.
Standing Sewing Boxes
Another popular style that emerged in the 1950s/1960s was the wooden sewing boxes that were built to be freestanding. Some of these resembled picnic baskets in that they opened with two hinged doors on the top, while the accordion style (with layered shelves that used external hinges to store more stuff in a compact space) was useful for serious sewers that needed a lot of space.
Chinese Sewing Boxes
During the late-19th and early 20th centuries, there was a rise in interest in Asian design and culture, particularly from East Asia. Simple products from the region were transported to the United States by the thousands, such as their round bamboo baskets. These baskets could store all sorts of bits and bobs, including sewing supplies. While they weren't particularly expensive to purchase at the time, authentic ones have significantly increased in value.
Non-Wooden Sewing Boxes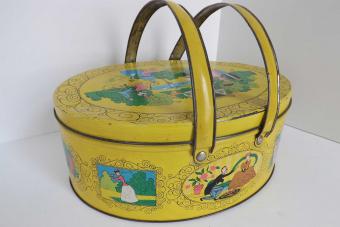 Caboodle-esque but from decades before their 1990s fame, non-wooden sewing boxes were economical and came in a myriad of colors. Although they didn't start taking off until a little while after the plastics age began, they replaced the mid-century fondness for wooden boxes. Among the many different materials that were used to make these cheap boxes were:
Plastic
Acrylic
Lucite
Leather/faux-leather
Tin
Vintage Sewing Box Values
Since sewing was such a fundamental aspect of daily life in the near past, these boxes littered the American countryside. Thus, there are thousands of them out there, and without a huge collectors' market, they can't be listed for too much money, otherwise no one would buy them. While this doesn't really work in your favor if you're trying to get rid of your grandmother's dusty basket, it's great for those who're looking to go retro with their sewing supplies or start a collection. Generally, vintage sewing boxes are worth about $25-$150, depending on how rare they are, what period they were made in, and how good their condition is.
For instance, sewing boxes from the early 20th century are worth more than those from a few decades ago, due in large part to the costs of the different materials that were being used (natural woods vs. plastics). Similarly, wooden boxes will bring in more money than wicker ones, if at the very least, because wicker baskets are cheap and a dime and dozen. Thus, people aren't willing to shell out a lot of money for a woven sewing basket, no matter how old it is.
Take each of these sewing boxes, for example:
Wil-hold Wilson Co. was a notorious manufacturer of cheap sewing boxes during the mid- to late-20th century, and what their products lacked in expense, they made up for in function. This bare bones late-20th century plastic sewing box with a few noticeable scuff marks will do the job fine but isn't something to write home about, making it worth only $38.
The quintessential sewing box that everyone thinks of is made out of wicker, and while they're a dime a dozen online or in an antique store, the more decorative ones can bring in a pretty penny. Take this small, vintage wicker sewing box featuring an embroidered fabric top, for example; it was listed online for $45.
Because of the increased space, accordion sewing boxes are really valuable today; for instance, this 1960s French accordion sewing box with its original black paint only shows a little wear and tear, and so has been listed for $204.65 online.
Places to Buy and Sell Vintage Sewing Boxes
Old sewing boxes are a rather cheap and super easy collectible to find in-person. Lots of older folks have donated their trinkets to antique stores in your area, so you've got a great chance of finding some type of sewing container at a local consignment shop. Additionally, you can look at thrift stores, garage sales, and estate sales to see what sewing boxes you can uncover.
While stumbling across a beautiful sewing box can be thrilling, selling them to dealers in-person isn't as pleasurable. Since they're not worth that much (and shop owners always need to make a profit), you won't make out with a big chunk of cash with these collectibles. So, when it comes to selling vintage sewing boxes, online marketplaces are your best option. By going directly to the buyers, you can bypass any extra costs and make a higher profit.
Here are a few marketplaces to check out:
Say It Ain't Sew
Fashion historians and history loving folks alike have already outfitted their workspaces with beautiful sewing boxes from the past, and you can too. You don't have to be able to sew or have a plethora of old sewing machines to find a use for one of these compact containers, as just about any of your bits and bobs will find a home in its cozy walls.