When it comes to cleaning your tile floors, there are more than just ceramic tile floors to think about. Get a comprehensive tile floor cleaning guide covering all your tile floor needs from vinyl, natural stone, granite and even glass.
Supplies to Clean Tile Floors of Any Style
It may come as a shock, but not every surface is the same. While you wouldn't use a glass cleaner on your tub, you shouldn't use a cleaner meant for ceramic tile on a granite floor. The surfaces are different and require a different cleaning method. Using the wrong cleaning method can not only shorten the life of tile, but it can downright ruin it. Rather than fork out the big bucks to replace your tile, learn the cleaning methods and care you should use on each with the following materials.
Vacuum
Broom and dustpan
Microfiber mop
Rag mop
Bucket
Dawn or pH neutral all-purpose cleaner
White eraser
Rubbing alcohol
Cloth
How to Clean Natural Stone, Marble, and Granite Tile Floors
Natural stone floors like slate, granite, and marble are downright beautiful. However, when it comes to cleaning natural stone, there are a few things you don't want to do.
Don't use harsh scrubbers or abrasive cleaners.
Don't use acidic cleaners, like vinegar, or ammonia-based cleaners.
How to Clean Stone Tile Floors
Therefore, when it comes to cleaning your stone, look for something with a neutral pH like Dawn or a neutral pH all-purpose cleaner. To get cleaning, follow these instructions:
Use a vacuum cleaner or broom to remove all the dirt on the floor.
Mix equal parts Dawn and water in a spray bottle or use the all-purpose cleaner as directed.
Spray down one area of the floor at a time.
Use a damp mop to scrub the floor.
Let the mixture sit for about 5-10 minutes on particularly dirty areas before mopping away.
Add fresh water and use a damp mop to go over the floor, rinsing away any remaining residue.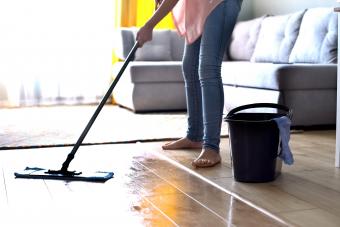 Cleaning Resilient Tile Floors
Cleaning your resilient tile flooring, like vinyl or linoleum, doesn't have to be dreaded. Rather, with the right tools, it can be pretty painless. Prior to finding out what you should use, it's important to know what shouldn't be used on resilient tile flooring.
Avoid abrasive and harsh scrubbers.
Don't use beater style vacuums.
Do not use harsh detergents that will wear down the flooring material.
Avoid steamers as they saturate the flooring.
How to Clean Resilient Tile Floors
So, what should you use on resilient tile flooring? Well, here vinegar is your best friend. For clean floors, follow this method.
Thoroughly clean up all the dirt using the broom.
Remove stuff marks with the eraser.
Add a splash of rubbing alcohol to a white towel for any ink, hair dye, or lipstick stains.
Fill the bucket with a gallon of hot water.
Add 1 cup of white vinegar.
Dampen the mop with the mixture.
Mop the floor.
How to Clean Glass Tile
Glass mosaic tiles are beautiful. And, since it isn't porous, you don't have to worry about it absorbing stains. However, there are still a few things you'll want to keep in mind:
Don't use harsh abrasive cleaners.
Avoid harsh scrubbers like steel wool.
Don't leave stains to settle and harden on the tiles.
Cleaning Glass Tile
Glass tile is pretty resilient. Therefore, you can choose to use a commercial cleaner for the bathroom on it without any repercussions. However, if you are looking for something a bit more natural, grab the Dawn, vinegar, and water.
In a spray bottle, mix a 1:1 ratio of water to vinegar.
Add ½ teaspoon of Dawn.
Shake up the mixture and spray on to the floor.
Wet the microfiber mop and use it to scrub the mixture over the tiles.
Work the mixture around the entire floor.
Get clean warm water in the bucket.
Use the mop to rinse the floor.
How to Clean Stains From Grout
Flooring isn't always about the tile. The grout gets dingy too. While regular cleaning will keep your grout looking good longer, it will, eventually, need a good cleaning. When it comes to cleaning grout, several sure-fire grout cleaning recipes are available. These include Dawn, bleach, and hydrogen peroxide. The key to cleaning grout thoroughly is to avoid putting acidic cleaners like vinegar in full strength on the grout since it can break down the cement.
Using a Tile Cleaning Machine
If you aren't all about manually cleaning your tile floor, several machines are available for cleaning tile floors. While these machines can work great on ceramic and glass tile floors, natural stone floors take a gentler touch. Therefore, you might want to avoid these machines on these types of floors. Here are a few top-rated machines you might consider investing in.
Shark Genius Hard Floor Cleaning System Pocket
The Shark system was given a 9.8 product review by MSN and listed among the 10 best machines in 2020. A steam mop, the Shark works great to get out embedded dirt and grime in your tile. Selling for about $100, the Shark system has a unique touch-free design. However, since it uses steam, you wouldn't want to use this system on linoleum because it can damage it.
Floormate Deluxe Hard Floor Cleaner
Designed for all types of floors, Floormate Deluxe by Hoover was listed in the top spot for all-around cleaners by Home Cleaning For You. Costing you about $200, Hoover's hard floor cleaning system was noted for having non-damaging wheels, being lightweight, and having effective spin brushes. It should be noted that it's not as powerful as some other machines.
Weekly Tile Floor Maintenance Schedule
The key to making sure your floors don't end up getting too nasty is following a good cleaning schedule. Not only should be be cleaning each week, but you need to think about immediate and monthly cleaning you should be doing too.
Immediately
When it comes to cleaning, there are some things that just can't wait.
Wipe up spills when they happen.
Wipe or broom up dirt clumps and mud.
Weekly
You should give your tile tender loving care at least once a week. If you can fit it in twice, that is even better.
Sweep the floor.
Remove scuffs and stains.
Damp-mop the tile.
Monthly
Even with the most diligent of care, you'll find things looking a little dingy. Therefore, it's important to do a deep natural tile cleaning at least once a month.
Inspect and clean grout.
Check the seal on tile and grout.
Comprehensive Guide to Cleaning All Tile Floors
Regular cleaning of your tile floors is important to ensure that you don't end up with dingy-looking tile that has you sending the better part of your Saturday scrubbing on your hands and knees. Since you've got the know-how, start scrubbing that tile.