Who doesn't like to get snuggly as the weather chills? Sherpa is a cozy, low-cost alternative to shearling that will keep you warm during the chillier months.
The rougher, warm fabric lasts for a long time, but it mats and discolors quicker than other natural fiber alternatives. To get ready for a cozy winter, learn how to wash your sherpa blankets and clothing along with the best ways to restore matted fibers.
How to Wash Sherpa Blankets & Clothes
Sherpa is a synthetic fabric created to mimic shearling wool. Given that it behaves a lot like wool, you can usually apply your wool-cleaning routines to your sherpa blankets and clothes.
Machine Washing Instructions
When machine washing sherpa, you can toss it any regular load on a cool or cold cycle with a delicate laundry detergent. Although you can put it in the dryer, we recommend air drying. It will take longer to dry in the dryer than other laundry because of the densely coiled fibers, and tumble drying also might further flatten or mat the fibers.
Handwashing Instructions
Handwashing is another route you can take to clean your sherpa goodies. Handwashing is a gentler way to clean your fabrics, which can help with pilling and matting.
Fill a bathtub with cool water and submerge the sherpa in it.
Add a few teaspoons of delicate/gentle detergent and rub the detergent into the sherpa with your hands.
Drain the tub and rinse with fresh, cold water.
Gently squeeze the sherpa in your hands to remove as much excess moisture as possible.
Set a large towel on the ground to soak up the water that drips as you pull it out of the tub.
Press out more water with a towel and hang to dry.
Spot Clean Sherpa With Dish Soap
Whether you dripped wing sauce on the outside fleece or spilled warm coffee down the sherpa inside your favorite jacket, you've got to act quickly. The sooner you spot clean your sherpa with this method, the better chance you've got of it not staining.
Dish soap isn't just a great way to clean oil-slicked baby animals but also to clear up small stains on your sherpa blankets and clothes. Just rub in a few drops of dish soap (blue Dawn recommended) onto the stain and rinse with cold water. Then toss in the wash like normal, and the stain should be gone.
How to Restore Matted Sherpa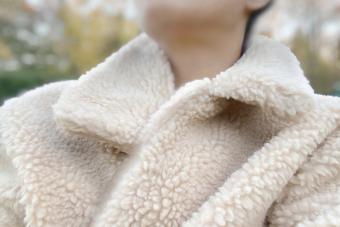 It feels like you only get about three weeks of beautifully plush sherpa before it mats down into a rougher texture. Instead of retiring your barely-a-year-old sherpa blankets and coats, restore their plushy fibers with these two methods.
With a little elbow grease and a handful of tools, you can bring your dead sherpa back to life just in time for the first big freeze.
Use a Wire Dog Brush
Take a small or medium-sized wire dog brush and brush against the matted sherpa. You might have to do a few passes before you fully dislodge the flattened fibers and restore them to a fluffy bounce.
Use a Softening Spray & Boar's Hairbrush
YouTuber Ann Dunnington recommends another simple method for breathing life back into your sherpa clothes or blankets.
Dilute a teaspoon of hair conditioner into a small spray bottle of warm water and dampen the sherpa with it.
Use a boar bristle hairbrush and brush up in every direction.
After you've disrupted the sherpa, toss the items(s) in the wash on a normal cycle and hang to dry.
Signs That It's Time to Retire Your Sherpa
Unless you're a fiber artist and know to patch, repair, and even reline sherpa clothes or blankets, there comes a time when your sherpa can't be saved. Keep a lookout for these signs that it's time to replace your old sherpa.
The sherpa never returns to its fluffy texture, no matter how much you brush it out.
There are a ton of crumbs, hairs, etc. buried in the sherpa that you can't remove.
There's an abundance of crusty stains that you can't brush out.
Make Your Sherpa Last All Winter Long
Winter is coming and pulling your vacuum-sealed bags of sherpa out of the closet won't do. You've got to wash and fluff to bring the trusty fabric back to life. Make sure your sherpa lasts all winter long by cleaning and restoring it with these methods.