In a perfect world, you wouldn't have to worry about wrinkles. Fortunately, Nori is making the world a little more perfect. A revolutionary new steam iron built for today's consumers, Nori makes the leap from a steamer to an iron and back depending on what you need. Learn more about the Nori steam handheld iron and why it's better than any traditional iron or steamer.
What Is the Nori Steamer?
Nori took the traditional steam iron and completely revolutionized it. It's a steamer and iron combo that uses the ease of the flat iron design to create the unique Nori press. Created with the consumer in mind, Nori went through five rounds of prototypes and two years of development to find a product that could fit the wrinkle-free needs of today's families. But to truly see why Nori beats out the steamer for clothes competition, all you need to do is compare it to a conventional iron and steamer.
Iron vs. Steamer vs. Nori
An iron can press your clothes. A steamer can use steam to de-wrinkle your clothes. Nori can do both. Explore a few key features between the iron, steamer, and Nori to see how Nori measures up.
No Ironing Board Needed
With Nori, the archaic design of an iron gets thrown out the window, along with the ironing board. Nori was created like a flat iron, so it has two aluminum plates to iron both sides of your clothing in one swipe.
Versatile for Any Fabric
In one session you can iron your jeans with the ironing plates and steam your silk shirt with the optional steam feature. It has a simple push-button steaming mechanism that gives you complete control. And the wand design makes it super easy to swipe the steam up and down your hanging clothes.
Compact Garment Steamer
Irons are bulky and hard to travel with. Steamers aren't much better. But the sleek elongated arms of the Nori are only 14 inches to help it store easily and fit right in your suitcase.
Continuous Steam
When you have a large garment, you can run out of steam fast in a traditional steam iron. However, Nori has 10 minutes of continuous steam for all your de-wrinkling needs. That makes it perfect for steaming your shirts for a business conference or taming your laundry pile at home.
Sanitizes & Irons Clothing
Like a traditional steamer, Nori can sanitize your clothing using steam. However, the advantage of Nori is the fact that you can also press your clothes to remove any stubborn wrinkles. So if you are running late for a business meeting, you can use the steam to sanitize your jacket and press out the wrinkles with one device.
User-Friendly Digital Interface
Nori's also welcoming users to 2021 with an easy-to-use digital display. No squinting to see what settings you want to use!
Nori: The Best Steamer for All Your Clothes
You can talk about the features of Nori all day. However, it's better to let the versatility of this revolutionary steam iron speak for itself. Unlike a traditional system where you have to switch from a steamer to an iron, Nori can handle anything you throw at it.
Smoothing Out Silks
There is no denying it, silk is a beautiful fabric. But storing it so it doesn't get wrinkled is a whole other matter . Even with the best of care, that red silk blouse at the back of your closet is a wrinkled mess. Rather than panic, put it on a hanger and use the silk setting on your Nori. Add a little steam and it will look like it just came home from the dry cleaner.
Perfect for Polyester
You can't talk about why Nori is the best steam iron on the market without talking about polyester blends. They are the bane of the clothing world. What setting should you use? Are you going to wreck it? The questions go on and on. But with Nori, you don't have to worry about any of them. If in doubt, steam it out. So whether it's a poly/spandex blend or poly/cotton blend, you have options. And if you have a polyester shirt with intricate sleeves, you don't have to worry about ironing in more wrinkles. You can just steam the wrinkles out.
Tame Difficult Denim
Denim is another problem point. Some people like those crisp ironed lines and others just want to remove a few wrinkles. Nori does both! The double plates on the Nori make it perfect to get that pressed denim look on your new jean skirt. And the steam can quickly get a few wrinkles out of your son's jeans he just pulled from the hamper. They can even sanitize them too. It's a three-fer!
Care for Your Cotton
Cotton is your run-of-the-mill fabric. Everything has a little cotton in it, from your favorite t-shirt to those buttery leggings that you adore. It's probably cluttering up that laundry basket of clothing that you were supposed to fold days ago. Rather than throwing that favorite t-shirt back in the dryer or hanging it while you shower, just give it a few swipes with the Nori on the cotton setting. It heats up while you're getting ready and then it's done. It's even quicker and more efficient than the dryer. This is especially true if you give it a little Fabric Facial first.
Protect Your Wool
Are you actually afraid of ironing wool? Well, you're not the only one. From drying it incorrectly to ironing it wrong, wool can be ruined in a lot of different ways. And, it's also one of those fabrics that you can't easily de-wrinkle. When it comes to your favorite wrinkled wool sweater you want to wear to the Christmas party, Nori can help. Set the iron to wool and give it a little press. And if you're worried about pressing it, just steam it. Not only will you look sharp, but your wool will thank you!
Get Lineless Linen
You might have a few antique linens or just some trendy linen clothes you love. Sometimes you need that wrinkle-free pressed look and other times you just need to remove a few creases. You can hang up your linen dress and give it a light steaming or you can lay your tablecloth on the bed and iron it. Versatility makes Nori hard to beat, so you can be ready for a summer gathering or a table-lit dinner all in one go.
Buying Nori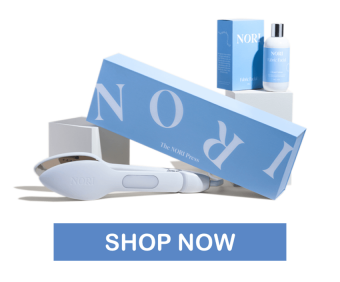 You can find a run-of-the-mill steamer for clothes at COSTCO or Walmart, but once again Nori is different. Take advantage of their direct-to-consumer shopping experience through Nori.co and pick up your new favorite piece of hardware for $120 - and if you use the code LTK10 at checkout, you'll save 10%! For a one-stop-shop steamer and iron combo that you can take with you anywhere, it's a steal.
Get the Best With Nori
When you are looking for the best steamer for clothes, look no further than Nori. It's an iron, a steamer, and as easy to use as a hair straightener. You don't need an ironing board or flat surface because Nori can de-wrinkle anywhere. From business suits to summer dresses, Nori is the hassle-free way to take wrinkles out of your wardrobe.