More Details
You can go way beyond the traditional farmhouse look and give your home some real personality and practical beauty with upcycled canning jars. The best décor with Mason jars is useful and pretty at the same time, offering you a lovely place to put all those necessities of life (or just the Legos you're tired of stepping on). From bird feeders to holiday decorations, there are tons of ideas to try.
Mason Jar Hanging Sconces
Grab a little twine, some white paint, and your choice of Mason jars to create something super cool. Frame a picture or sign with hanging jars and fill them with flowers or even battery-powered twinkle lights. Instant farmhouse awesomeness.
Mason Jar Moment Catcher
You know when something really funny or sweet happens in your life? One of our team members, Amy, has the best idea ever for capturing the beauty of family life. Write down those great moments (plus hilarious kid quotes and anything else joyful). Put the moment on a slip of paper with the date and tuck it in a Mason jar. Surround the jar with flowers or lights so it can be a beautiful display. On New Year's Day, get out your moment catcher jar and read all the great memories aloud.
Canning Jar Hand Soap Pump
More Details
Give your kitchen counter or bathroom sink an adorable update by turning a Mason jar into a soap dispenser. You can pick up soap dispenser jar lids at home stores or online. Just add your favorite soap to the jar and enjoy!
Wall-Mount Toothbrush Rack
More Details
Keep the clutter off your bathroom counter by hanging a wall-mounted Mason jar toothbrush rack. This is a fun and easy project, and it's a great way to add that extra flair to your bathroom decor. Just make a simple bracket for the jar and attach it to the wall by your sink.
Colored Jar Catch-All
All that stuff you don't know what to do with that creates clutter on your desk or dresser? Don't stress. Our team member, Carrie, had a great idea for what to do with a Mason jar to contain the chaos. Her kids swirled canning jars with acrylic paint, let them dry, and now use them to hold everything from pencils to scrunchies. These are perfect for all those little toy parts in kids' rooms too. So clever, right?
Mason Jar Penny Display
If you love collecting old pennies or other coins, it can be fun to display your treasures. No more stressing about what to fill Mason jars with for decoration! Allison, one of our writers, had the best idea ever for displaying a coin collection (or the million rocks and shells your kids bring home): pop them in a Mason jar and put it on a console table or bookcase to show it off.
Quick Tip
You can even rotate out your Mason jar display with the seasons, showing off pennies or nickles in the winter and seashells in the spring or summer. Mix it up to create fresh and fun decor.
Patriotic 4th of July Mason Jar Vases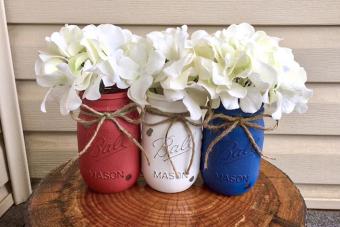 More Details
Show off your patriotism on the 4th of July with a super simple decorating idea. Just swirl paint in Mason jars - one red, one blue, and one white. Then fill them with white flowers. You've got an instant centerpiece or porch decoration!
Mason Jar Bird Feeder
More Details
Don't limit your decor with Mason jars to the inside of your home. You can show off your vintage style and feed the birds at the same time by turning an old canning jar into a bird feeder. Pick up a Mason jar bird feeder base and add a roof using a vintage glass plate (epoxy is your friend here). Hang it from your porch or a tree out front.
Muted Mason Jar Tray Centerpiece
More Details
If you're looking for a creative centerpiece for your table or buffet, decorating with Mason jars may be your answer. You can get a rustic wood or metal tray at a thrift store or antique shop and use it to hold Mason jars filled with flowers. Bonus points if you paint the jars in muted colors for a super sophisticated look.
Adorable Mason Jar Tissue Holders
More Details
Instead of using a normal Kleenex box in your bathroom, turn a Mason jar into a decorative tissue holder. Just cut a slit in the jar lid and fill the jar with tissues. Hint: get the type of tissues that come in a cylinder so you can put them right into the jar and have them dispense one at a time.
Quick Tip
Make your Mason jar tissue holder even cuter by painting the jar or adding a glass stencil.
Upcycled Jar Light Fixture
More Details
Need a little extra style for your normal light fixtures? Our team member, Sydney, recommended using Mason jars as globes for lights. They add a rustic touch that's gorgeous with any decorating style.
Decoupaged Flower Garden Jar
More Details
If you're wondering what to fill Mason jars with for decoration, you can never go wrong with flowers. But what if there's nothing blooming? Create your own pretty garden to display on a table or bookcase by decoupaging paper flowers onto a jar. Start by painting the jar white. Then cut out paper flowers and use Mod Podge or another decoupage medium to cover the lower part of the jar in blooms.
Minimalist Black Mason Jar Vase
More Details
Mason jars are a great way to display a bouquet of greenery, and you can give them a super modern look by painting the inside matte black. You'll get the farmhouse look, but it will feel totally updated and contemporary.
Quick Tip
While matte black is a classic, you can also do a minimalist painted jar in navy blue, flat copper, or another dark neutral.
Mason Jar Herb Garden
More Details
Starting seeds or growing a countertop herb garden is a great way to bring spring inside in the winter months. Turns out, Mary from our content team uses the short Mason jars to grow seeds and herbs. It's a perfect way to turn your little garden into a decoration in your kitchen!
Canning Jar Lettered Sign
More Details
Turn a bunch of Mason jars into an adorable lettered sign. You can either paint the jars directly or attach painted fabric or paper sleeves to the jars. Spell out a word like "welcome" or "family," or use the letters to write a name. This works super well for baby showers or nursery decor.
Mason Jars With Upgraded Lids
More Details
Mason jars are a great way to store everything from dry beans and pasta in your kitchen to cotton balls or soap cubes in the bathroom. The thing is, they can get a little boring. Upgrade the look of your storage Mason jars with a hardwood lid. You can make them yourself or buy them on Etsy or at craft fairs.
Christmas Decor With Mason Jars
More Details
Give your Christmas decorations a creative new twist with Mason jars. You can paint the jars white and use sandpaper to distress them. Then fill them with poinsettias or other red flowers and show them off in a rustic tray.
Creative Things to Fill a Mason Jar With
There are so many things you can fill a Mason jar with for decoration and practical storage. Somehow, as soon as you put something in a canning jar, it becomes part of your decor. Try one of these ideas:
Craft supplies and beads
Sea glass or pretty stones
Bobby pins or hair ties
Small toys, such as Legos
Seeds and dried foods
Dried flower petals
So Many Options for Mason Jar Decor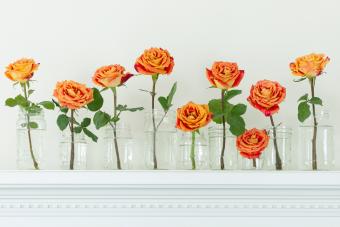 One of the best things about decorating with Mason jars is their versatility. You can show off flowers, display your favorite collection, or make a beautiful seasonal accent. The options are endless, and so is the creative fun.