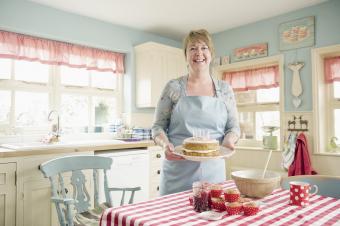 Americana kitchen décor is all about bringing patriotic American colors into a cozy, charming style for your home. A kitchen decorated with an Americana theme is so inviting, your family and friends will gravitate to it and never want to leave.
What Is Americana Kitchen Décor?
Americana kitchen décor takes its inspiration from country style interior design. Country design is often a catchall term that encompasses all kinds of homey design styles, like English Country and French Country design. However, Americana interior design incorporates the charms of distinctive American Country styles. These styles in general include:
Country farmhouse design of rustic and primitive styles fits right into an Americana theme.
Log cabin style design is very compatible with Americana furnishings.
Patriotic style design is a natural part of the Americana theme.
Rustic style design can range from rough-hewn to Primitive Country.
You can use various designs for each of these to add a depth of richness to your kitchen design. When you add various themes, motifs, and colors that are patriotic, you end up with an amazing kitchen.
Pick a Theme for Your Americana Kitchen
Some of the themes for your kitchen are design motifs. You have an abundance of choices, such as:
Stars
American flags
Quilt patterns
Quilt wall hangings
Patriotic symbols from 1776
Independence Day/4th of July
Farm animals
Choose Patriotic Kitchen Colors
The basis of the Americana kitchen style revolves around the color choices you make.
Red, white, and blue make up your color palette.
When deciding on your color scheme, you can choose to go for brighter reds, whites, and blues, such as the colors on the modern American flag.
Alternatively, opt for richer, deeper colors more associated with Colonial America (this second approach is the most traditional approach to Americana design). The Colonial style colors are rusty reds, dark blue-grays (a la Williamsburg Blue), and beige/off white tones.
The tricky part about Americana colors, whether you choose the modern colors or the Colonial tones, is that they can be overwhelming and hard to use. For instance, painting your kitchen walls rust-red or dark blue can significantly darken your room, not to mention make it appear much smaller. Make sure your use of color does not overwhelm your kitchen. It helps to think of these colors in terms of accessorizing with paint and wallpaper, unless you have a very large kitchen or have a wall you can paint as an accent wall. Start with small splashes of color and add additional color slowly but surely, so you can stop before you go too far.
Ways to Add Pops of Red, White, and Blue
You don't have to paint your walls to have big color impact. If you prefer to start with white as your base color, you can add subtle splashes of red, white, and blue with the accessories and art objects you select. Some ideas to consider:
Add a simple as a red or blue splatter paint pitcher showcased on top of a built-in china cabinet.
Try open shelving above the countertop with collection of country recipe cookbooks.
Use blue and white tin or antique stoneware crock canisters for flour, sugar, and coffee.
Display antique colonial red dinner plates.
Highlight a colorful collection, such as Americana teapots and various pitchers.
Select Americana Furniture Styles
The furniture style for Americana can range from rustic or primitive to Colonial designs. Wood furniture makes a traditional Americana kitchen sing. When choosing woods, think dark finishes or natural wood pieces - if you want to get really authentic, choose woods that are indigenous to your area, just like the early American Colonists would have used.
Windsor Chairs
One classic Americana furniture design is the iconic Windsor chair. This chair style might be used for a pair of chairs in a corner vignette with a small table. The same chairs can be used for a country style dining table in a breakfast room/nook. You may decide you prefer the more rustic ladder-back chair design. The Windsor chair design is also a popular choice for kitchen barstools. Plaid or solid colored chair pads will give you another way to add color and texture to your kitchen design.
Tables and Accessories
Choose a country or farmhouse style table in wood. The small or larger breakfast table can be covered with a red or blue gingham tablecloth and a pair of kerosene lanterns or candle lantern. A dough bowl makes an ideal table bowl that you can fill with fruits and nuts or change out for holiday or seasonal decorations, such as small pumpkins or pine boughs and pinecones.
Other Furniture Pieces
Other furniture pieces in Americana colors, like a Williamsburg blue bookshelf or rust red chairs, make nice additions.
Choose the Perfect Lighting
Select lighting fixtures that reflect the country and Colonial styles of candles. These are available with or without glass globes. Choose either an oil rubbed bronze or satin nickel finish. Wall sconces can match the Colonial candlestick design, or you may want to go with a punched metal one.
Add Charm With Flooring and Rugs
Slate and other stone flooring as well as brick will add charm and style. Wide plank flooring of heart-pine or oak will add authenticity to your kitchen. A braided rug in red, white, and blue can be used in the kitchen. If you have a breakfast room/nook, or keeping room, this classic rug will tie your kitchen colors and design together while adding warmth to your décor.
Choose Traditional Appliance Styles
An old-fashioned wood cookstove will look great in your Americana kitchen. There are companies that offer restored antique cookstoves that can be converted to electric or gas for modern convenience without sacrificing the aesthetics. Another choice is a reproduction. For your refrigerator, a cabinet panel design can cloak a modern refrigerator. A reproduction icebox may quickly become a conversation piece for anyone helping you in the kitchen. There are different styles of old-fashioned farm sinks from hammered copper to a cast iron porcelain one. Don't forget the high-arc faucet.
Display Collectible Pottery, Crockery, and Tin
Paint an open shelving unit red and set it against a white will. Use it to display Colonial style pottery and crockery along with antique collectibles, such as tin containers.
Add Authentic Touches With Cookware
Copper bottom pots and pans make the perfect addition, as do copper cooking utensils. A hanging pot rack or wall rack will show off all of your cookware to great effect.
Add Even More Americana
There are many ways you can further incorporate these Americana elements into your kitchen décor. Look for Americana themes and designs in the following accessories:
Chair pads in solid colors, stripes, or plaids
Plaid or diamond weave tablecloths
Placemats in various patriotic designs
Handmade candle tapers or rolled beeswax
Punched tin lampshades in star or flag design
Colored or motif design light switches
Gingham or lace curtains with patriotic designs
Hand-tied rag throw rugs
Wooden flags and other wall art
Stylized table runners
Pull It Together With Final Touches
For more perfect finishing touches, keep your eye out for great period antiques for your walls and shelves. With Americana kitchen décor, you are only limited by your imagination. The idea is to create a family friendly, comfortable room - there are no hard and fast rules.
Continue Americana touches with a smaller scalloped wall shelf unit filled with a collection of hand cranked coffee grinders, bottles of herb infused olive oil, decorative plants and tin canisters. Hang this treasure over the kitchen counter and then add a couple of open shelf cabinets to show off red and blue glassware.
Place a weathered looking wood plaque of the American flag in a wall gallery along with other types of country word signs, such as a farm fresh word sign, or antique metal signs.
Farm animal figures, wall plaques, and pictures are great ways to introduce accessories and repeat your color scheme.
Place a couple of pottery milk churns or metal milk cans on the kitchen fireplace or in breakfast nook corner.
Keep It Going in a Keeping Room
A keeping room, a small sitting area that adjoins the kitchen, offers more opportunities to enhance your Americana kitchen design. Most keeping room designs feature a fireplace that is an ideal area to add some upholstered furniture to continue your red, white, and blue colors.
Place a matching pair of loveseats in front of the fireplace for a cozy, homey touch. Choose a small plaid upholstery pattern that is predominately medium blue with thin red lines and wider white ones. Add a few pillows in varying values of blue and rustic red for the ideal Americana finishing touches. Needlepoint pillows with various patriotic motifs are also good choices.
You might commandeer a Colonial tea table with a scalloped skirt and cabriole legs to use for a coffee table. If you're looking for something more rustic, then opt for a pair of whiskey barrels with round wood or glass tops. Another option is a DIY American Colonial flag painted on a coffee table in a distressed finish.
A punched tin pie safe is a must and can be finished in a distressed dark wood stain or a flag color blue.
The table cart is a classic piece of kitchen furniture made of wood in an oak finish.
A large, wooden, kitchen worktable can also serve for in kitchen dining.
Choosing the Right Americana Design Elements
You have a wide range of Americana elements to include in your kitchen design. You can easily mix and match Country, Colonial, Primitive, and Rustic styles with patriotic motifs to create a fabulous kitchen!