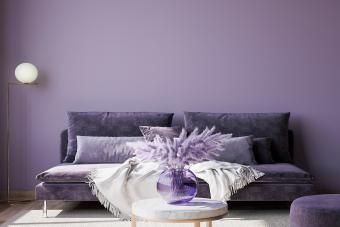 Decorating with purple can be an exciting adventure. The vibrancy of purple and its many shades make it a decorating favorite for creative and artistic personalities. When you're creating a purple color palette, you'll have so many options to choose from, including lavender and violet, thanks to purple's diverse shades. There's a purple color for every decorating style.
Purple Color Palette Inspiration
Finding the perfect colors for your home starts with inspiration. Seeing colors paired beautifully can help you choose the right colors for your own home, and spark your imagination about creative color combinations you haven't considered before.
Purple + White
When most of your room is white, you can be as bold as you like in your choice of purple colors. A simple two-color palette effortlessly creates a boutique hotel vibe for your bedroom.
Purple + Pink
A deep plum purple makes a stylish accent wall that can serve as a backdrop to vibrant colors like pink and yellow. The secret to making this combination work is to include plenty of neutral color in your palette for balance.
Purple + Gold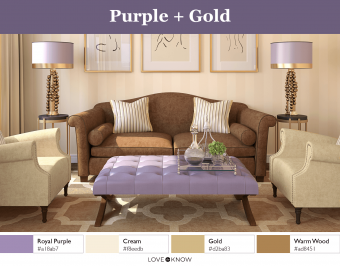 Purple has long been associated with royalty, so it's no surprise that another regal color like gold would be a perfect match. Warm gold shades balance the brilliance of purple to create an exciting palette.
Purple + Green
If you're looking for a bold and inventive palette, pair purple with equally vibrant colors for a playful color palette. When designing a creative color scheme, there are no rules.
Monochromatic Purple Color Schemes
Light and dark shades of lavender create a fun, but relaxing, kids' bedroom. By keeping the colors in close tones, the palette has an airy feeling.
Purple Kitchen Palette
A purple backsplash can bring a dash of vibrance to a serious black and white kitchen. If you aren't ready to commit to tile-work, purple accents in seating and linens can deliver the same vibrancy to a plain kitchen.
Purple Living Room Palette
Use purple in unexpected ways to get a charming boho look. Handmade accessories and accent pieces what would usually be created in natural tones are made even more adorable in shades of purple.
Purple Kids' Room Palette
Purple is ideal for kids' rooms, as it can grow with them as their tastes change. With this versatile color in your palette, you can make adjustments often.
The Shades of Purple Color Schemes
A dynamic color like purple has many variations, and it's good to know the difference when you're trying to communicate your preference in a store or to a paint professional.
Just Purple
When people think of purple, they think of talking dinosaurs, grape flavored snacks, and team colors for colleges and pro teams. There is little nuance with the color purple, but it can be artistic and energizing.
Lavender
This pretty shade is the lightest form of purple, and can be considered a paste in some forms. Lavender, also referred to as amethyst, is a natural color that pairs well with other natural colors like green and pale blue. This is a favorite color for bedrooms and bathrooms, because it's so soothing.
Periwinkle
Periwinkle can leave you guessing. Is it blue or is it purple? Periwinkle is often called blue, but it can be considered a purple shade as well. Thanks to its undertone, periwinkle is a very versatile color that can be a substitute for lavender in a color palette, giving it just a little more brightness.
Violet
This is a vibrant purple with a slight red undertone that gives it more warmth than a simple purple hue. Violet is a sophisticated addition to a contemporary color palette when paired with charcoal and soft white.
Find Your Perfect Purple Color Palette
Don't be afraid to consider a purple color palette for your home. With so many dark and light shades of purple, it isn't difficult to find one that can either take the lead in your color scheme or add dimension in a supporting role. Start by exploring purple color variations, and look for inspirational photos using those shades to see if one might be perfect for your home.