You're admiring your semi-sparse yard, looking for something to fill in the gaps and add a little life, but you don't want to add to your to-do list. The ideal solution? Low-maintenance evergreen shrubs. A shovel, some watering, and then your newest member of the garden family takes care of the rest.
Moonglow Juniper
You know those stunning privacy hedges that you never see your neighbors trimming and yet, they're flourishing and thriving? The secret? Moonglow juniper. Growing anywhere from 12 to 15 feet in just ten years, you can trim this low-maintenance green to look however you'd like. And as for those colder climates? No issue at all.
Japanese Yew
If you live way up north and you're looking for a plant that won't shy away from dozens of feet of snow or bone chillingly cold temperatures, the Japanese yew is one low-maintenance evergreen shrub that'll go the distance. Tolerant of any conditions, including full shade, the only thing you need to be wary of is not planting this in a place where water tends to collect.
Quick Tip
Those red berries aren't for us or your pets to take a bite of - ever. Leave those for the birds.
Sea Green Juniper
This vivid evergreen is a quick-growing, low-maintenance shrub that won't leave you with scratches up and down your arms anytime you do need to give it a little trim. If you let it go, the sea green juniper can spread up to ten feet wide and over six feet tall. Or you can trim it to keep it small and manageable. You'll find it does best when planted with a partner or two of the same shrub in full sun.
Golden Mop Cypress
The golden mop cypress is a plant you've seen everywhere without knowing it. This low-maintenance evergreen (ever-yellow?) grows quite slowly, but the payoff is worth it. You can keep this shrub small or let it grow and thrive while you forget to water it, as it's quite drought tolerant. It even stands up well to ice storms and harsh winters. However, refrain from touching it when it's frozen over, lest you lose half the shrub.
Sunshine Ligustrum
The sunshine ligustrum is a low-maintenance evergreen shrub that stays small all on its own, no extra work from you. Which is great news because the rest of your garden is always adding to your to-do list. This shrub will shoot up, but it'll hold at around three feet tall and three feet wide. And once your sunshine ligustrum shrub has a good hold in your landscape, this plant is not only heat tolerant, but drought tolerant too.
Oregon Grape Holly
Give your garden the gift of a flowering low-maintenance evergreen shrub. The Oregon grape holly, grape in name only, thrives in most zones. Plant 'em in full shade, give them some partial sun, and these shrubs are happy as can be. While this plant will grow slowly, you may not know quite when it's done growing as it can stop at just three feet tall or reach up to six feet, covering anywhere from two to five feet of ground.
Dwarf Alberta Spruce
Another low-maintenance evergreen shrub that can give your yard some definition and privacy, these plants grow into a cone shape and can reach anywhere between five and eight feet tall with a width around three to four feet. You can plant these solo or with other spruces. They won't attract deer, but you'll find other forest creatures, such as birds, will make them their home.
Green Gem Boxwood
If you're on the quest to find an easy evergreen shrub that shapes itself and doesn't take over the area, consider this your finish line. The green gem boxwood grows itself into an orb shape, no more than 36 inches all around. Plant these amongst bigger plants to add some ground coverage or in a large planter on your patio or deck. Whether in full shade or sun, these can line any pathway.
Wintercreeper
Voila! It's the perfect low-maintenance evergreen shrub for groundcover. After all, you don't want to constantly worry about replacing that gravel and mulch, and the wintercreeper answers the call. It comes in an array of varieties: green with yellow tips, yellow with green tips, or green with white tips, so there are plenty of options to suit your garden's palette. Not only will you love this, but you may find yourself with a few rabbits using it for cover, too.
Green Mountain Boxwood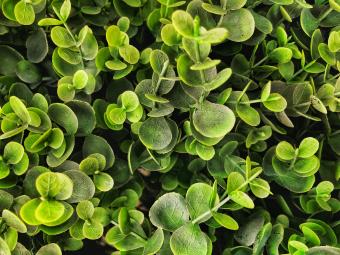 Not unlike its sibling, the green gem boxwood, this is one gorgeous shrub. It'll stay small, no more than three to five feet, with a small footprint at approximately two and a half feet. The mountain in its name doesn't come from its growing conditions. Instead, it's a nod to how this shrub grows: into a shape quite resembling a mountain. You'll find it'll flourish in full sun, but don't stress about heavy shade.
Little Gem Norway Spruce
Tidy and tiny, the low-maintenance shrub is a dream. Just a foot or so tall and maybe three feet wide, this shrub takes care of itself. Use the little gem spruce as a way to fill in lower spaces in your garden, and it'll thrive in full sun. These slow growers will be successful in the coldest winters to summers that have heat waves.
Evergreen Holly
It's no surprise that evergreen holly wraps up the list of low-maintenance shrubs. Able to withstand harsh weather, and with those bright red winter berries, it adds color to gardens and yards no matter the climate. With small flowers, this evergreen shrub has something to offer all year long, in each and every season of life. Partial shade or full sun, this drought-tolerant shrub is a staple.
Easy-Care Evergreen Shrubs That Are Always in Season
Gardens and yards keep us busy enough. We all have those high-maintenance plants that take up most of our time, and thankfully, none of these evergreen shrubs are the needy type. Low ground cover, privacy, and some colorful berries in between, there's a low-maintenance evergreen shrub to add beautiful foliage to any garden.