Bring bumbles to your yard, humming from hummingbirds to your life, and the flutter of butterflies to your heart. Cheesy? Yes. But you can't tell us that there's anything quite like seeing your little slice of heaven filled with pollinators, hovering, zooming, and drifting from flower to flower. Live the dream, and the cottagecore life daydream, with a life rich with some of the best pollinator plants.
Asters
Give those pollinators something to buzz about when the spring and summer starts to fade away with asters. These will adorn your yard from mid to late summer through fall. And, better yet, you can find varieties that are small, and some that'll grow up to six feet.
Milkweed
Let your milkweed bring all the bees to the yard. Like the name might imply, milkweed is a plant that'll keep on giving and come back year after year. This makes it a great choice for people who long to attract pollinators every year without a ton of effort.
Bee Balm
Gorgeous and fragrant? It's understandable that this will be a popular destination for pollinators, but for you as well while you enjoy your yard. Pick your favorite from white, pink, and purple.
Pica Bella Coneflowers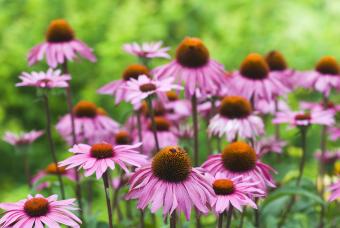 You may not know these by name, I have admittedly called coneflowers "wildflowers" on more than one occasion when their name escapes me, but they'll steal your heart and be loved by any bees or butterflies that stumble across your yard.
Blazing Stars
Dazzling purple buds that'll make your garden a must-stop place for pollinators from summer to fall? Plant blazing stars. With so many blossoms, prepare to have your yard filled with a constant hum and buzz of pollinators.
Calendula
A cousin of the daisy, these sunny flowers will not only draw the attention of any pollinators floating about, but they'll be hard to draw your eye away from. Try not to lose track of time falling in love with these.
Marigolds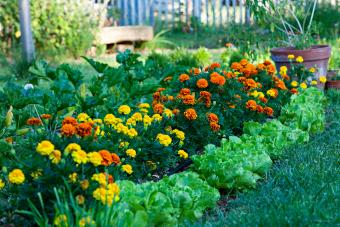 Just when you thought marigolds were so last year's garden, think again. These classics are a popular choice not only for their low maintenance needs, but for their ability to withstand scorching heat. These will bring the bees to the yard.
Lavender
Give your honeybees and bumblebees some love, and a boost to their honey, with lavender. Skip starting these from seed. Instead, grab several smaller ones from the store at the start of the season and enjoy these blossoms and their scent as much as your little yellow friends.
Anise Hyssop
These buds will remind you of blazing stars with their tall purple stalks. Take care adding them to your lawn, as they'll pop up like wildfire. On the other hand, the more flowers, the more pollinators that'll come knocking.
Sunflowers
You know and love sunflowers, and so do your favorite pollinators. Tall sunflowers, colorful sunflowers, blazing yellow sunflowers. Plant a selection or stick to one type. Now that's the sunny life.
Zinnias
Zinnias will reward not only you with blooms all summer long and deep into fall, but your pollinators will have a place to land for weeks after the other buds have fallen away. Enjoy the butterflies that flock to your yard.
Goldenrod
Part of the aster family, these will fill your yard from July until nearly October. And if you want these blooms to keep on giving to all parties, deadhead the flowers as they wilt.
Bachelor's Buttons
Also known as cornflowers, you'll immediately understand where the inspiration for cornflower blue comes from. Plop these into a place where they can have full sun, and you can enjoy these year after year.
Basil
Only allow the basil to bloom if you won't be enjoying it for yourself. It's also a great way to salvage basil that you allow to bloom accidentally. Whatever the reason for your blossoming basil, pollinators will be thankful.
Black-Eyed Susans
No wildflower draws in pollinators quite like the black-eyed Susan. Deer-resistant flowers that glow golden in the sunshine, you can enjoy these blooms alongside your pollinators from June to August. Anywhere from six inches to three feet tall, the pollinators will spread the seeds of these flowers so everyone can enjoy them for years to come.
Sweet Alyssum
A sweetly fragrant flower, sweet alyssum is easy to care for, and you're rewarded speedily as these grow quite quickly. They'll pop back up year after year, although they do tend to wander. But you and all those pollinators won't mind.
Snapdragons
Although snapdragons are annuals, these seeds spread thanks to the pollinators that they attract. You'll find these blossoms brimming with chubby bumblebees, bumbling about the pollen. Close your eyes and enjoy the quiet buzz they give you.
Flowers for Your Pollinator Pals
Encourage the bees and butterflies and all the pollinator pals in your life to stop by your yard and enjoy everything your blossoms have to offer. You get to enjoy your afternoon coffee with the gentle buzz, hum, and beauty of these workers, and you all get to enjoy the riches nature offers.