Cold weather plants and flowers are those which are sturdy enough to withstand consistently cool temperatures and the occasional frost, ice storm, or snowstorm. Many fall vegetables and flowers last throughout the winter months if the winter is mild enough, so consider those plants you saw at the nursery or garden center in the fall as potential additions to the garden during the winter months. As long as the soil can be worked, you can continue to plant, although keep in mind that prolonged deep freezes and heavy snowfalls may kill even the hardiest plants.
Choices for Cold Weather Plants and Flowers
There are many possible choices of cold weather plants and flowers for the garden. Not all are suitable for every gardening zone, so check with your local County Cooperative Extension office or look in a good plant encyclopedia or guide to determine suitability for your location.
Many of the plants listed below are either ones that bloom late in fall when most things have already gone dormant, or very early in spring before most other plants are showing any signs of life.
Cold Weather Flowering Annuals and Perennials
Annuals and perennials are easy to add into almost any gardening space, even if the only space you have is a container or window box. Very frigid temperatures will cause even the most hardy plant to finally go into dormancy, but the ones listed below either bloom much sooner (late winter or very early spring) or much later (late fall) than most other plants.
Ornamental Kale and Cabbage
Although most people think of kale and cabbage as vegetables to eat, ornamental varieties abound, and these provide attractive accents in the garden. Ornamental varieties can withstand cold temperatures and often have attractive, bright pink, magenta and green foliage. Ruffled leaves add interest to the garden.
Pansies
Pansies are often thought of as spring flowers, but in zones 7 through 10 they can be planted in the fall for winter flowers. Many will survive if given just a bit of protection against the worst winter onslaughts.
Evening Primrose
Like pansies, evening primrose love cool weather and will bloom earlier than most other garden plants. Plus, given a protected area, they'll survive year after year, blooming in spring and sometimes in fall as well.
Aconite
Aconite has bright yellow blossoms that will often poke right through the snow in late winter, offering a feast of vibrant color against the white snowdrifts. Also known as "wolfsbane" or "monkshood," aconite is hardy in USDA zones 3 through 7.
Snowdrops
These adorable little white flowers are among the very first to bloom, even blooming up through the snow in some areas. They grow best in full sun to partial shade, and, for optimum wow factor, should be planted in drifts of at least 25 to 30 bulbs. Plant snowdrop bulbs in fall for blooms the following spring. They'll come back year after year, spreading a bit as time goes on.
Dutchman's Breeches
Dutchman's breeches grow wild in many northern areas, and it's a bit hard to catch them in bloom in the wild, because the white flowers often show up while there's still snow on the ground. They prefer part to full shade and, if you plant them along the front edge of a garden bed, you'll be sure to see them when they start blooming. This is a very hardy plant, growing well in hardiness zones 3 through 8.
Hellebores
A discussion of cold weather plants and flowers would be incomplete without mentioning hellebores. Hellebores or Lenten Roses are small plants that bloom December through March. They have bell-shaped flowers in shades of white, pink and dark pink or red.
Shrubs for Cold Weather Interest
If you have a bit more space to play with, adding a few shrubs for cold weather interest to your garden is a wonderful idea. They'll provide you with color year after year as well as adding year-round interest and structure to your garden.
Witch Hazel
Witch hazel are shrubs or small trees that produce wintertime blossoms, earning the plant the nickname of Winterbloom. You may know the name from beauty preparations. The barks and leaves are often distilled in alcohol to create an astringent for oily skin. Witch hazel shrubs and trees produce yellow flowers during January or February, brightening the dreary winter landscape.
They can grow up to 20 feet tall, so choose the location for your witch hazel wisely, keeping it away from power lines and far enough away from the house so it doesn't grow against the structure.
Mahonia
Mahonia blooms in late winter, providing a dazzling show of bright yellow flowers when most of the world is still white and gray. These evergreen shrubs, a member of the barberry family, are hardy in zones five through ten, depending on variety. They prefer full sun to partial shade, and grow well in average garden soil.
Holly
Many evergreen shrubs provide bright spots of green in the landscape throughout the cold winter months. Holly, with its variegated leaves and bright red berries on the female plants, offers an attractive landscaping option.
Juniper
Junipers also provide attractive silvery-green foliage and blue-gray berries in the winter. Both holly and juniper attract birds to the garden, too, by providing hiding places during inclement weather as well as berries to eat.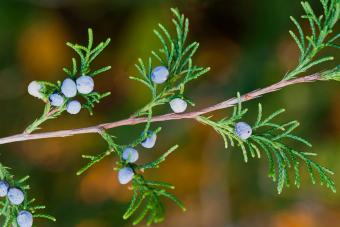 Other Plants to Consider
What about those tulip bulbs you forgot to plant? As long as you can still dig into the soil deeply enough to plant them to the recommended depth, go ahead and plant them. They do need a prolonged period of cold weather, but even a few weeks underground should be plenty of time for them to get ready for their spring show.