Do you dream of indoor greenery that won't droop if the temperature shifts by a single degree, or if you forget to water it on time and give it an afternoon watering instead? Are you possibly feeling personally attacked by the first sentence? There's a cure! Indoor succulent gardens. Forgiving, gorgeous, and outrageously dreamy, allow these pictures of indoor succulent gardens to inspire and delight as you plan your own.
Use a Geometric Planter
Grab a square, rhombus, diamond, or whatever geometric shape suits your vibe and complements or emphasizes the shape of your indoor succulents. You can plant a singular succulent or a charming grouping. Of course, you can use all the same succulents or a variety.
Put an Indoor Succulent Garden in a Wine Bottle
Buy an already melted wine bottle to turn into your succulents' home. You can also carefully cut the wine bottle in half length-wise to add a little more space for more plants. Consider placing it on a bookshelf or beside other wine bottles.
Hang a Vertical Indoor Succulent Garden in Bottles
Instead of opening up the entire bottle, make just a small hole you so can hang the bottles for a vertical garden on your walls, or hang the bottles from string. If vertical space is an issue, you can use bottles of varying sizes, arranging them on a shelf or throughout a room.
Fill a Clear Glass Bottle With Succulents
With care and some long tweezers, you can place the succulents into a bottle to grow and care for. It's a greener upgrade than your usual ship in a bottle. You can experiment with bottles of varying neck sizes, or start by very carefully using bottles that are cracked or broken.
Use a Unique Planter
You don't need to use a traditional planter for your succulent garden. In this case, you can use a mini-bathtub decoration as a home for your succulents. If you can give it holes to drain, you can turn just about anything into a planter.
Use Hollow Toys for a Whimsical Touch
That's right! Upcycle and reuse old plastic toys, including dinosaurs, to fill with dirt for your succulents to call home. You can add these toy planters to larger planters. Alternatively, you can easily adorn other indoor succulent gardens with small game pieces for a living game board.
Hang a Framed Vertical Indoor Succulent Garden
With a frame, dirt, wire, and a sturdy wall, you can create a vertical garden that takes up next to zero shelf space. Of course, if you're a renter, you can lean the garden against a wall too. You can go miniature and lean it against books or use it as a decorative bookend.
Create Magic With a Fairy Garden
Adorn a planter with moss, tiny figurines, houses, and succulents for a place fairies may land. What could be better for your succulents than an enchanted garden? Add glassy mushrooms, glistening dew drops, or anything that brings a touch of whimsy.
Group Planters Together
Gather up planters with similar shapes, colors, or patterns to make an indoor succulent garden you can rearrange and regroup. Plus, you won't need to worry about everyone enjoying the same watering schedule.
Upcycle a Cracked Pot
A cracked pot still makes for an excellent place for your succulents to call home. Glue the pieces back together in a shape that can hold dirt, then plant away! Or, glue the pot back together into a semblance of its original shape, drawing attention to the cracks with the plants.
Add Some Zen
Bring some peace and zen to your home with a soothing indoor succulent garden. Arrange moss, rocks and stones, and branches with your succulents for a soothing miniature landscape. Keep it simple with just one plant or allow the zen garden to sprawl in a larger planter.
Make a Tiny Fairy Garden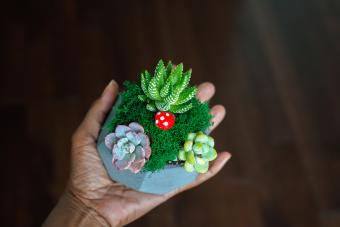 Opt for a smaller planter if you're short on space or are looking to scatter more around your home by using just moss, one or two plants, and only a small decorative mushroom or other figurine. Of course, you can place several of these together or scatter them throughout your space.
Add Rocks
Fairies are found the whole world over, so of course, you'll find rock-loving fairies. Create an enchanted garden with a layer of tiny pebbles and spruce it up further with ornamental rocks.
Build Rock Layers
Utilize clear planters, jars, and bowls by first layering sand, then small pebbles, then slightly larger rocks, and then adding your dirt. Top off with some moss, your succulents, and a few extra rocks for good measure.
Use a Colorful Planter
Skip the burnt orange or glass planters in favor of a colorful planter that flatters the color of your succulents, their blossoms, or even the palette of the room where they'll be living. Paint your own with personal designs or splurge on decorative planters at the store.
Let the Succulents Be the Star
Create an indoor succulent garden that blends in seamlessly by using a planter in a brown or sandy neutral hue. With or without pebbles that are a similar shade, this will make your succulents the star.
Use China Decorations
Play around with using unlikely planters, such as bowls or vessels usually reserved for candies, potpourri, or other trinkets. If drainage is an issue, put small pots inside to allow for the water to flow.
Add a Light to Your Indoor Succulent Garden
Carefully drop in a small candle into your indoor succulent garden. Take care the flame isn't too close to the plants if you do decide to light the candle. A battery-powered tea-light makes for a safe alternative.
Go Minimalist
Opt for a minimalist indoor succulent garden by using just two or three plants and larger rocks as decoration. You can keep the planter a neutral color or opt for a more vibrant look.
Try a Small Planter With Earthy Tones
Bring more of nature inside by using a wooden rectangular planter. Complete the decoration with small stones, sea glass, or even twigs that you can decorate to resemble trees.
Use a Picture Frame
Cover your planter with a large picture frame so that the succulents can flow and grow outwards, creating a stunning and actual 3D work of art. Experiment with glass or wood frames, or alternate with both.
Make a Family of Succulent Planters
Group together your fairy gardens and enchanted succulent planters so that you can have several arrangements to grow, blossom, and bloom together. You can still move them freely based on their lighting needs.
Use Succulents With Different Heights
Opt for succulents that grow in different directions and at different heights for an indoor garden that has variety with minimal effort. Be sure to give your shorter succulents a chance to shine by starting low on the outside and working in taller plants towards the middle or back.
Create a Succulent Garden Symphony
Succulents aren't just for desert gardens! They're for the indoors of New England homes, the Pacific Northwest, and desert homes when it's just too hot to go outside. Bring a touch of whimsy to your shelves and decor with an indoor succulent garden. Be sure to keep an eye out for fairies.