Some plants are tough, others are pretty, and some are both. That's true of cistus plants, also known as rock roses. These vibrant flowering plants can withstand the toughest of garden conditions.
Growing Rock Rose in Your Garden
Cistus are small broadleaf evergreen shrubs or subshrubs, most of which originated in the Mediterranean region. They prefer dry, sunny habitats and poor soils. The flowers are yellow, pink, or white, although some cultivars are multi-colored.
If you have poor soil, full sun, and want a gorgeous plant that is also drought-tolerant, rockrose might be perfect for your garden. As a bonus, cistus tends to be deer-resistant, and its blooms attract pollinators such as bees and butterflies.
Planting Rock Rose
When planting, handle the root ball gently. Do not tease the roots out from the root ball; they are very brittle, and the feeding roots tend to be concentrated around the outside of the root ball. Cistus should be planted in late spring or early summer. Add some grit to the planting hole to improve drainage if needed.
Most rockrose varieties are hardy in Zones 6 through 9, with some varieties being better suited to cooler climates than others. A few may be hardy in warmer zones.
Rock Rose Light and Soil Requirements
Cistus should be grown in poor to moderately fertile soil with a gritty texture. An overly rich soil stimulates soft growth that is not likely to live through the winter. Don't use compost or an organic mulch; a gravel mulch will work best in this case. These plants tolerate a fairly wide pH range, although there is some variability among the species.
Cistus need full sun, so plant them in a spot that gets at least six hours of sun per day.
Watering and Fertilizing
Good drainage is essential! Cistus are very susceptible to root rot in wet soils. You can add grit to the planting hole if necessary to improve drainage.
Pruning Rock Rose
Cistus can be deadheaded to improve their appearance during the bloom period. Many growers recommend cutting them back lightly annually in autumn for mild winter regions or at the end of winter for colder regions.
These plants are not long-lived, so you will need to replace them routinely. Eight to ten years is the average lifespan for the species, and up to fifteen years for the hybrids.
Propagating Cistus
Cistus can be propagated by rooting softwood cuttings in summer.
Varieties of Rock Rose for Your Garden
Cistus is native to the Mediterranean, but there are a few varieties that are commonly available in many nurseries and catalogs.
Sun Rose
Sun rose (Cistus albidus) is an evergreen shrub with grayish-green foliage that has an almost velvety texture and a white tinge to it that makes the plant look like the leaves have been lightly dusted with snow. It grows to about three feet tall and has bright purplish-pink flowers. It's hardy in Zones 6 through 9.
White Rockrose
White rockrose (Cistus x corbariensis) is hardy in Zones 7 and 8. It grows to around four feet tall and wide and blooms from May through July. Its white blooms have bright white centers, and each flower is only open for one day.
Orchid Rockrose
Purple rockrose (Cistus x purpureus) has the most unique flowers - bright pink, with a maroon patch at the base of each petal. The green, glossy foliage of orchid rockrose is a perfect backdrop for its vibrant blooms. It grows to about four feet tall and four to six feet wide and is hardy in Zones 8 through 11.
Grayswood Pink
Cistus 'Grayswood Pink' is hardy in Zones 8 through 10. It has vibrant pink flowers that appear from mid-spring through early summer. It has a compact mounding growth habit, growing to four feet tall and wide.
Doris Hibberson Rockrose
'Doris Hibberson' is a variety of rock rose that grows to only about two feet tall and wide, making it one of the most compact cistus varieties. It has bright pink flowers and medium green foliage. 'Doris Hibberson' is hardy in Zones 7 through 10 and blooms in late spring through mid-summer.
Snow Fire Rockrose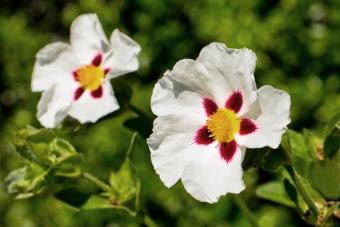 'Snow Fire' is a stunner of a cistus. It has bright white flowers, and the base of each petal has a triangular-shaped burgundy blotch, making it easy to see where this variety got its name. The foliage is medium to bright green, and the stems have a reddish tinge to them as well. It grows four to five feet tall and equally as wide and is hardy to Zone 7.
Tough and Beautiful
If you have a spot in your garden that's hot, dry, and doesn't have great soil, consider growing rock rose in that area. It can not only withstand conditions that would stress or kill most plants, but it thrives in them.