A royal fern may be the ideal shade plant you need for an exotic addition to your shade garden. This native North American fern is found in bogs and marshy woods. If your property has the right conditions, a royal fern can add a good deal of beauty to your landscape.
Royal Fern Features Double Split Fronds
The broad bright green fronds of the royal fern feature unique double cut fronds with large leaflets that are rounded with brown tassel center clusters. These plants are nearly maintenance free and don't have any pests you'll need to battle.
Where to Plant Royal Ferns
The royal fern has wet feet, meaning it loves moist soil and even wet bogs, creeks, ponds, and streams. They are a great landscaping choice for a rain garden or a lush, shady garden featuring a pond or stream.
How to Grow Royal Fern
The royal fern is part of the North American Osmundas family. Like most ferns, royal fern prefers shady locations with plenty of moisture.
If placed in full sun, this vibrant green plant will survive, but its foliage will fade into a washed out yellow green color.
This plant is easy to grow with little upkeep needed other than cutting back dead fronds.
According to the University of Vermont, royal ferns have a long lifespan of 100 years or longer.
Type of Soil Needed
Royal ferns prefer moist peaty soil to provide its roots with constant moisture. According to Missouri Botanical Garden, royal ferns prefer acidic rich organic soil, but can survive in less fertile soils if they obtain the necessary water requirements.
Where to Plant Royal Ferns
Choose a wet area in your yard, such as a pond or creek. If you have a water garden or better yet, a backyard bog, the royal fern will thrive. The fern will initially grow in clumps.
Tips for Growing Royal Ferns
A few tips for growing and caring for royal ferns can ensure successful plantings. The royal fern is considered a "flowering" fern because of its tassel like brown tips.
Zones: 3-9
Sun: Shade, heavy, full, tolerates partial
Height: 2'-3' with some varieties 6'-8' with plenty of water/moisture
Spread: 3'-4'
Water: Wet feet, some found growing in shallow water
Fertilizer: Not necessary
Soil: Needs well drained loamy, humus soil
Royal Fern (Osmunda) Varieties
There are four North American Osmunda varieties. You can select which one best fits your landscape design.
O. cinnamomea Fern
O. cinnamomea (Cinnamon Fern) is an elegant North American fern that emerges with green fronds in the spring but turns to a bright orange that eventually changes into a brown cinnamon color in the fall. Wooly hairs can be found underneath the pinnae (leaflets) of the blade.
O. regalis Ferns
The North American young O. regalis ferns are first reddish-purple. The University of Wisconsin Green Bay explains these slender fronds turn brown by summer. O. spectabilis is a slender form of O. regalis.
O. claytoniana Fern
O. claytoniana (Interrupted Fern) is another North American deciduous species. This fern has vivid green fronds that are interrupted by pinnae growing from the center of the fern. This creates a V-formation of the plant often referred to as a vase-shape. The O. claytoniana fronds grow about 2'-3' high.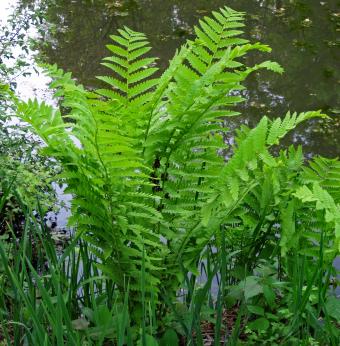 O. ruggii Fern
The O. ruggii is a natural hybrid of O. regalis and O. claytoniana. This sterile fern is rare. According to the book, Flora of North America: Volume 2: Pteridophytes and Gymnosperms, edited by Flora of North America Editorial, the first O. ruggii fern reported was located in Connecticut, but hasn't been found and is presumed to have died out. There is one documented in Craig County, Virginia. This fern is said to be over 1,100 years old.
Royal Fern From Early Jurassic Period
It's no wonder that royal fern plantings create a feeling of antiquity. Science Magazine reports fossilized royal fern samples indicate the fern thrived 180 million years ago. According to the Encyclopedia Britannica, 70-million-year-old fossils of O. cinnamomea have been found. O. claytoniana are almost identical to their 200-million-year-old fossil ancestors!
Including Royal Ferns in Your Landscape Design
You can add a few royal ferns in your landscape design. In addition to areas with water, royal ferns are great plants for border areas, underneath tree canopies, and woodlands.