Flowering tobacco plant, also known as nicotiana, is an old-fashioned cottage garden plant that fits in well in any garden. Its graceful flowers, strong perfume, and the fact that it attracts butterflies and hummingbirds make this plant a must-grow for many gardeners.
Nicotiana: Flowering Tobacco Plant
The most popular flowering tobacco plant grown in home gardens is Nicotiana alata, which is very fragrant and has showy, trumpet-shaped flowers that bloom in clusters. Most nicotiana varieties are annuals, though there are a few that are tender perennials. For the most part, these plants grow quickly, with some varieties reaching five feet tall in one season.
Flowering tobacco blooms in a plethora of colors, including white, pink, purple, red, and green. The flowers usually open in the evening, and this is when they're most fragrant. So, if you have an outdoor seating area that you tend to use more in the evening, planting nicotiana nearby would be a lovely idea.
If you have pets or small children, however, it's a good idea to keep this away from any areas they spend time in. Nicotiana is poisonous to dogs, cats, and people.
How to Grow Nicotiana
Nicotiana is pretty easy to grow. Some varieties don't grow or bloom well in very hot weather, so they might look a bit sad during the heat of summer, but other than that, they tend to be easy to care for.
Flowering tobacco does best in a spot in full sun to partial shade, and well-drained soil. They do need regular watering, especially during hot, dry periods.
Nicotiana grows and blooms best when it's getting a steady amount of fertilizer, such as a biweekly, half-strength solution of liquid organic fertilizer or fish emulsion.
Most varieties also need to be deadheaded to encourage more blooms, though some are self-cleaning and won't require this extra step,
Planting Flowering Tobacco
Flowering tobacco can be planted from seed or transplants and is easy to plant either way. You can often find transplants of popular varieties in most nurseries or garden centers. If you want something different or enjoy starting plants from seed, you can also do that.
If you direct-sow flowering tobacco in the garden, you likely won't get any blooms until late summer or early fall. For earlier blooms, you'll have to start the seeds indoors under lights eight to ten weeks before your last spring frost date, and then harden the seedlings off and plant them in the garden after danger of frost.
To plant nicotiana seeds, sow them an eight of an inch deep. They'll germinate in two to three weeks. If you have a seedling heat mat, this will speed up germination, but as long as the room is above 60°F, they'll germinate fine.
When transplanting into the garden, space nicotiana about 12 inches apart as a general rule, but if you have the plant tag or your seed packet, follow the instructions on that.
Tobacco Plant Pests and Diseases
Aphids, slugs, and downy mildew are the most common problems you'll have to deal with when growing tobacco plants, though they're generally problem-free.
Tall varieties might become floppy once they start blooming; if this happens, stake the flower stalks to keep them from breaking.
What to Plant With Nicotiana
Nicotiana is a beautiful plant all on its own, but it also works well with other plants in a mixed border or cottage style garden. Consider planting flowering tobacco with:
Portulaca
Lobelia
Impatiens
Ornamental grasses
Petunias
Black-eyed Susan
One word of caution: don't plant nicotiana near tomatoes. Since they're in the same family, they share some disease issues which can result in the death of your tomato plants.
Nicotiana Varieties to Grow in Your Garden
Flowering tobacco plants are available in many colors and sizes, so finding one that you'll love shouldn't be hard. The hard part might be just picking one or two.
Nicotiana Alata
Nicotiana alata has larger leaves and blooms than other tobacco varieties. It's also the most fragrant type and grows to five feet tall. Most other nicotianas are derived from this one since it has the qualities most gardeners want. It blooms in yellow, green, white, purple, and pink.
Nicotiana Sylvestris
Nicotiana sylvestris grows 3 to 5 feet tall and has fragrant white flowers. Its flowers hang down in a delicate, almost weeping manner.
'Merlin'
The 'Merlin' series of flowering tobacco is a popular variety for home gardeners since it grows well even in containers. It blooms in shades of purple, pink, and white, and grows to nine to 12 inches tall.
'Tinkerbell'
'Tinkerbell' nicotiana has unique bicolor blooms with chartreuse throats and deep red edges. It grows to around three feet tall and is also excellent as a cut flower.
'Cuba Deep Lime'
'Cuba Deep Lime' has fresh, pretty apple-green flowers. It grows to eight to 10 inches tall, which makes it perfect for containers or for the edges of garden beds.
'Langsdorfii'
'Langsdorfii' is another great option for fans of green flowers. It has bright, lime green flowers, and grows to about three to six feet tall.
'Mutabilis'
'Mutabilis' is a unique variety of flowering tobacco. Its flowers start out white and then fade to a pinkish color over time so that you end up with shades of white, soft pink, and slightly darker pink on the same plant all at the same time. It grows to four to eight feet tall and three feet wide.
'Domino'
The 'Domino' series is a self-cleaning nicotiana, which means that it doesn't need to be deadheaded to encourage bloom. It's available in white, pink, red, purple, and green, and grows to 10-12 inches tall.
'Whisper'
The 'Whisper' flowering tobacco series grows to three to four feet tall and produces pale pink flowers that fade to a deep rose color. 'Whisper' is also very fragrant and makes a good cut flower.
'Perfume'
The 'Perfume' series is a nicotiana variety that's also great for containers. The plants grow to 20 inches tall. They're heavy bloomers, producing an abundance of two-inch flowers in shades of blue, purple, red, white, green, and pink, as long as bicolor shades.
'Only the Lonely'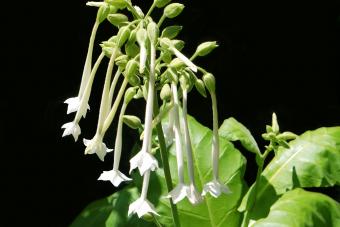 Nicotiana 'Only the Lonely' produces graceful white flowers with long, tubular throats. This is a large plant, growing up to six feet tall and two feet wide.
Flowering Tobacco Plants for Pollinators
Aside from being beautiful and fragrant, nicotiana plants are also like magnets for pollinators, including bees and butterflies. Many varieties are also irresistible to hummingbirds, so if you have a wildlife garden, consider adding a flowering tobacco or two.