Antique Chair Succulents
Choose unusual items to create one-of-a-kind planters. They will add personality to your garden and yard.
This old chair was converted using chicken wire, cactus soil, Sphagnum moss, and succulent plants. Remove the upholstery/padding and replace with a layer of soil then cover with chicken wire. Add moss and succulents. Finish with an artistic gnarly limb or root and a rusty wire coil or two. Set in your garden and watch it grow.
Ahoy! Flower Boat
This is a great way to repurpose an old boat. The sailboat mast and rigging will serve as trellises for vining plants.
Add a little seaworthy color with two blue stripes and two blue and white life preservers mounted on each side.
Fill with soil or add potted red and pink geraniums with other colorful flowers, mulch, and be sure to water.
Bed of Flowers
Old beds aren't always the best choices for sleeping, but can be used to create a great garden vignette. Use a painted or old rusty one and replace the mattress by attaching screen wire to the frame. Add a painted raised bed on top of screen wire and set potted flowers inside. Add mulch or straw.
Once they've finished blooming, replace the mums with various seasonal plants and flowers. Add other pieces of furniture nearby and turn them into planters as desired.
Tin Husband and Wife
Mr. and Mrs. Tin Man and their bucket dog Rex are shiny and spruced up for fall.
Mr. Tin Man is made from a metal trash can and a lid. Mrs. Tin Man is made from a large bucket turned upside down and a pair of funnels. Both have duct pipe arms and legs held together with nothing other than duct tape! A wooden support in the back helps keep them upright. Each supports a bucket that you can fill with your favorite flowers.
Rex is made from plastic flower pots sprayed gray and also held together with gray duct tape.
Upcycled Tire Planters
The use of color makes these planters a fun way to repurpose old tires. Wash the tires and allow to dry. Spray the tires your desired colors, using either latex paint or rubber/dy paint. Once the paint is dry, fill the tires with dirt and plant flowers.
The next two layers of tires are staggered on top of each other. These can be filled with potted plants and flowers. For a more cohesive look, use mulch to cover up the pots inside the tires. This wall of planters also features a row of flowers planted in the ground.
Card Catalog Drawers for Plants
This library catalog file is a super way to add interest as a planter. Use it either inside at the entrance or den. You may prefer to place it outside on a porch or patio.
You can use any type of desk or other furniture for a planter as long as it has a few drawers, such as an old apothecary chest, dresser, or chest of drawers.
DIY Coffee Cans
Repurpose items you would normally recycle. These cute coffee cans were turned into fun hanging planters.
Punch several holes in the bottoms and two holes along the rim with an ice pick. Spray paint and add dots or other designs.
Thread colored twine or rope through the rim holes, knotting the ends. Next, fill with potting soil and plants. Water and hang from hooks.
Wonderful Wellies
Don't throw away leaking wellies, just give the soles a few more holes, fill with potting soil and plant flowers opposite the boot colors.
You can use other footwear for planters, such as worn work boots, tennis shoes and even a pair of mismatched high heels. Have a few pairs of old baby shoes you can't stand to part with? Use them for succulent planters to preserve the memories.
Stump of Flowers
Not all stumps can be removed easily from your yard, so transform them into very natural planters. You may need to carve out a few cavities for potting soil. Select a perennial, such as phlox or herb like thyme.
This planter will last for years as it slowly decomposes. Trim any new shoots. Create a grouping with other planters for a nice vignette.
Succulents in Old Oil Can
Old and rusted out doesn't necessarily mean it belongs in the trash. This old oil can hasn't had oil in it for decades and the side was rusting out.
Most people would toss it in the garbage, but this gardener cleverly turned it into a succulent planter. You might find similar containers in a work shed to use as fun planters.
Rubba Dub Dub
This old tub never made it beyond this point. A heavy item to carry off, this gardener turned it into a geranium planter.
You could paint the sides of your tub planter for a more decorative look. Use a stencil to create an attractive design or paint a mural on the sides.
Create an outdoor bathroom with other planters, such as a pedestal sink and even a toilet planter.
Bicycle Fun!
Sometimes a bicycle has sentimental value even when it's beyond being a useful mode of transportation. You can create an artistic memorial to honor that period of your childhood.
Add a front and back basket to complete your planter design. Just prop the bike against a hedge, outdoor fountain, near the back door, or on the patio. You may decide it looks best near the mailbox or by the front sidewalk.
Wagon Planter
It's cute and unexpected when leisurely wandering down the garden path to find this unique planter. The whimsical style is further accentuated with a green watering can planter.
You could transform a metal toy wagon or a Victorian style carriage from the attic. This type of planter can be used to add a surprise element in any garden.
Coal Car Planter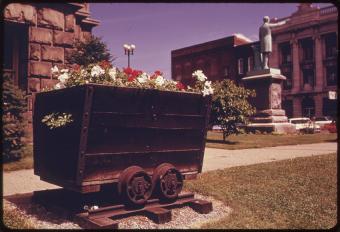 More Details
This actual coal car represents more than just a planter for this town. Of course, not everyone has access to an old coal car, but there are other authentic objects that can be used.
You may have an old horse watering trough that's rusted out or pot bellied stove. A little thinking outside the box and you can have a unique planter.
Volkswagen Planter
If you aren't going to repair and restore your old vehicle, then why not turn it into a planter? The planter flowers have vined over most of the car with only the tires and windows exposed.
This is a great way to beautify an ugly eyesore like a rusted out car. Any vehicle, such as a broken-down lawn mower or abandoned tractor can make an amazing flower planter.
Once you've chosen your planter, consider adding some unusual plants in or near your equally unusual planter.