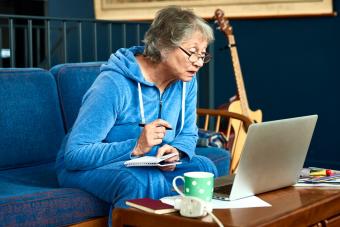 Senior citizens who want to keep up and be engaged in the multiple benefits of technology can find free or low-cost computers if they can't afford the usual retail prices. Look for access to free computers for seniors from local and national corporate-sponsored programs, the government, nonprofit organizations that help the elderly, or computer recycling enterprises.
Sources of Free Computers for Seniors
Many organizations or corporations donate their used computers to nonprofit agencies. Consequently, you should check with all agencies or businesses that can point you to possible online or neighborhood sources for free computers. Some may require proof of family income or a referral by a government assistance program. You can get information on some of these programs if you have access to a computer at your library.
Microsoft Registered Refurbishers
Look in your phone directory or get help to search the worldwide Microsoft Refurbisher Directory for registered computer refurbishers in your area. This is a Microsoft-sponsored recycling program to provide free or low-cost computers to people who need them. Microsoft partners with these refurbishers to reduce technology parts waste and its impact on the environment while helping to put computers in the homes of more people and "bridge the digital divide."
Computers With Causes
Computers with Causes is another national U. S. computer donation program that supplies free refurbished computers mainly to educational enterprises. However, they also give computers to individuals. You have to complete and submit the application form online. Go to your library or community center to do so if you don't have immediate access to a computer.
Regional Programs
Excellent programs exist to provide free computers to seniors - in particular, to low-income seniors - on a local level. If you don't live near one of these listed organizations, search for a comparable organization near you and inquire about eligibility.
Smart Riverside
If you live in Riverside, California and your household income is $45,000 or less, contact Smart Riverside Digital Inclusion Program. This local program is sponsored by government and nonprofit agencies to provide free computers for low-income families. To get a free computer you have to take eight hours of computer training.
Free Geek
If you are able, volunteer with Free Geek, located in Portland, Oregon. Free Geek is a nonprofit organization that refurbishes computers and donates them to schools and community agencies. You get to take a free computer home if you volunteer to work for a short stint with them. Get a computer either for being a general volunteer or instead you can build a computer to take home.
Local Options
Though some local sources of free computers for seniors may not be widely advertised, it's possible free computers are available for seniors who are willing to do a little searching and pursuing a free computer.
Your Community Senior Center
Senior community centers provide many support services for seniors. It is a good starting place to see if there are any local resources that offer free computers. A center might even offer basic computer skills training. If you are involved with other social services or a vocational training center, you can also ask them for sources of free computers for senior citizens.
Local Free Government Computers or Nonprofit Sources
Search online or in your phone book for other government or nonprofit agencies and charitable groups in your town that may offer free computers for seniors. Ask at your library, your city hall, or at civic groups such as Rotary for help in locating local, county, and state agencies that may be involved in computer recycling and donation programs.
Goodwill Industries, for example, partners with Dell Computer to recycle donated computers. Call your local Goodwill store or stop by to find out how you get access to one of the computers not broken up for spare parts but refurbished for reuse.
Your Local Computer Repair Shops
Computer repair shops in your neighborhood may have refurbished computers of any brand they are willing to donate to you for free or at minimal cost. Check your phone book or online and call a repair shop near you or go to the business and ask for help.
School Computer Upgrades
School systems in your town or county, especially private schools, sometimes give away their old computers when they upgrade. Some schools will only donate to a family who has a child or grandchild enrolled in that school. However, it does not hurt to call schools near you to check out how they recycle their old computers.
Shared Computers for Seniors
If you can't locate a free computer, you can make use of a shared computer in a few places near you.
Your Local Library
Usually, public libraries have computers for library cardholders to use. You will be able to check your email or fulfill other basic computing needs but your access may be limited to certain websites and your time may be limited.
Educational Computing Centers
If you are taking classes somewhere, your institution might allow you access to computers for school-related class work and email. As with public libraries, your access to certain websites may be restricted.
Government Assistance Programs
If you are low income and apply for government assistance, such as food stamps for your household, you often can use one of the computers at the agency. Use may be restricted to searching for work or for job rehabilitation but perhaps you may even be allowed to search for a free computer.
Discounted Computers
If you don't qualify for a free computer, perhaps because of your income, you may still be able to purchase a computer at a discounted rate. Always ask for a senior discount before making a purchase, and if you are an AARP member, check with their technology deals for members to see if any discounts are available. Computer deals can vary by location and aren't always available, but free classes are frequently offered in partnership with technology companies such as Microsoft. If you're a member of AAA you receive a 10% discount on Dell computers regardless of age.
Beware of Senior Computer Scams
Beware of scams that prey on senior citizens when you search online. Some might ask for all your personal information before you can even find out how to get a computer or they may ask for money to get a free computer. Be cautious and read the details of any online offer. Make sure the computer they are offering will be complete and usable and provide tools a senior can benefit from. When in doubt, contact the Better Business Bureau for help.
Stay Connected
Having a computer can keep you connected to your family and the world via the Internet. It will help you engage in and keep up-to-date with the many benefits modern technology.