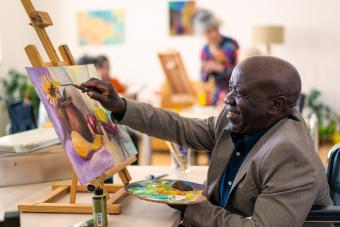 Getting older doesn't have to be the end of having fun. Whether you live in a nursing home and want to find a new hobby to occupy your time or you work for one and are looking to bring your clients new experiences, there are tons of fun nursing home activities you can explore. There are games, gardening, ice cream socials, and so much more.
Fun & Engaging Activities for Nursing Home Residents
If you're a recreational therapist, then you know that the biggest challenge with nursing homes is pairing up people with the right activities for them.
Naturally, every person has their own physical and cognitive capabilities, as well as stuff they enjoy, and it can take a few tries to find the right activities for everyone. Don't give up on the first try! Instead, explore all of these different activities in your nursing home and see which ones are a hit.
Social Activities for Nursing Home Residents to Get Gabbing
The older you get, the more isolated you can become. Encourage residents or yourself to stay involved by planning social activities like these.
Birthday Parties
With birthday parties, the possibilities are endless. Some residents might like to take part in decorating a room for a fellow resident's party. Others might like to help bake and decorate a cake.
The party could be set up as a private event for the resident and his or her family, or it might include fellow residents according to the birthday honoree's preferences.
Ice Cream Social
If you've ever seen college Freshmen go after an ice cream social, you know these are always a hit at any age. You'll need chocolate and vanilla ice cream, as well as favorite toppings like hot fudge, strawberry sauce and whipped cream, and maybe a few extras like sprinkles, crushed Oreos, peanuts and cherries. Residents can choose their favorites to make a delicious sundae.
Tailgate Parties
Weather permitting, cordon off a section of the parking lot and recruit staff or volunteers to park their cars together and set up a cooking area to grill brats, hot dogs, and hamburgers.
Coordinate with the kitchen staff to provide some side courses like potato salad, baked beans, and coleslaw. Set up tables where residents can eat and bring everyone back inside to the dayroom to watch the game on TV.
Quick Tip
To make it more interactive, you could also print off trivia questions and have a round or sports or other trivia to get people talking.
Story Time
Story time encompasses different things. Of course, young people can read to nursing homes residents. However, an interesting alternative would be for the seniors to tell their stories to the youngsters.
Many children are fascinated by what life used to be like. Kids are eager to hear about life after a war, watching a television for the first time, and advances in technology. Every person has a different story to share, and these precious personal histories deserve retelling. Plus, talking to others can help keep our minds sharp as we age.
Musical Events
Consider group sing-alongs with songs from various decades. Ask residents about their favorite songs and include them. Invite choir groups or musicians for recitals.
Or, if people aren't feeling musically inclined, take residents on a field trip to a concert. Also, consider gathering residents in the day room to watch live concerts, musicals, or symphonies.
Board Games and Cards
Residents can be grouped according to their cognitive abilities to play games at various levels, from Candy Land to Yahtzee to poker and more. There's a reason bingo has such a pop culture reputation - it's immensely popular with residents, and they can play for small treats and prizes. From classics to new memory games, there's plenty for older adults to explore.
Food-Centered Activities
Consider frosting cookies or baking brownies to be served as that day's desert. Baking bread is another activity that also doubles as a physical activity, since it requires some hand dexterity. Making popcorn, coloring Easter eggs, and making fresh garden salads can all provide opportunities for residents to socialize as they prepare the food.
Holiday Programs
Some social holiday ideas include holding a Labor day picnic or early Thanksgiving celebration and inviting residents' families, offering Halloween trick-or-treating so children from the surrounding community can go from room to room gathering treats, and holding a Christmas decorating party to trim the tree.
Other ideas include holding an Easter egg hunt for the residents' grandchildren, or having a 4th of July celebration that might even include watching the local fireworks display. You might even consider holding a New Year's Eve celebration, although many facilities have their party in the afternoon or early evening rather than keep residents up until midnight.
Physical Nursing Home Activities to Help Seniors Stay Healthy
While the mind is one tenacious organ, your physical body can do quite a number on you as you get older. Fight back against physically aging as much by trying out these physical activities that keep you limber and engaged.
Exercises
This might include gentle calisthenics that are adapted to the residents' physical capabilities. Bouncing, tossing and kicking beach balls also provides physical activity and mental stimulation.
More and more nursing homes are adding VR systems to their recreation rooms. There are so many potential benefits that residents can get from using virtual reality, and they can have varying levels of mobility to play with it.
Stretching and Resistance Training
It's never too late to start stretching. These activities often include having residents use large elastic bands to help them stretch, tone and strengthen their arms and legs. This might make a nice morning activity to help invigorate the residents, and get their bodies in a good place to start the day.
Sensory Stimulation
Sensory stimulation activities are more suitable for bed-bound residents with diminished cognitive skills, and might include aromatherapy, audio stimulation such as listening to nature sounds, using tablets for matching games, or touching tactile toys to engage their sense of touch.
Pet Therapy
This activity offers a great opportunity for trained volunteers to bring certified therapy pets into the facility for the residents to interact with. Holding a guinea pig or petting a dog or cat can be very therapeutic for animal lovers, and may even draw some more reserved residents out of their shells.
Gardening
Gardening is a great way to get residents engaging their muscles, soaking in some vitamin d, and getting a breath of fresh air. Some residents might enjoy growing herbs in a window garden or planting flowers in pots.
Although many nursing home residents are no longer capable of fully tending a traditional vegetable or flower garden on alone, some facilities do maintain gardens where volunteers assist the residents by working alongside of them or working under their directions.
Crafts to Help the Elderly in Nursing Homes Get Creative
Everybody loves a little craft time. In fact, crafts aren't just an entertaining way to pass the time. They also promote manual dexterity, and some can lower anxiety and depression symptoms as well. Consider trying out some of these common crafts, but don't hesitate to ask the people what kinds of crafts they're interested in trying out. You just might find a new hobby to love.
Sewing
This might include simple hand-sewing projects, but some facilities hold regular quilting sessions where residents work on homemade quilts that are later auctioned off to help provide money to fund other activities. There are also all sorts of small sewing projects that people can make to send home to their loved ones, which gives them something to look forward to accomplishing.
Embroidery
If residents have fairly good mobility and dexterity, they can work on small embroidery projects. These are great not only for it's physical nature but also because everything is pretty contained (in a hoop) and not a mess to clean up.
Rug Hooking
Rug hooking is a great activity that's fairly easy to do. Residents can work on small individual projects, but you might also consider a group project where residents work together to finish a larger rug.
Finger Painting
This activity might be better suited to a resident with diminished cognitive skills, but it can also double as a tactile therapy. After all, everyone loves tapping into their inner child and getting a little messy.
Painting
Painting is an activity where precision doesn't have to matter. Whether it's watercolors or acrylics, residents can let loose on their canvas and bring whatever vision they have to life.
Knitting and Crocheting
Residents that have previously enjoyed these kinds of crafts and still have the dexterity to do them can happily spend many hours creating hats, scarves, lap blankets and many other useful items. In fact, you could start a knitting or crocheting circle where residents can socialize together while working on their projects.
Leather Crafts
Leather work is another craft that people can experiment with. With leather, you can make wallets, coin purses and other items. Though, keep in mind that this activity is usually better suited to individuals with higher physical and cognitive capabilities.
Homemade Holiday Ornaments
You'll find easy-to-make ornament kits at local craft stores or online that will give residents something to do during the holidays. It can be a great accomplishment to be able to contribute to the holiday festivities while away from home.
Nursing Homes Can Help Older Adults Live Vibrantly
There's this horrid stereotype that nursing homes are the worst possible place to end up, but they can actually be really fun. It's no secret that people are more inclined to take part in activities that they're interested in, but without trying a few new things, you'll never discover if you're actually interested in one of them.
So, explore new activities yourself, add some fun ones to your nursing home's roster, or suggest to the staff that they host a specific one you have in mind. At the end of the day, every activity is worth trying once.