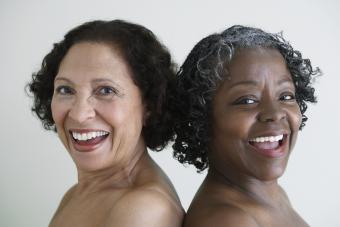 Many seniors have embraced the nudist (or naturist) lifestyle for various reasons. Perhaps not so surprisingly, older/retired adults find senior nudism is a way to throw off the shackles of conformity. To that end, there are many resources to help seniors explore nudism in a safe, comfortable environment.
Senior Nudists Organizations in the United States
While it may seem there are not groups tailored specifically to seniors, there are several within the United States that provide a wealth of information to beginners, lifelong converts, and everyone in between. These are national organizations; however, there are also options for anyone looking for regional and state groups, as well as a few international options
The Naturist Society (TNS)
The Naturist Society provides membership for a range of people, from those who just want a nude beach experience to those who see naturism as a vital part of life. Their mission statement is "to promote body acceptance through clothing-optional recreation using the tools of education and community outreach." This includes acceptance of self, of others, and of different body types. Membership includes a subscription to Nude & Natural (or just N) magazine, which provides an inside look at everyday people living the naturist life.
American Association for Nude Recreation (AANR)
Like The Naturist Society, the AANR offers membership for all interest levels. Active since 1931, the group emphasizes advocacy, education, and acceptance, along with providing wholesome environments where nudists can be themselves. The website has videos, a blog, a forum where members can share their stories, and information on how to take a Nakation®. The AANR has several regional offices, so members can find local events and clubs.
Naturist Action Committee (NAC)
Billing itself as "the nonprofit political adjunct to The Naturist Society," the NAC protects the rights of North American naturists. If you're interested in developments that might threaten a nudist lifestyle, this site provides nitty-gritty legal information. There's also a section to find local representatives, learn laws regarding nudity by state, and the tools needed to be a proactive naturist advocate.
International Naturist Federation (INF-FNI)
Okay, so the International Naturist Federation is, as its name suggests, a global organization. Seniors looking for information about places to visit worldwide will find this a fairly helpful site. INF-FNO also tells about the American Nudist Research Library (ANRL) based in Florida, which showcases a history of the nudism movement in North America. Download a PDF of Focus magazine to get current information about naturism all over the planet, or subscribe to receive it via email and remain updated about what's happening in the wide world of nudism.
Online Resources From Other Senior Nudists
Along with getting information and perspective from a handful of naturist bloggers, an excellent way to glean what works best for seniors is… ask other seniors! There are several options for honest reviews, feedback, and even a journalist's first look at a resort made up mostly of seniors.
TripAdvisor Forums
TripAdvisor is a fantastic resource offering real visitor reviews of tourist destinations, attractions, resorts, restaurants, and more. For example, these reviews of Hedonism II from the senior point of view may help you determine if it's a place that suits your needs. You can also enter terms such as "senior nudist resort" and search by place, or leave the destination as "worldwide" to get pages of results.
ReviewResorts
ReviewResorts "provides traveler generated, user generated, travel agent generated and hotel management generated resort reviews." Here you can find what they designate as "clothing optional" facilities - and should there be any doubt as to their target audience, the photo used in the banner is a smiling senior couple.
Yelp Reviews
Yelp is another place where you can search for reviews, but you have to be aware of your search parameters. Unlike TripAdvisor, you can't just search worldwide; if you're looking for "nudist resorts" but neglect to enter a city, it may automatically give you results near your current location. If you know the name of the place you're searching for, so much the better. For instance, reading the reviews of Glen Eden Nudist Resort lets you know the demographic here is largely older adults.
Tales From the Newbies
There are all kinds of stories on the internet from writers who visited a nudist resort/beach/etc. for the first time. Interestingly enough, most of these are by women - who almost universally enjoyed their experiences, and considered said experiences real eye-openers. A first-time visit to Cypress Cove by blogger Outdoorsy Diva gives an unvarnished look at shedding inhibitions and diving right in among a group of mostly seniors.
Baring It All on the Beach
It seems intuitive to take clothing off at the beach. After all, most swimsuits leave little to the imagination, so why not just get rid of everything? As with most nudist experiences, respect for others is emphasized, giving seniors a safe haven for exploration. Here are a handful of beaches within the U.S. where it's legal to sunbathe naked.
Gunnison Beach, Middletown, New Jersey
For nude bathing on the East Coast, Gunnison Beach is a short hop from New York City; its clothing optional policy lets newbies try naturism gradually. There's a lifetime Senior Pass, where those ages 62 and older get a discount on admission as well as parking. The beach site also has a forum, to get more information and connect with other naturists. For example, the "Looking for a Beach Partner" section of the forum is a great resource for anyone who wants to check out Gunnison but can't convince a friend to tag along.
Haulover Beach, Miami, Florida
Head south to Miami and the northern section of Haulover Beach, a clothing optional area run by the government (most of these types of beaches are privately owned). Considered one of the top 10 nude beaches in the world, the gorgeous weather year-round and the sheer number of seniors who have relocated to Florida make this an excellent beach for naturists. Sign up for the newsletter to get exclusives on events, photos, travel tips, and more.
Resorts for Like-Minded Naturists
There are plenty of misconceptions as to what goes on behind the scenes at nudist resorts, and most of the myths are just that: myths. Contrary to what some believe, these are not places where wanton behavior results from disrobing. Instead, basic rules of etiquette apply just as they would to the fully clothed. Don't stare at others, don't sexually harass anyone, don't take unauthorized photos, and most of all, be polite!
As respect for others is stressed at these facilities, regardless of age, guests who act inappropriately will be asked to leave. If you're looking for information about additional resorts and beaches available in each state or internationally, there's a fairly extensive list of options. Like Sandpipers Resort, warm-weather resorts are full of retirees who stick around all year long, soaking up the sun and reaping the health benefits from the great outdoors.
Sunny Rest Resort, Palmerton, Pennsylvania
Located in the fabulous Pocono Mountains, even Sunny Rest's name evokes peace. Only the pools and spa require nudity; the rest of the resort encourages guests to undress when they feel ready. Owner Myra Mesher has been in charge for more than 30 years, so she is well-equipped to deal with the needs of aging visitors (some of whom have reached 100!). Open from mid-May through mid-September or later, there's also a campground where retirees can park the RV instead of staying in the resort hotel. With activities almost every night and loads of nature to explore, Sunny Rest has plenty of fans who return every season. According to a customer service representative from the facility, most of their guests are over 40.
Living Waters Spa, Desert Hot Springs, California
If you're looking for a European-style experience but don't have a passport Living Waters Spa might be the place for you. Originally built in the 1960s as the Kismet Lodge, spa management has worked hard to create an atmosphere where first-time nudists can disrobe at their pace, anywhere in the resort. The natural mineral waters in the pools are a boon for the aging population, and give relief from arthritis and psoriasis (among other ailments). The spa has one pool designed for the sun worshippers, and another geared toward those who want to soak under an awning. Judy and Jeff, the resort's hosts, look like a typical happy older couple - who just happen to enjoy the naturist lifestyle.
Embracing the Naturist Lifestyle
Nude is the way humans came into the world, so why not embrace the lifestyle all the way through the golden years? Whether you're looking for a place within the United States or elsewhere in the world to explore freedom from clothing, this global phenomenon isn't going anywhere. With a little bit of knowledge and understanding, senior nudists can discover a place (or several) where nothing but skin, sun, and little else create absolute perfection.