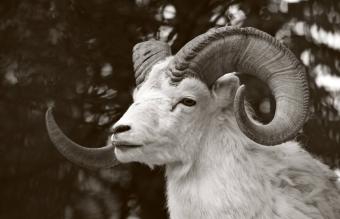 Aries (March 21 - April 19) is the first sign of the Western zodiac, a fact which you likely already know if you have an Aries in your life because they never stop talking about being Number One. (I'm an Aries, so I can say it.) A fire sign ruled by the war planet Mars, Aries people are typically energetic, motivated, and passionate. They're natural-born leaders and can usually be found taking charge wherever they are, be it at work, at a party, or volunteering.
On the flip side, Aries can also be hotheaded and confrontational with a tendency to act first and think later. They're the babies of the zodiac, meaning that they can be naive but also endelssly optimistic and enthusiastic. When considering gifts for an Aries, you would do well to keep their independent, playful spirits in mind! Here are ten gift ideas for the ram you love.
The colors associated with Aries are the all the shades of a roaring inferno: red, orange, golden yellow, and even white. These Puma sneakers are not only fashionably fiery but your go, go, go Ram friend will appreciate their eye-catching athletic design.
Each sign of the zodiac rules a part of the body, and Aries is all about the head. This means that they're headstrong in nature and also tend to be prone to headaches or even migraines. A freezable wrap like this one will help ease any discomfort in the ol' dome. The ice packs stay cold for up to two hours, and the versatile design enables the afflicted to also use it around the neck or anywhere else that needs cooling relief.
A fire sign is gonna love some spicy food. This fermented chili condiment took the world by storm in the past two years or so, and for good reason: it's earthy, crunchy, and piquant. You can really put it on anything from pizza to veggies to dumplings, even sweets! It's shockingly delicious on ice cream.
Aries is impatient. They can't help it! They just have too much energy and initiative to wait around for someone else to do something for them. A tool kit like this one has everything they need to turn their restlessness into DIY success. This baby includes a 16.8 volt electric driver, an adjustable wrench, a hammer, self-locking measuring tape, pliers, and so much more - all in a durable, heavy-duty case.
The clean lines and cozy, stylish colors of this candle set is classic Aries aesthetic. Made of unscented paraffin wax to easily suit any existing vibe, each set comes in groups of either three or six. The small is 4" tall and has an approximate burn time of 15 hours, the medium burns for 25 hours and is 6", and the large is 9" and will burn for up to 35 hours.
Where there's smoke, there's a fire sign. Your ram friend is probably a little bit of a secret (or not so secret) pyromaniac, so they'll have a ball incorporating their sign's element into cocktails and food, while also satisfying their flair for drama with this striking smoking cloche. The kit includes a glass bell with a walnut base, a smoking gun, and wood chips.
Problem skin can be another affliction for the Aries-ruled head. Enter the Skin Gym light therapy mask. It uses different colored LEDs to address a variety of skin issues. The blue light targets breakouts, the red light addresses inflamtation and aging, and the orange light brightens dullness. The best part about this mask is that it's wireless, so Aries can put it on and get to work on any one of their other dozen projects they've got in the works.
Above all things, you can rely on an Aries to get stuff done. But even they need help keeping all their tasks and goals straight sometimes. This productivity journal will make time management a breeze. Presented in a digestible 15-week layout broken down into weekly and daily schedules, it includes lists for priorities and action items on each page - just what a busy ram needs!
The ram is Aries's signature animal, but did you know that tigers are also sometimes associated with the zodiac's first sign? This is because the big cat shares several key traits with Aries, namely ferocity, power, and independence. This satin pajama set sports a bold, playful tiger pattern that will make any night in extra special.
Sporty, on-trend, and hands-free, fanny packs are the ideal bag for multitasker Aries. This one is available in 38 fun colors and patterns to suit your Aries signature style, and its sturdy, well-made, and water-resistant - perfect for someone always on the go.