Memorial garden ideas can inspire you to create a special place for remembering your loved one. You can choose special touches, such as types of plants, benches, suncatchers, and more.
Memorial Garden Ideas
When you create a memorial garden, you want to include things that remind you of your loved one. These may be objects that reflect things they liked or hobbies they enjoyed.
1. Personalized Memorial Stone
There are many things you can include on a personalized memorial stone besides your loved one's name, date of birth, and date of death. You may find a poem is a better choice or a stone that features a photo that is engraved onto the stone. You can place this along the walkway into your memorial garden with a landscape or solar lamp to illuminate it at night.
2. Keeling Stone Bench
You can place a keeling stone bench among your garden plants. This bench isn't typically large enough to sit on and is used as a memorial, often with a poem or other tribute to the deceased.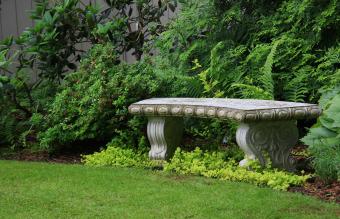 3. Personalized Solar Light With Photograph Marker
A grave marker isn't necessarily limited to being used in a cemetery. In fact, a personalized solar light with a photograph can be placed near a bench in a garden nook. There are several choices, but you may find a UV marker printed on acrylic with its own solar light is a great choice for your memorial garden.
4. Personalized Memorial Granite Flower Planter
A personalized memorial granite flower planter gives you a different option for planting flowers in your memorial garden. You can personalize the planter any way you wish. If you have a sitting area in your garden or a table, you can place this planter filled with colorful flowers for a special touch.
5. Glass Suncatcher With Infused Cremation Ash
Some people find it comforting to have their loved one's ashes visible. If you're looking for a special way to use your loved one's ashes, a glass suncatcher with a few of their ashes may be a nice way to include them in your memorial garden.
6. Memorial Sonnet Chime
What could be more comforting than the melodic tinkling of a wind chime in your memorial garden? The memorial sonnet chime gives you more than just a beautiful sound, it has the words of a love sonnet engraved on the rods.
7. Eternal Light Heart
An eternal light heart that changes colors can add a bit of mystique and beauty to your memorial garden. You can personalize it with your loved one's name. The heart lights up and changes colors for a colorful display.
8. Custom Solar Lighted Memorial
This memorial is completely customizable. There is a template collection you can choose from and also add a photo of your loved one. The light is solar powered so you can place it in any sunny area of your memorial garden.
9. Bell Chime Trellis Garden Stake
You may wish to add a Zen element to your memorial garden. Choose a garden nook where you like to sit enjoying your memories of your loved one. A bell chime trellis is a perfect addition, especially if you plant a trailing vine to climb the trellis. A few good flowering plant choices include, clematis, morning glory, jewel of Africa nasturtium, or black-eyed Susan vine are all great choices.
10. Eternal Light American Cross
An American cross with an eternal light from solar power is a good option for someone who was in the military or served in some other patriotic way. Your loved one may have been a true patriot who you can honor with this American cross placed in a sunny prominent area of your memorial garden. You may decide to set a flagpole in your garden near the cross to honor your patriot even further.
11. Light the Pathway
If you have a walkway or pathway through your memorial garden, you may enjoy path lights. There are many solar lights available, so you won't have the expense of wiring the lights.
12. Lanterns in Trees
You may prefer to hang candle lanterns from a shade tree. You can add an old-fashioned swing from one of the tree branches or place a bench underneath the canopy of tree leaves.
13. Add a Koi Pond
If you're ambitious and have the skills, you may choose to add an ornamental pond. You can landscape with water-loving plants, such as water lilies, horsetail pond plants, cattail plants, creeping Jenny pond plants, and water violets.
14. Japanese Maple Tree
If you have a niche area in your garden that is perfect for a low profile tree, but one that is truly a beautiful display, you can't go wrong with a Japanese Mape tree. You'll want to set a bench or garden chair so you can enjoy watching it undulate in the breeze.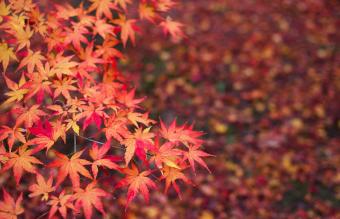 15. Winding Stone Path
A winding, meandering stone path is a wonderful addition to a memorial garden. You can plan the path so it winds through your garden, making you stroll, so you can enjoy the beauty of your efforts to pay tribute to your deceased loved one.
16. Water Feature of Running Water
There is nothing more restive that the sound of water. Be it a tumbling stream, a waterfall, a small standalone water fountain, or bubble urn, you can greatly enhance the ambiance of your garden with a water fountain of some kind.
17. Perennial Flower Bed for Memory Garden Ideas
What greater tribute to a loved one than memory garden ideas that are filled with blooming flowers? You can create a flower bed that will bloom year after year for a splash of color. You can choose self-seeding flowers, such as gladiolis, alliums, poppies, violets, marigolds, four o'clock, columbine, forget-me-not, and sweet William.
18. Fruit Trees
Memorial garden ideas often include fruit trees. A couple of fruit trees can be a very lovely addition to your memorial plant life. A tree that bears fruit every year is inspiring and a wonderful tribute to a loved one who enjoyed life.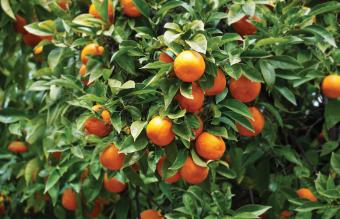 19. Colorful Trees
You can't plan a memorial garden without including a few shade trees. You'll want a place to sit and contemplate in remembrance of your beloved. A few fast growing shade trees that offer great display include maple trees (fall colors of red, orange, yellow). If you have a pond in your memorial garden, a Japanese weeping cherry tree will give your garden a magical and mysterious ambiance with its arched limbs and pink or white spring blossoms. Cherry trees will also give you a burst of spring color each year.
Memorial Garden Ideas for the Perfect Tribute
There are many great ideas for loving touches you can add to your memorial garden. Each feature, plants or tree you add should have a special meaning to you and your deceased loved one to make it the perfect tribute.