Losing a parent may be one of the most intense and painful experiences your friend or family member goes through. Saying something thoughtful and empathetic can show your support, but it can be a challenge to know exactly what to say to someone who lost a parent.
When someone you care about is grieving the loss of their mom or dad, being there to console them can be a powerful reminder that they aren't alone. Considerate and compassionate words can contribute to healing, remember their mom or dad in a beautiful way, and show someone you're there to love and support them as they're going through difficult moments. These examples and tips can help you find just how to comfort a friend or family member with the right words when they're dealing with the pain of a parent's death.
Examples of What to Say When Someone Loses a Parent
While it may feel difficult to find the right things to say when someone loses a parent, reaching out is a kind gesture that can make a huge difference for those who are in the midst of grieving. You know the individual who is grieving best, so read their cues, and connect with them in a way that feels genuine to your relationship. They may be going through different stages of grief, or feel different emotions depending on their relationship with their parent and how their mom or dad died.
Someone who lost a parent unexpectedly, for example, may be dealing with a sense of shock over the sudden death and grieving in a different way than if their parent had a terminal illness and they had a chance to say their final goodbyes. Regardless of the reason or circumstances, though, you can be prepared with how to console someone who lost a parent with your compassionate and comforting words.
I don't know exactly how you're feeling, but I cared for your parent, too, and I'm here to help in any way that I can.
Your parent was a great person and they will be missed by many. I want you to know that you don't carry this grief alone and that I'm here for you.
I'm so sorry to hear about your loss. You have friends that care about you and that you can share your pain with. I'm only a phone call away for anything.
I'm sorry to hear about the loss of your parent. Sending you all the strength and comfort possible at this time.
I don't have the words to express how sorry I feel, but I do have the love to express how much I care. Keeping you and yours in my mind and heart during this difficult time.
What to Say to Someone Who Lost Their Dad
People have all sorts of relationships with their dads - not to mention it could be their biological dad, adopted father, or even another relative or person wo raised them and was a father to them. Often the father-child relationship is close, making it extremely painful when a person's dad passes away. However, even if the relationship wasn't perfect, people usually feel a keen sense of loss and grief when their dad has died. This can make knowing what to say to someone who lost their father hard. If your friend or family member has lost their dad, you might say:
Words can't describe how much I feel for you. Your dad was an amazing person who loved you more than anything. Know that I am here for you at all times.
Watching you with your dad is something I will never forget. There was so much love there between you. Know that I love you so much and am here to support you during this time.
I will always remember the time your dad (insert short, sentimental anecdote). He was a really special guy, and I know just how much he loved you. I've got your back during this time. May I drop off some dinner for you later?
I am so sorry that you have lost your father. I am here for you and love you so much. If it's okay with you, I'd love to give you a hand with your (insert chore, childcare, or pet care).
I know you had a complex relationship with your father. Whatever you are feeling, know that I am here for you and am available to talk at any time. May I check in with you later this week to see how you are doing?
What to Say to Someone Who Lost Their Mom
Throughout life, moms can have a unique and powerful relationship with their children. From recalling close bonds during their childhood to grieving over the relationship that grew and matured over time, it's never easy for someone to lose their mom. Though it's not always simple to know exactly what to say to someone who lost a mother, speaking into someone's life with love and empathy will help bring comfort. If your friend or family member lost their mom, you can could say: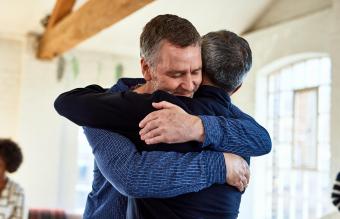 Your mom had such a beautiful spirit, and words can't describe how much she loved you. Know that if you need anything, I am here for you. May I drop off some breakfast for you this week?
Your mom was the most passionate person I've ever met, and I can absolutely see that same fire within you. I love you so much and am here to help with anything you may need. Would it be okay if I checked in with you later today to see how you're doing or if you need anything?
Your mom was amazing and loved you so much. Every time I spoke with her, she would go on and on about how proud she was of you. Know that I am here to support you at any point, day or night. If you're comfortable with me doing so, I'd love to help out with (insert chore, childcare, pet care).
I know your relationship with your mom wasn't always what you wanted. Whatever emotions come up for you, know that I am here for you if you want to talk at any time.

It must be so difficult for you to lose your mom like this. It's ok not to be ok. I'm here for you and available any time to listen.
What You Can Say Instead of "Sorry for Your Loss"
While there's nothing wrong with using traditional phrases to express your sympathy, choosing what to say when a friend loses a parent might lead you to share a unique or more personal message. Even if it's someone that you are not very close to, offering a thoughtful phrase can send the message that you really care. Instead of "sorry for your loss" you can consider saying alternative phrases to comfort someone whose mom or dad has just died, such as:
I'm here for you during this time.
I was saddened to hear of the loss of your (insert father or mother).
I love you and am here for you as you deal with your parent's loss.
How are you feeling today? I've been thinking of you often since your mom/dad passed away.
I really feel for what you are going through after the loss of your mom/dad. I'd love to help out with...
Use what you know about your friend or family member to help connect with the person and empathize with how they feel. Even if you don't know a lot of details about the relationship, you can make every effort to express your sympathy and support.
What to Write in a Card When Someone's Parent Died
If you're unsure about what to say to a friend who lost their mom or dad, sending a sympathy card is a compassionate gesture that can be incredibly meaningful. This can also be a considerate way to express sympathy to an acquaintance, neighbor, or co-worker, or even a touching way to reach out to a family member after their parent's death.
In your sympathy card, you can pass along your condolences, share a simple anecdote about the deceased, and remind the individual receiving the card how much you care about them. However, try to avoid:
Anything religious, unless you are absolutely certain of the recipient's beliefs
Anything trite (Such as, "They're in a better place.")
Anything invalidating or isolating (For example, "I can't believe what you're going through." or "You seem like you're doing well.")
What to Say to Someone Whose Parent Is Dying
If someone is in the process of losing their parent, they may be experiencing a range of overwhelming and mixed emotions that may come in waves of intensity. Consider how you might be feeling when faced with such a challenging situation, and be sincere, genuine, and empathetic as you decide what to say to someone whose parent is dying. You can consider saying:
How's (insert parent's name) doing today? How are you doing today?
Is there anything you'd like me to help out with today, I know on (insert day of the week), you typically visit your (father or mother). I'm completely available to help out with (insert pet names and/or kids' names).
I just wanted to check in and see how you're doing today? May I bring over some dinner later?
While I don't know what your experience is exactly like, you know I went through a similar process with my parent, so if you ever want to talk, know that I am here for you.
How to Comfort Someone Who Lost a Parent
Comforting someone who lost a parent can be emotional - and at times difficult. Use these tips to be show your compassion and know what to say in a genuine way.
Go Easy On Yourself
When someone close to you loses a parent, you might feel like you are at a loss for words yourself. You want to say the perfect thing that will give your loved one exactly what they need to get through this tough time.
However, it's important to remember that there is no perfect way to comfort someone in this situation. The best thing for you to say is whatever feels right and offers support to the person you care about. Don't let the fear of having the perfect words stop you from reaching out.
Lend a Helping Hand
Grieving the loss of a loved one can take up a lot of mental and emotional resources. Making final arrangements and managing one's emotions can leave people feeling fatigued.
When you express your condolences for someone's loss after their parent has passed, you can also offer to help in practical ways. Nothing is too big or too small to make a difference, just lend a helping hand with whatever is within your bandwidth. For example, you can offer to bring them a meal, pick up some groceries for them while you are at the store, or even look after their kids or pets for a day to give them a chance to relax.
Check-In With them
After you offer your condolences, it's important to continue to check in with your loved one. Planning memorial services and sitting with their emotions is a lot for anyone to handle after a parent's death.
The person might say that they are doing fine when you first check-in, but their emotions could change and they might need someone to talk to after all. Checking in can be as simple as sending a text that says "I've been thinking about you a lot. How are you doing today?" or calling the person and asking the same questions.
Don't Be Discouraged if They Don't Reply
Your friend or family member will most likely be receiving several texts and calls from others sharing their condolences. It can be overwhelming to receive so many messages, let alone to reply to them. If you don't hear back right away, know that it's not your fault and that you didn't do anything wrong.
If fact, when you leave a voice mail or text to comfort your loved one during this difficult time, you can let them know that they don't have to worry about responding to you. Simply say something like, "Don't worry about calling me back, but I just wanted to let you know that I'll be checking in." This can take one thing off of your loved one's plate while they grieve.
Reach Out in Whatever Way Feels Best
There are many different ways to comfort someone when their parent has passed away. You can send a text message, mail them a card, call them on the phone, or visit them in person. Find a way that works for you and your relationship. And, you can even reach out in more than one way if to help a friend dealing with grief.
For example, you can send a text message to your loved one as soon as you hear the news, then call them later in the evening when they have had some alone time. Or, you can call them on the phone and then send a card later in the week.
If you are thinking about stopping by in person, be sure to ask if it's okay beforehand. Your loved one might not be ready to have visitors just yet. You can still drop off a meal or card on their doorstep and then call or text them afterward to let them know that you left something special.
Choosing the Right Words When Someone Loses a Parent
When it comes to the loss of a parent, each individual will have their own unique reaction. The reality is that knowing what to say to someone who has lost a parent is never easy. It can be a painful, emotional time for anyone, regardless of the circumstances. Whether it's a friend whose mom or dad died, a co-worker or acquaintance grieving a parent's death, or a cousin or other family member dealing with the heartbreak of losing a mother or father, you can reach out in an empathetic and thoughtful way to show your support.