It's only natural to want to comfort a friend, family member, or acquaintance that has just lost a loved one, and poetry can go be a powerful way to show you care. Poems about the loss of a loved one can also validate your emotional anguish or provide a different perspective to ease your pain in the darkest moments. Use these sympathy poems in cards, messages, or other ways to support a grieving friend or family member. Turn to comforting poems about death to find strength and encouragement, or as a meaningful way to let someone know they are not alone in their grief. You can also read poetry about loss at funerals or memorials for a shared experience among those who loved the deceased.
Some bereavement poems are written about the unique pain of grief, and others are written specifically with a certain person in mind, such as a mother, father, husband or wife, or even a classmate. Whether you are looking for short condolence poems to support a grieving loved one, or you yourself are in need of healing words, these comforting poems can offer the peace, compassion, and sympathy you're looking for. Embrace beautiful words of solace through poetry as you or someone you know deals with the death of someone close.
Poems of Comfort and Sympathy for Lost Loved Ones
After a death, you can offer words of support and comfort to help someone in the grieving process, whether it was the loss of a family member or a friend. Heartfelt poems to comfort the grieving allow them to revisit the words when they need to, and serve as a reminder of the love and empathy they have from others. These poems will help you express your sympathy and condolences in a heartfelt way.
Whatever You Need
By Kelly Roper
Whatever you need,
Whatever we can do.
We want you to know
That we're here for you.
If you just want to talk
Or need a shoulder to cry on,
We want you to know that
We're here for you to rely on.
However lonely you feel,
You definitely are not alone.
We are only as far away
As the nearest phone.
So don't hesitate to call,
No matter what you need.
We'll rush to your side
With all Heaven's speed.
Our Deepest Sympathy
By Kelly Roper
To send our deepest sympathy
Just doesn't seem like enough.
We know how your grief must burden you,
How this time must be so rough.
But try to believe in your heart of hearts,
That your pain won't last forever,
That sadness will lighten a little each day,
and you'll eventually feel much better.
When that day comes, your memories
Will focus on the good, not the bad.
Instead of feeling burdened by tears,
You'll cherish the happy times you had.
Trust in God's Plan
By Kelly Roper
It's hard to understand
Why God takes those we love.
Does He need them more than we do,
In Heaven up above?
No one on earth can pretend
To know what's in God's plan.
All we can do is take it on faith
And trust we'll see our loved ones again.
Grieving through poetry can be a powerful coping tool. Whether reading poems others have written or writing a poem yourself, poetry allows you to release words and feelings that you might otherwise keep bottled up. Consider reading or sharing beautiful bereavement poems, sad poems about death, or even emotional, soulful poems to help process grief and begin the road to healing.
Poems of Comfort and Strength
You may want to offer more than just sympathy to your grieving friend or family member. Instead, you could share a poem about the loss of a loved one that will give them the strength to carry on. These poems about sympathy allow those you care about to experience their grief - while also giving them hope for better days to come.
We'll See This Through
By Kelly Roper
They say this, too, shall pass,
They say grief eventually fades.
But those sayings are of little comfort
When you're living through such sad days.
They say that time heals all,
And this much I know is true.
So hang in there, my dearest friend,
And together we'll see this through
He's Only Gone on Ahead
By Kelly Roper
He's only gone on ahead of you,
Not just left you behind.
Although you can't be with him right now,
He lives on in your heart and mind.
The day will come when you'll meet again
On Heaven's distant shore,
And the two of you will walk hand in hand
Together forever more.
Everyone may experience different emotions on their journey after losing someone they love. Consider different poetry options, like inspirational poems about death or famous poems about passing on to help provide courage, strength, and peace when hearts are heavy.
Short Condolence Poems to Comfort the Grieving
A poem doesn't need to be long to offer heartfelt condolences. You can use these short but comforting poems about death in sympathy cards, with funeral flowers, or in whatever way you think is appropriate for your loved one. Short, heartfelt verses can also be some of the best funeral poems, especially for beginning or ending a reading or shared memory.
Time
By Kelly Roper
Time brings perspective.
Time eases the pain.
Time heals the heart.
Time revives hope.
In time, you'll learn to embrace life again.
Their Memory Stays
By Casey Gamble
Although they have passed on,
Their memory forever stays.
Remember how they smiled,
And the joy they always gave.
We'll miss them all the time,
And think of them every day.
Their love filled the world -
A love that will never fade.
Carry Them With You
By Casey Gamble
Always carry them with you, keep the goodness of their soul.
You completed each other, a union perfect and whole.
The despair you are feeling will one day subside,
It will never be stronger than the love of your life.
Words Are Not Enough
By Amy Finley
As I see you standing there, I know
The loss is deep and the grief is real.
During this difficult, painful time
Words can't express the sympathy I feel.
I'm here for you, right by your side,
As on this journey, you begin to heal.
Beautiful Loss of a Friend Poems
The loss of a friend can feel as painful as losing a family member. After all, they were your chosen family. Poems about losing a friend, or even losing them suddenly, may help a person feel less alone in their pain. Whether you've lost a friend to sickness, an accident, suicide, or some other cause, remembering the person can help bring healing and comfort.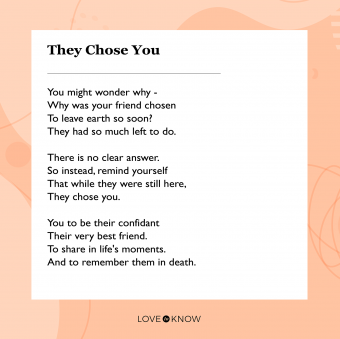 Memories Shared
By Casey Gamble
The picture won't be the same
Without you in the frame.
But the memories we shared
Will help in my heart's repair.
Dancing to our favorite songs,
Sleepovers and late-night talks.
Laughing until we shed tears,
Sharing our secrets and fears.
First loves and first heartbreaks,
Healing ourselves with milkshakes.
Driving around with nothing to do,
Exploring all of the world with you.
You were there for it all,
Always ready for a call.
So grateful you were my friend,
Until the very end.
Life with you here was better,
But you'll be in my heart forever.
They Chose You
By Casey Gamble
Good friends are a treasure.
You must find each other
And like each other
And choose each other.
When you lose a friend,
You lose the person
Who knew the real you,
Better than anyone else.
You might wonder why -
Why was your friend chosen
To leave earth so soon?
They had so much left to do.
There is no clear answer.
So instead, remind yourself
That while they were still here,
They chose you.
You to be their confidant
Their very best friend.
To share in life's moments.
And to remember them in death.
Poems for the Loss of a Loved One in a Family
Words bring comfort, especially when they use specific language to capture a unique relationship, such as the death of a sibling or the loss of a husband or wife. A poem can paint a picture of the love that's been lost, which is a pain that's often impossible to describe. You can read these as a funeral tribute, or share them on paper for the bereaved to read when they need it most. Here are poems to support a grieving friend or family member as they experience the loss of their cherished loved one.
Grieving the Death of a Spouse
This condolence poem for a deceased husband or wife relays the lasting bond of marriage. Without your partner by your side, you may feel especially alone in your grief. This poem explores the feeling of grieving a spouse.
Marriage Is Forever
By Kelly Roper
I take you
From this day forward,
To love and to miss,
For better or for worse,
For emptiness or joyful memory,
In sadness and in grief,
Even after death has made us part.
I take you as my husband/wife
In death as I did in life,
Because our love is forever.
The Loss of a Sibling
Poems about losing a sister or brother can often be used interchangeably with a slight change of words. Honor that special bond and find some healing. Explore grief through the eyes of a sibling and find consolation in these poems about brotherhood and sisterhood.
My Brother
By Kelly Roper
My brother,
My friend,
My secret keeper.
You showed me how to live.
You taught me how to love.
You showed me when to give.
You taught me to rise above.
Although you've gone away,
These lessons will all stay.
They are a part of me,
Just as you will always be.
My Sister
By Amy Finley
We shared dreams,
and thousands of memories;
we laughed and cried so many times.
We lived life
through its ups and downs;
they only strengthened our bond.
I'll remember forever
your beautiful eyes, heart, and smile;
you're forever in my soul.
Poems for Grieving a Child
The loss of a child is arguably the most difficult grief to experience. Poems about infant loss or the death of a child can comfort grieving parents who need solace from their unimaginable pain. Their grief is beyond what words can express, but capturing a child's memory in verse can be a beautiful and powerful tribute to bring comfort to the family.
Healing Hands
By Kelly Roper
Heartbroken I will cry
Every day until I heal.
A life unlived here on Earth
Little one, you are loved.
In sadness, I'll find joy
Now I see you are always with me.
God's love holds my hand with yours.
Loss of a Parent or Grandparent
Saying goodbye to a beloved mother or father isn't easy at any age. When you've lost a parent, expressing feelings through poems dedicated to their life, or exploring the joyful moments through verse, can help bring some closure. You may also use poetry to honor your mother or father and their special place in your life and heart. Similarly, remembering your grandfather or commemorating grandma in poetry can also be a source of consolation.
Remembering Your Love Comforts Me
By Amy Finley
They say love grows ever stronger
and now
I'm at a loss to express
my love for my beloved mother/father.
Without you here by my side
I've lost
a teacher, mentor, a friend
my forever cheerleader and guide.
You were a light in every way
a beacon
for your son/daughter
and I'll miss you more than words can say.
Losing a Beloved Pet
When you lose a pet, it feels like you've lost a family member. A sympathy poem can validate your grief, whether it is for your cat, your dog, or any other beloved animal. This poem describes the joy and love that you lose when your dog has died.
A Loyal Companion
By Kelly Roper
Loyalty was the priority,
From me to him
And him to me.
A companion by my side,
He ran and jumped and played
Always ready for a ride.
Under all that fur and fluff,
My doggy trained me well
That no amount of joy is ever enough.
Love is the priority,
From me to him
And him to me.
Sympathy Poems Offer Words From the Heart
People grieve in different ways, and it can be difficult to choose just the right words to express your sympathy and support. From condolence poetry to share after a person's passing to verses focused on grief around the holidays, comfort and strength can be found through poems about death, dying, grief, and loss. Whether you share a poem you personally wrote or send one written by someone else, poems about lost loved ones can bring genuine comfort. If the verse touches your heart, it will likely touch the heart of the person who is bereaved and bring a little solace to ease their loss.