A nonreligious funeral service honors a deceased loved one, without any religious aspects incorporated into the service. If you are planning a nonreligious funeral service, there are some tips to keep in mind.
Nonreligious Funeral
A nonreligious funeral service may allow for more planning flexibility compared to a religious ceremony.
How Do You Plan a Nonreligious Funeral?
When planning a funeral service:
Stay organized with a funeral planning checklist.
Come up with a firm funeral budget.
Create a guest list.
Select a venue.
Find an officiant, sometimes called a humanist celebrant, if you'd like someone to lead the ceremony
Decide on whether you'd like to hold a funeral repast (reception) after the service- if so, select a venue and what food or small bites you'd like to serve.
Decide if you'd like to book a reservation at a restaurant for the repast instead of hosting one at someone's home.
Deide on decor and/or flowers.
Nonreligious Funeral Service
A nonreligious funeral service honors the life of the deceased individual and can be held in a variety of locations. Nonreligious funeral service venues:
A park
A funeral home
On a boat
At a museum
At a winery
At a restaurant, in a private room
At a botanical garden
At a crematorium chapel
At someone's home
At the beach
An event space
Be sure if your ceremony includes scattering ashes and you are on public property, that you have the proper permit to do so.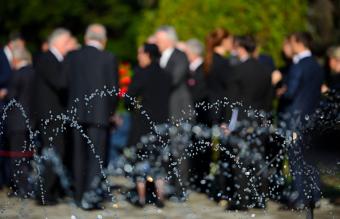 Who Conducts a Nonreligious Funeral?
A nonreligious funeral can be conducted by:
A loved one of the deceased individual
A humanist celebrant
A religious celebrant who is able to exclude all religious aspects from the funeral service
Readings and Poems for Nonreligious Funerals
Readings and poems are a touching way to honor the life of the deceased individual, while sharing some of their favorite literature, poems, or sayings. Readings and poems can also be recited to better illustrate the relationship you shared with your deceased loved one. You may choose to incorporate a reading, saying, or poem into the eulogy, or reciting it on its own.
Uplifting Funeral Readings
Selecting an uplifting funeral reading can help those in mourning recall the beautiful memories shared with the deceased individual. Selecting an uplifting reading can be especially appropriate if the deceased individual was a very positive and upbeat person.
Unusual Funeral Readings and Quotes
Some unique funeral readings and quotes include:
Winnie-the-Pooh: "How lucky am I to have something that makes saying goodbye so hard."
Washington Irving: "There is a sacredness in tears. They are not the mark of weakness, but of power. They speak more eloquently than ten thousand tongues. They are the messengers of overwhelming grief, of deep contrition, and of unspeakable love."
Langston Hughes: "Dear Lovely Death" poem
Funeral Readings From Novels
Funeral readings from novels:
From The Wind in the Willows by Kenneth Grahame: "He saw clearly how plain and simple - how narrow, even - it all was; but clearly, too, how much it all meant to him, and the special value of some such anchorage in one's existence."
From Lev Tolstoy's The Death Of Ivan Ilych: "And death...where is it?" He sought his former accustomed fear of death and did not find it. "Where is it? What death?" There was no fear because there was no death. In place of death there was light."
From The Fault in Our Stars by John Green: "Grief does not change you, Hazel. It reveals you."
From The Fault in Our Stars by John Green: "The pleasure of remembering had been taken from me, because there was no longer anyone to remember with. It felt like losing your co-rememberer meant losing the memory itself, as if the things we'd done were less real and important than they had been hours before."
Funny Funeral Readings
Funny eulogies or lighthearted quotes can be a great option to incorporate in a nonreligious funeral service if the deceased individual was known for their sense of humor.
Nonreligious Funeral Readings for Grandparents
Some nonreligious funeral readings for grandparents include:
Nonreligious Funeral Readings for Parents
Funeral readings for parents:
Nonreligious Funeral Music
When selecting non religious funeral music, think about the deceased individual's favorite songs or artists to get some inspiration. If you are unsure of what to select, you can consider:
What Do You Say at a Nonreligious Funeral?
If you have been invited to a non religious funeral, pass along your condolences without mentioning anything religious. Keep what you say short and simple, and focus on being supportive.
What Is a Nonreligious Funeral Like?
A nonreligious funeral:
May be held at a unique venue
May be officiated by someone who isn't associated with a religious sect
May be more like a celebration of life
May use nonreligious music, readings, and poems
May incorporate a green burial, traditional burial, or scattering of ashes into the ceremony
How Do You Plan a Nonreligious Funeral?
If you are planning a nonreligious funeral, know that whatever choices you make, the funeral is a special way to honor your deceased loved one. Be sure to take care of yourself during this time and reach out for support if you feel overwhelmed at any point.