Create an Obituary That's Meaningful
An obituary is more than the facts of a person's life; it's a statement about what that life meant. Create an obituary that truly captures the special nature of a person by taking the time to write something really meaningful.
1. Review the Proper Format for an Obituary
Although there are no strict rules, reviewing the proper format for an obituary can help you make sure you don't leave anything out. Most obituaries include the following elements:
Notice of the death
A short biography
Surviving family members and those who have pre-deceased the person
Information about the funeral or memorial service
You can write the obituary from scratch using these basic details as an outline, or you can use an obituary template as a starting point. Either way, it's stepping beyond these basic elements that will make the obituary special.
2. Gather Information About the Deceased
Once you know the basics you need to include in an obituary, it's time to start gathering information. If you know the person well, you may already know most of the details about their life. You can fill in blanks by talking to family and friends. You'll need to know the following:
Full name
Birth and death date and place
Important life events, such as graduations, weddings, and career milestones
Names of parents, spouse, children, grandchildren, and any other relatives or friends you want to mention
Where and when any memorial events will occur and whether the family would prefer flowers or a donation in lieu of flowers
This is also a good opportunity to talk to people about what made the deceased special. Ask them to think about the qualities they admire and the things they will miss. Knowing how to create an obituary that's meaningful is all about including these details.
3. Start the Obituary With a Death Announcement
The first paragraph of any obituary is usually the announcement of the death. This should include the person's name and the date and place they passed away. You don't have to include details about the cause of death when you create an obituary, but you can include a small amount of context for the death if it feels right. For example, you might say, "after a long illness," "passed away peacefully," or "left us suddenly."
Announcing the death in an obituary is usually a matter of a simple sentence or two. Use these examples for inspiration:
Herbert Jordan Johnson passed away peacefully on July 21, 2022 at Springwood Care Facility in Morristown.
Millicent Agnes Conner left us at the age of 102 on September 3, 2022. She passed away at home surrounded by her family.
After a long illness, Simon George Ellison passed away on June 6, 2022 at Memorial Hospital.
4. Create a Short Biography
When you write an obituary, an important part of it will be the biography of the person who has died. After you announce the death, it's customary to give some details about the person's life. This can be very simple, including only where they were born and where they lived, but it's common to include all the major events. These are some of the things you might want to include in the biography when you create an obituary:
Where they were born and raised
Names of their parents
Where and when they graduated from high school and/or college
Type of work they did and names of companies
Military service and rank
Name of their spouse or partner and marriage date, if applicable
When they retired
5. Mention Family Members by Name
In addition to people mentioned in the biography section, it's nice to include the names of family members or important friends who survive or who may have pre-deceased the individual. How many people you list will depend on the length of the obituary, but most obituaries include children by name. Keep these tips in mind for listing people in an obituary:
Married women who have taken their husband's name should have their maiden name in parentheses. For example, you might say, "She is survived by her daughter, Megan (Smith) Thompson."
You can list grandchildren, great-grandchildren, and nieces and nephews by name or include a number. For instance, you might write, "She is survived by eight grandchildren and 23 great-grandchildren."
If the person lost other important people in their lives, you can honor those relationships by mentioning those people by name. For example, you could say, "He was preceded in death by his brother, Henry Lamont."
6. Add Personal Touches for a Meaningful Obituary
All the facts matter in an obituary, but what makes it really meaningful are the personal touches you can add. Think about what made this person special or unique. What was the person proud of or really good at? What will people remember about them?
Add these special touches to the obituary wherever you can. These are some places you can do this:
Biography - Talk about hobbies, travel, and other interests. Add a funny anecdote or special memory.
Family member - Mention what people will remember about the person.
Special section - Add a section devoted entirely to giving a sense of who this person was.
You can also use descriptive words like "beloved" or "cherished" to talk about how important this person was to his or her family and friends.
7. Include Memorial Service or Funeral Information
When you create an obituary, you're giving a sense of the person's life, but you're also telling people how they can honor this person. Close the obituary by including details about the funeral or memorial service. Tell people how the person will be honored and when and where the event will be held. If it won't be held until later, will be private, or isn't planned yet, you don't have to be specific. If there won't be a funeral, you can state that, and give suggestions for other ways to remember the person.
8. Add Any Special Instructions for Memorials or Flowers
If the family would prefer not to have flowers, you can use the end of the obituary to suggest a charity or cause people could support instead. You can use the phrase "in lieu of flowers" or simply state that memorial donations can be made to a charity. You can also mention actions people could take, such as volunteering or donating to an animal shelter, library, or other place special to the deceased. Telling readers how they can honor the person is a great conclusion for an obituary.
9. Check Your Work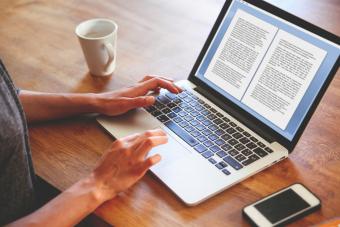 When you've finished writing, take some time to read the obituary out loud to yourself. Does everything make sense? Is there any missing information? If there are family members available, it's nice to give them a chance to review the obituary before you submit it to the funeral home or newspaper. They may have last-minute additions or things they'd like mentioned.
10. Find the Perfect Photo of the Person
When you're happy with the text for the obituary, look for a good picture to go with it. Remember that this photo will usually be in black and white if it's in the newspaper, so choose a picture that doesn't have a complicated background. Ideally, the photo will be recent and will show the deceased looking at the camera. They don't have to be smiling, but many people consider it nice if they are.
11. Submit the Obituary for Publication
The final step when you create an obituary is submitting it for publication. You'll need to give a copy to the funeral home so they can post it online. You can send this directly to the person who is helping you there, unless they've given you other instructions.
You can also publish an obituary in the local paper. Consider publishing it in the paper where the person lived most of their life if they have moved in the last few years. Most newspapers have instructions for submitting an obituary on their website, but you can also call the paper and ask to speak with someone who handles obituaries. Many papers use a basic obituary template to help organize the information.
Celebrate the Person and Their Life
An obituary tells people how to remember someone and what makes that person special. Just like planning a memorial service or honoring the deceased in any other way, it's all about the personal details. If you create an obituary that is specific to the person you are honoring, you can celebrate this person and honor the life they lived.