Are you looking for cheap camping meals ideas? There's no reason to spend a fortune on dining when you're enjoying spending time with friends and family in the great outdoors. After all, camping is one of the most economical ways to enjoy time away from home. Whether you are camping in a tent or spending time in a recreational vehicle, there are a number of affordable dining options that you may want to try.
Ideas for Cheap Camping Meals
The meals below are all low-cost, low-fuss choices, perfect for any age. Some require a campfire, grill, or camp stove, while others are easy, no-cook options.
Hot Dogs
No camping trip is complete without at least one meal that includes wieners roasted over the campfire. If you camp frequently, watch for sales on hot dogs and stock your freezer with the bargains you find.
Many supermarkets run buy-one, get-one-free specials on hot dogs, and offer significant markdowns on packages that are close to the expiration date. Coupons for brand name wieners are often included in newspaper circulars. When you find great deals on hot dogs, buy several packages and freeze them right away.
When you're ready to head to your favorite campgrounds, toss a couple of packs into your cooler and cook once they have had a chance to thaw. The easiest -- and most fun -- way to cook hot dogs while camping is to place them on long sticks or roasting forks and hold over an open fire until heated through.
Cost: Less than $1 per serving (depending on condiments!)
Beanie Weenies
If you're looking for a cheap one-pot camping meal idea, you can't go wrong with a big pot of beanie weenies, also called franks and beans.
This simple dish is nothing more than canned pork and beans combined with hot dog chunks. You can use hot dogs straight from the package, or use leftovers from the previous day's open fire wiener roast if any are available. Simply dump a few cans of beans into cookware that is safe for use on the grill or over a campfire, add the hot dogs, stir, and heat. Nothing could be easier, or more affordable.
Cost: Less than $2 per serving.
Sandwiches
There's no reason to cook every time you get hungry while you are camping. After all, every time you light the grill or make a campfire, you are using charcoal or wood. You may want to wait until the evening to enjoy cooked food so that the grill or campfire can serve the double duty purpose of helping keep the members of your party warm during the cool evening hours, while also cooking your food.
Sandwiches can be terrific, cheap camping meals that don't require any cooking and that are very affordable. Pack a loaf of bread and your favorite sandwich ingredients, such as peanut butter, deli meat, canned tuna, and your favorite condiments. Stock up on the items that you like to use to make sandwiches when they are on sale so that you don't find yourself having to pay top dollar for the grocery items you need immediately before your trip. Keep in mind that deli meat is perishable, but can be frozen until you are ready to depart for your trip.
For maximum affordability and convenience, save the extra condiment packages that you receive when purchasing deli sandwiches or fast food. They are perfect for use during camping trips. Repurposing these individual packets rather than tossing them away is environmentally responsible and can keep you from having to purchase pricey miniature containers of condiments for camping trips.
Cost: $1 to $3 per serving, depending on ingredients.
Peanut Butter and Crackers
No-cook meal options are great to have when you're camping. Sometimes the weather is too cruddy to cook over the fire or camp stove. Sometimes, you're too tired from a day on the trails or fishing. And sometimes you just want something quick, good, and easy, with no clean-up required.
Peanut butter and crackers is a great option. Whether you choose saltines, buttery crackers, wheat crackers, cheesy crackers (or all of the above for a mix of flavors!) all you need is a knife and your favorite peanut butter. Make little peanut butter and cracker sandwiches, or get creative and slice apples or other fruit onto the peanut butter for a little added nutrition.
Cost: Less than $1 to $2 per serving.
Veggies and Dip
This is another great no-cook option, perfect for times when it's hot and you want something healthy and refreshing. You can easily prep a variety of veggies ahead of time (cut up carrots, celery, cucumbers, broccoli, and cauliflower) or, even easier, buy a bunch of pre-cut veggies. Make or purchase your favorite dip, and enjoy!
Cost: Around $2 per serving.
Baked Potatoes
Potatoes are full of vitamins, minerals, and fiber, and are a great, low-cost (but filling!) option. Pack a few toppings, such as butter, sour cream, cheese, or salsa, and you're good to go with this easy, nutritious, inexpensive meal.
There are two general ways to cook potatoes when camping.
Pierce the potatoes and place them on a rack very close to the flames of your campfire or grill. Turn occasionally to help them cook evenly.
Hasselback-style: Make a series of cuts along the length of the potato, about 1/4-inch apart. Tuck butter between a couple of the slices, then salt and pepper the potato. Wrap it snugly in foil, and nestle it into the coals, letting it cook for about 30 to 40 minutes. Poke with a knife to check for doneness.
Cost: Less than $1 per serving (but could be more depending on any toppings you choose).
Wraps
Much like sandwiches, wraps can be an easy, no-cook option. Just pack your favorite cold cuts and cheeses, some condiments, and some lettuce, tomato, and onion, along with your favorite type of wrap, and let people make their own. For a hot meal, you could even wrap them in foil and set them over the fire for a few minutes.
Cost: $1 to $3 per serving.
Trail Mix and Fruit
This is a fantastic breakfast or lunch option, especially if you're on the go. You can even portion out trail mix into individual containers before you leave home, and then pass them out. Bring apples, oranges, bananas, or pre-cut containers of melon with you, and you have a nutritious, easy, light meal for adults and children alike.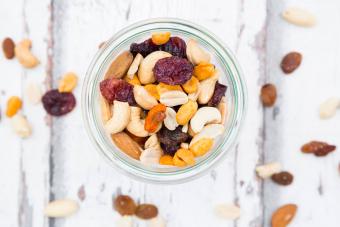 Cost: $2 per serving, depending on trail mix and fruit selections.
Eggs in a Nest
Eggs are good for breakfast, lunch, or dinner, and eggs in a nest is a classic, inexpensive, no-fuss option that's perfect for when you're camping. You can make them in a small frying pan over a campfire or on a camp stove. All you need is sliced bread, butter, eggs, and any seasonings you like on your eggs.
Use a round cookie cutter (or carefully tear out) a 3-inch hole in the center of each piece of bread. Figure on providing one to two of these per person.
Melt butter or heat the oil of your choice in a skillet. Set the bread inside. Toast it on one side, then flip to the other side.
Crack an egg into the hole and let it cook. Flip partway through to cook any runny egg whites on the top side.
Season and serve!
Cost: Less than $1 per serving.
Mugs of Soup
If it's chilly, a nice mug of soup can be a hearty, inexpensive option for lunch and dinner. You can pre-make your favorite soup at home, package it in plastic containers, then empty them into a pot over the fire before serving. Or, there's absolutely nothing wrong with buying a few cans of your favorite canned soup, heating it up, and pouring it into mugs for everyone to enjoy. If you have some crusty bread or crackers, that's a great addition to this meal, as well!
Cost: $1 to $4 per serving, depending on type or brand of soup and any extras.
Cook Ahead for Affordable Dining
While there are many convenience foods designed to meet the needs of campers, they tend to be more expensive than recipes that you prepare yourself. While backpackers may find that freeze-dried camping meals are their best option, this is not true for individuals who enjoy camping in improved campsites where they have access to grills and can easily utilize sizeable coolers.
If you don't want to bother with cooking during your camping trip, you can still enjoy cheap camping meals. Simply prepare a few of your favorite recipes ahead of time and refrigerate or freeze. Affordable foods that freeze well and that can be reheated on a grill or over an open campfire include chili, stew, meat for Sloppy Joes, and more.
Watch for sales on loaves of bread and hamburger buns to serve with your homemade meals in advance of your next camping trip. Freeze bread while it is still fresh and allow it to thaw while en route to your destination. You'll be able to enjoy tasty meals without spending a fortune or devoting much of your vacation time to cooking.
Additional Ideas
For more camping meal ideas and suggestions, see:
Camping Food List
Dutch Oven Camping Recipes
Outdoor Grill Cooking Recipes
What Kind of Food Is Good for Camping?
Eating Well While Camping
As you can see, you can eat well on your camping trip, without your meals costing you an arm and a leg. Be flexible, be creative, and remember that above all, camping is about fun and shaking up your routine a little.