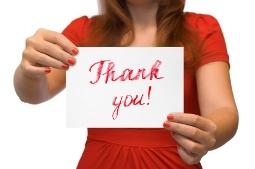 To show your donors that you appreciate their efforts, send a thank you letter immediately after receiving a donation. You can refer to sample thank you letter templates as a guide for preparing your letters.
Monetary Contribution Thank You
The donation letter thank you template can be sent to those who have given monetary contributions to your organization. It should be sent immediately after you receive the donation. If you need help downloading the templates, check out helpful Adobe tips.
Gift In-Kind Donation Template
Another type of donation that may be given to your organization is a gift in-kind. This type of donation is where a business or individual provides an item or service to an organization. The in-kind donation template can be sent to those who have volunteered their time or donated a product to your charity.
Information to Include
Using a donation thank you letter template can help you when drafting a letter of your own. When you're changing the document to make it unique to your organization make sure that you identify:
Type of gift that was received
Value of the gift
Date the gift was given
Special Touches
When you send a thank you note, tailor the letter to make it personal to the donors. If you know the donor personally, include a handwritten message at the bottom of the letter for a special touch. If you receive a significantly large donation, consider making a phone call or personally inviting the individual to spend time with you or the organization. Thanking donors is a way to keep them involved with your cause and reminding them that their efforts are greatly appreciated and needed.