It's time! The moment for your self-introduction speech is upon you. Are your palms sweating just at the thought? There are two secrets to making it easier to give an introduction speech about yourself: practice and preparation.
And with those two things already on your to-do list, we took care of some of the lifting for you with these self-introduction speech examples. Plus plenty of tips to help you not only get through it but get through it and feel good about it after. Yes, it is possible. And you're on your way!
Easy Self-introduction Speeches for School
It's the first day of school or of the semester. Perhaps you've found yourself in a new classroom halfway through the academic year. No fear, these intros will ease you into things and hook you a few new friends and classroom groupmates, too.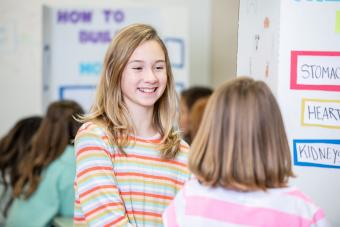 Self-Introduction for Elementary or Middle School Kids
For the younger kiddos, these intros are all about who they are and what makes them happy.
"Hi, everybody! My name is [Your Name], and I'm super excited to be in this class with all of you. I'm [Your Age] years old. I live with my family, and we have a dog named [Dog's Name] who likes to eat all my homework. I really love dinosaurs, especially the T-Rex because he's big but has tiny arms, just like my baby brother when he tries to reach for cookies on the high shelf. In my free time, I love building rocket ships from Legos. One day, I hope to become an astronaut and find aliens -- friendly ones, of course!"
"Good morning, everyone! I'm [Your Name], and I'm really excited to be part of this class. I am [Your Age] years old. At home, I'm the queen/king of board games, although my cat [Cat's Name] often tries to join in and messes up the pieces. My favorite food is pizza, because who can say no to pizza? And when I grow up, I want to be a detective because I love solving mysteries, like where my missing socks go in the dryer. I'm looking forward to learning and having fun with all of you this year!"
Self-Introduction Speech for High Schoolers
Give new classmates an in or let people know that you're just like them so you can make friends once you find the cafeteria.
"Hey everyone, I'm [Your Name]. I'm new here, so please go easy on me if I can't find my way to the cafeteria. A few facts about me: I love music and play the guitar -- it's like a six-stringed stress buster for me. I'm a total sci-fi geek. If you need someone to debate Star Wars vs. Star Trek, I'm your person! And I have a secret ambition: to try every ice cream flavor in the world. Looking forward to getting to know all of you."
Self-Introduction Speech for College Kids
A quip about your major is a great way to start, but you can also loop in anything you love (or avoid) on your campus too, even if it's the steps by the library that seem to go on for eternity.
"Hello everyone! My name is [Your Name] and I'm majoring in [Your Major]. When I'm not elbow-deep in textbooks or caffeine, I love exploring the city, one coffee shop at a time. Yes, I'm a self-confessed coffee addict and my dream is to find the perfect cup of coffee. I also enjoy [Another Hobby], because what's life without a little variety, right? Excited to be on this journey with you all!"
Job Interview Self-Introduction Speech
There's nothing like the dreaded "tell us about yourself" comment at an interview. The good news? You won't have any more nightmares because this intro is the perfect way to ease into the answer.
"Good morning/afternoon! I'm [Your Name], and it's a pleasure to meet you. I graduated from [Your University] with a degree in [Your Major], and since then, I've gained [Number of Years of Experience] years of experience in the [Your Field] field. During my previous role at [Your Previous Company], I was responsible for [Key Responsibility] and I [Describe a Key Achievement or Impact You Made]. What I particularly enjoyed about that role was the opportunity to [Something You Enjoyed that Relates to the New Job]. In my free time, I enjoy [Briefly Mention a Hobby], which helps me to [Explain How It Applies to the New Role]. For example, [Concrete Example of How Hobby Relates to Job]. I'm excited about the possibility of bringing my unique experience and passion for [Mention Something About the Company or Role] to this position. Thank you for this opportunity to interview."
Work Self-Introduction Speeches
Make a smooth, witty, and warm self-introduction when you land the job or want to kick off an introduction with ease.
Introduction for a New Job
You're the new kid on the block at the office, you have enough to learn, here's an easy intro on your first day before jumping in.
"Hello team, I'm [Your Name]. I'm thrilled to be joining the [Company Name] family as your new [Your Job Title]. I come with a background in [Relevant Skills or Experience], and most recently, I was at [Previous Company] where I [Describe a Key Achievement or Project]. Outside work, I love [A Personal Interest or Hobby]. I look forward to collaborating with all of you and contributing to our shared success."
Introduction for a Presentation or Meeting
Before you launch into the important information, take a moment to let people know who you are, why you're giving this presentation, and why you're qualified to do it. After all, you've done all the hard work, allow your accolades to shine.
"Good morning/afternoon everyone, for those who don't know me yet, I'm [Your Name], the [Your Job Title] here at [Company Name]. I oversee [Briefly Describe Your Responsibilities]. I've been with [Company Name] for [Duration at the Company], and before that, I worked at [Previous Company]. Today, I'm excited to discuss [Topic of Presentation or Meeting]. Although if you want to chat after, I also love [Hobby]."
Introduction for a Networking Event
You'll be introducing yourself a lot at networking, so now is the time to make yourself pop and be memorable.
"Hello, I'm [Your Name], currently serving as a [Your Job Title] at [Company Name]. I've been in the [Your Industry] industry for [Number of Years], specializing in [Your Specialty]. When I'm not [Job-Related Activity], I like to [Personal Interest or Hobby]. I'm eager to meet like-minded professionals and see how we can help each other grow in our careers."
Introducing Yourself at a Funeral
Whether you're delivering a eulogy, poem, or making a brief introduction of yourself to other family and friends, you can rely on this intro to make things a little easier.
"Good morning/afternoon, everyone. My name is [Your Name], and I had the honor of being [Deceased's Name]'s [Your Relation to the Deceased, e.g., friend, colleague, neighbor]. We shared many [memories/experiences] together, and I am here to pay my respects and celebrate the remarkable life they led. Their [specific quality or memory] has always stuck with me, and it is something I will carry in their memory."
How to Introduce Yourself at a Party
It's party time! Keep the intro laid back and casual.
"Hi! I'm [Your Name]. I may know some of you from [How You Know Some People at the Party]. I'm [a brief sentence about yourself, e.g., your job, where you're from]. I'm a bit of a [Hobby] enthusiast, so if you ever want to chat about [Topic Related to Hobby], I'm all ears."
Examples of How to Introduce Yourself to a New Group
You're the newbie, and there's nothing wrong with that. Start your clean slate with a short and sweet intro.
"Hello, everyone! My name is [Your Name]. I'm thrilled to be joining this group! I have always been passionate about [Your Hobby]. It all started when [A Short Story About How You Got Started With This Hobby]. Over the years, my love for it has only grown, and I've spent countless hours [Describe Something You Do Related to The Hobby].
Apart from this, I'm [Something About Your Job or Other Interests]. In my day-to-day life, I'm a [Your Profession], which can be pretty demanding, but [Your Hobby] has always been my perfect stress-buster.
I joined this group because I wanted to meet people who share this passion, learn from your experiences, and hopefully contribute with some of my own insights. I'm really excited to be a part of this community and can't wait to get to know all of you better!"
10 Tips for Writing and Making a Self-Introduction Speech
Here are some tips to keep in mind while writing and giving your self-introduction speech. The most important tip, however, is to do what feels natural and flows easily.
Know Your Audience: Tailor your introduction to the context and the audience. A self-introduction at a professional event will be very different from one at a casual party.
Start Strong: Grab the audience's attention from the beginning. You can start with an interesting fact about yourself, a short story, or a joke if the setting is informal.
Keep It Brief: Your introduction should be concise and to the point. Stick to key details about who you are, what you do, and perhaps one or two interesting facts or hobbies.
Be Authentic: Genuine introductions are the most memorable. Be honest about who you are and don't be afraid to show some personality.
Highlight Key Moments: Especially in a professional setting, it can be helpful to highlight a few key experiences or achievements that have defined your career or personal life.
End on a Positive Note: Conclude your introduction on a positive or forward-looking note. You could express excitement about the event or meeting, or share a hope or goal for the future.
Practice, Practice, Practice: Rehearse your introduction speech so you can deliver it confidently and naturally. This will help reduce any nerves and ensure you come across as polished and professional.
Be Engaging: Use body language to engage your audience. Make eye contact, smile, and use gestures where appropriate.
Relate It to the Purpose of the Event: If there's a specific reason for your introduction (like starting a new job, or joining a club), make sure to mention your relationship to the event or group and your expectations or goals.
Provide A Personal Touch: Share a little about your personal life (like a hobby or interest) to make your introduction more unique and memorable.
Need to Know
Remember, the goal is to introduce yourself effectively, not to tell your entire life story. Keep it brief, engaging, and genuine.
Introducing Yourself With Ease
Sit yourself in front of the mirror, and run through your lines like an actor for a play, and in no time at all, the words will flow and you'll find a natural cadence. You may even surprise yourself with how easily your introductions flows once you take the stage. Don't be surprised if people ask how you were so calm and cool.