Mississippi State Park Camping
If you're looking for a Deep South camping spot, one of the many beautiful Mississippi State Parks campgrounds might be a perfect choice for you. You can make reservations at the park of your choice online.
George P. Cossar State Park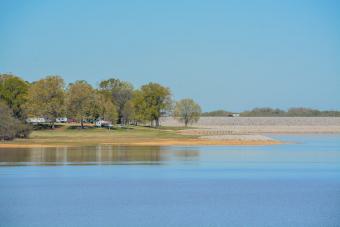 This waterfront park in Oakland, MS, has waterfront and wooded campsites and several cabins. Yocona Ridge offers 35 waterfront sites and campsites. There's also a laundry room, playground, and bathhouse. Jones Creek campground offers 48 naturalized wooded camping areas. Campers can expect to pay $15 to $25 for a site during peak season and up to $95 for one of the state park's cabins. Enjoy miniature golf, disc golf, fishing, and more when you visit this park.
Lake Lincoln State Park
This northeast Mississippi State Park is located in Wesson, MS. It is a perfect spot for boating, hiking, skiing, swimming, and other outdoor activities. Campers can choose from any of the 71 RV campsites, a cabin, and three cottages on park grounds. Rates range from $17 a night for a primitive site to $45 a night for a beachfront site. Avid campers can choose to book nightly stays or rent a spot for the entire month.
Lake Lowndes State Park
Located in Columbus, MS, this Mississippi State Parks campground sits on a 150-acre lake. Campers can enjoy all types of water sports, hiking, and excellent sports facilities. Mississippi sports fans flock to this space during their team's season so they can make a vacation out of games and camping.
Campers can choose from 66 sites at the park, ranging from primitive to premium sites. The state park also has eight cabins for those who like to experience the outdoors but retreat to walls at the day's end. Rates range from $15 per night upwards to $75 per night for a cabin during the prime season.
LeFleur's Bluff State Park
It's hard to believe that this beautiful state park is situated in the state's capital city of Jackson. Visitors can enjoy hiking, fishing, golfing, trail hiking, and more in this lovely 305-acre state park campground. Campers have access to 28 campsites that work for either RV or tent camping and include water and electrical hookups and 10 additional tent camping only sites. Those choosing to stay overnight at the park can pay by the night or reserve their spot for the entire month.
Leroy Percy State Park
The oldest of all the Mississippi State Parks campgrounds, this site is also home to the state's only wildlife preserve. The park is home to an artesian spring, alligators, wild turkeys, deer, and other animals. Visitors can enjoy hiking, boating, and fishing or spend the day playing volleyball or disc golf. The state park includes showers, a bathhouse, picnic pavilions, and on-site laundry. Fees range from $15 a night for a primitive site to $85 a night for a state park cabin during the peak season. Accommodations include a smattering of primitive sites, a handful of standard campsites, and 8 property cabins.
Natchez State Park
History buffs will enjoy visiting Natchez State Park. The site is the perfect home base for exploring this historic city along the Mighty Mississippi River. Natchez State Park has two campgrounds and one primitive camping area set along Natchez lake. All 58 sites have water and electric hookups have a fire ring, and a picnic table. Amenities at the park include drinking water, flushable toilets, showers, and on-site laundry facilities. Spend the days boating, canoeing, kayaking, fishing, hunting, disc golf, hiking, biking, picnicking, and gazing at the abundance of wildlife here. Prices range from $15 to $97 a night depending on the accommodations you choose and are highest between May and August.
Paul B. Johnson State Park
This southern Mississippi park, located in Hattiesburg, is the perfect spot for hiking, fishing, water skiing, swimming, and other outdoor activities in southern Mississippi. The campground contains 156 camping spots, set back in the wooded forest areas or along the water and both tents and RVs are welcome. A basic camping site starts at about $18 for the wooded areas during peak season and can move upward $35 per night for prime spots. Campers have the ability to reserve spots for the entire month, creating a home away from home in the Deep South.
Tombigbee State Park
This park is perfectly situated to allow campers to enjoy the peace and serenity of a state park setting just outside of Tupelo, MS. 35 sites ranging from primitive to cabins sit on the park grounds and range in price from $15 for a primitive site to $85 for a cabin. Sites are suitable for either tents or recreational vehicles. Outside of relaxing in the wilderness at your site, campers can indulge in fishing, hiking, boating, disc golf, volleyball, and countless other recreational activities located within only a few miles of the park.
Tishomingo State Park
Tishomingo State Park is located at the foothills of the Appalachian Mountains range. Park visitors can spend the day playing disc golf, hiking surrounding trails, participating in a compass course, or canoeing and fishing on Bear Creek. The wooded campground contains 62 RV campsites, a primitive campsite area, six cabins, one cottage, and a group camp facility. Fees range from $15 to $85, depending on the chosen accommodations.
Shepard State Park
Stunning Shepard State Park is spread across 395 acres of lush greenery and vibrant and colorful wildflowers. Campers can bike through the grounds or hike surrounding trails before hunkering down at any of the 28 developed campsites. Both tent campers and recreational vehicles are welcome in the park, with designated areas for both types of campers.
Buccaneer State Park
The park has been undergoing various stages of reconstruction following the devastating 2005 hurricane that rocked the area. Today, the park has 206 premium campsites with full amenities, including sewer and 70 campsites that are set on a grassy field overlooking the Gulf of Mexico that offer both water and electricity. Those interested in a more primitive camping experience can choose from 25 primitive sites nestled in the back of the Royal Cay camp area. The state park includes a bathhouse, an activity pool, a camp store, a recreation center, a disc golf course, and countless nearby activities located within the surrounding communities. A premium campsite costs $32 a night during peak season, while a beachside site costs $45 a night.
Wall Doxey State Park
Wall Doxey State Park is located off Mississippi Highway a few miles south of Holly Springs, Mississippi. The park is centered around a 60-acre spring lake, giving visitors countless water activities to engage in during their stay. The 89 campsites range from primitive to standard, and several cabins are available for use by campers. Campers can expect to pay $15-$25 for a standard site and upwards of $60-$85 for nightly cabin rental during peak season. Tents and recreational vehicles are welcome, as well as leashed pets.
Roosevelt State Park
Located between Meridian and Jackson, Mississippi, Roosevelt State Park sits at the western edge of Bienville National Forest. The park contains a 150-acre lake, giving campers countless water activities and hiking and biking opportunities during their stay.
The park contains 109 RV campsites, many of which have electricity, water hookups, and sewer. The park welcomes tent campers and has 15 cabins on the state property as well.
The Southern Camping Experience
The welcomes water, lush vegetation, and warm weather welcome campers to the south year after year. Experience southern hospitality in the outdoors with any of the Mississippi State parks. Regardless of the one you choose, you will find that nothing beats vacationing in the deep south.