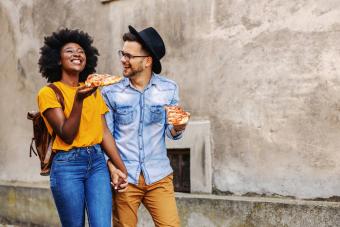 Dinner and a movie: this is the stereotypical go-to date night. While this can be fun, you probably want to make the night a little more special for your anniversary. If want to make it magical and really wow your partner, these fun anniversary date ideas might just make fall in love with your spouse or partner all over again!
1. Release a Wish Lantern on Your Anniversary
Many people engage in the tradition of sending off wish lanterns at their wedding. These beautiful beacons of light fill the sky or the water and symbolize new hopes and dreams for the future. On your anniversary, take some time to reminisce about what the two of you have accomplished so far and what you hope to achieve in the future. You can purchase floating lanterns for both the water and the sky online for an affordable price.
2. Take a Trip Back in Time
Remember your high school days when you couldn't default to grabbing a drink at a bar and actually had to get creative when planning a date? There's a reason teenagers fall in love so easily. They don't just date someone. They often become best friends with them, too. Take a trip back in time and go on a nostalgic high school date night! Mini golf, laser tag, go-karts, escape rooms, and carnivals are all fantastic options that don't get the credit they deserve. Not only are they genuinely fun activities, but they give you the ability to really connect with your partner.
3. Spend the Evening at a Charity Event
Charities put on fundraising events year-round. Many of these happenings are formal affairs that involve participants getting dressed up, enjoying a delicious meal, sipping on fancy drinks, enjoying amazing entertainment, and of course, dancing the night away. Best of all, these events can actually end up being more affordable than a dinner and drinks at a nice restaurant! Research what galas are going on in your area. You can help a good cause and have a wonderful anniversary date night, all rolled into one.
4. Book the Honeymoon Suite, Again
If you live in the city that you got married in, then consider skipping the fancy dinner and heading straight to the honeymoon suite. Order room service, cozy up in some comfy robes, watch the sunset, and have some alone time. For parents who would normally come home from their anniversary date only to be sucked back into the chaos, this can be serve as a relaxing reboot.
5. Splash Your Anniversary Day Away
A walk on the beach would be an amazing anniversary date, but not everyone lives by the ocean. Thankfully, there are plenty of fun water activities you can plan no matter where you live. In fact, it will probably surprise you at how close you are to a body of water! Choose from paddle boarding and kayaking to riverside cruises and floating. Not only is this another relaxing activity, but it's proven that spending time in blue spaces can reduce anxiety and stress and increase a person's happiness. These adventures don't need to cost an arm and a leg, so you don't go out and rent a sailboat (unless you really want to splurge).
6. Practice Your Aim
Axe throwing has been around since the 19th century, but it was not until the 2000s that axe throwing establishments became popular among the masses. This pastime can be both thrilling to try and captivating to watch. Research shows that by engaging in playful activities, couples can improve their intimacy and bolster satisfaction in the relationship. This activity also creates natural moments for you to cheer on your partner, which can enhance trust and promote closeness.
7. Cheer on Your Alma Mater
For couples who met in college, why not take a trip down memory lane? Grab some tickets to a ball game and reminisce about your college days. However, if you have migrated away from your alma mater, then consider catching a ball game in your area. Even if you aren't the biggest fan of the team, there's an excitement that takes over when you attend a sporting event. Basketball and football can bring some pricey tickets, so also consider taking your date out to the (base)ball game.
8. Talk to the Animals
For many people, there's something exhilarating about being around wildlife. Even to see it from afar can make for a dazzling date night. Visit the zoo and feed the giraffes, go on a drive-thru safari, or swim with the dolphins. You can also go whale watching, take a hike and keep an eye out for the local fauna, go camping with llamas (yes, you can actually do that), or go for a pontoon ride and keep your eyes peeled for gators. These can be memorable moments, making them perfect anniversary date ideas.
9. Get a View From Above
For the folks who have a little more money to spend, a hot-air balloon ride or a helicopter tour can be a breathtaking experience that you and your sweetheart never forget. Most major cities offer these services, and many are for a reasonable price. However, for the couples on a budget, you can also just grab a view from a stationary spot in your area. Grab a drink at Reunion Tower in Dallas, take a gander at the Evergreen state in the Space Needle, wander around the Top of the Rock mountaintop outpost in Branson, Missouri, or hop a ride on the Myrtle Beach SkyWheel. There are so many surprising spots to grab a magnificent view, and they're sure to create a romantic moment.
10. Celebrate a Fun Local Event on Your Anniversary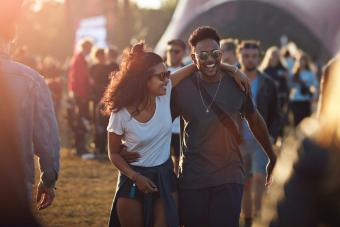 Every town, both big and small, has celebrations and festivals throughout the year. There are events circling around sand castles, tulips, barbecue, music, beer and wine, fruit picking, the year's harvest, the holidays, and various types of food, to name a few. Take some time to Google local events going on in your area. These are plenty of fun and cheap anniversary date ideas that are bound to bring a good time in your local area.
11. Take in the Scenery
Sometimes the simplest options are the best ones. Research on happiness shows natural environments can help foster this feeling. Think about where you live and the flora that's worth soaking in on a walk or drive. The fall foliage, the springtime wildflowers, and the many natural wonders that grace the nation's national parks are all worth seeing, so get exploring! You can plan a weekend trip or just go out for a day - either way these can make for very organic experiences that allow you to focus on your special someone. If you want to elevate this anniversary date idea, order a picnic backpack and enjoy a meal under the stars at the end of your outdoor adventure.
12. Get Creative in the Kitchen Together
Since intimacy has been proven to peak in kitchen environments, consider making your anniversary date one that involves food. We're not talking about a stereotypical dinner date, though. Rather, take a wine and cheese pairing class, learn how to make homemade pasta, get grilling with a pit master, or brighten your spirits with a mixology course! You can find these deliciously fun classes at kitchenware companies, local colleges, and even online.
Make Your Anniversary Date Night Extra Special
No matter if you are searching for one-year anniversary date ideas or planning your pearl anniversary, it's important to remember that details matter. For example:
Don't just grab any flowers from the supermarket. Look back at your wife's wedding bouquet and try to recreate a mini version.
Call the baker who made your wedding cake and see if they can make an anniversary cake for two or cake pops in the same flavor as the original.
If you still have wedding invitations or programs lying around, get crafty and create DIY Christmas ornaments to honor your big day.
If you had a signature drink at your reception, recreate it at home!
Bigger isn't always better. Simple gestures can help you elevate your anniversary date night and make your partner feel truly cherished.
Plan an Anniversary Date That's Fun for Both of You
Plan something that both you and your partner will enjoy, and you'll have a great time together as you celebrate your anniversary. Think about your special day and how you can commemorate it in small, but meaningful ways. Taking time for those little things can make your anniversary date night even more special.