Planning a family reunion is no small undertaking. If you are spearheading this campaign, be sure to put plenty of thought and consideration into the planning stages of the event and the actual execution of the reunion. Everybody is counting on you to bring on the fun and make magic happen. It's a lot of pressure, but when armed with a master family reunion checklist and essential party planning tips and tricks, you are sure to host an amazing event.
Utilize a Family Reunion Checklist
Some events can go off without a hitch sans lists. For smaller parties and gatherings, you are likely able to pull off a bash with a few notes and a good memory. Planning a family reunion is one of those undertakings that will be far easier to master with a checklist in hand. There are so many moving parts and considerations to keep in mind with an event such as this. A checklist is an excellent way to keep everything organized and moving in the right direction. Use the following editable printable as your handy planning checklist. If you need help with downloading, use the Guide for Adobe Printables.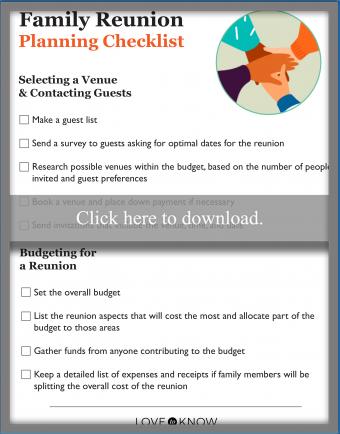 Nail Down the Basics
Before you dive into the tedious party details, nail the reunion basics down. As you would a wedding or graduation party, get your "who, what, wheres and whens" down. Be sure to start at least six months ahead of time as you begin your party planning.
Selecting Guests
Your common ancestors will dictate which guests to invite in most cases. For example, you may just be hosting a reunion for your great-grandparent's relatives, so you wouldn't invite your husband's extended family.
Make a mini family tree to make sure you know who should be included.
Sort through the list and note anyone who has passed away.
Consider what you know about family relationships and specific individuals and ask around if you don't know someone well. Try only to leave out family members who would truly make the majority of people uncomfortable.
Send invitations to all who are living, even if you know they can't attend. The invite alone can make someone feel included.
Lock Down a Venue
When deciding on a space to hold your reunion, consider your family's needs and personalities. Do the vast majority of them like relaxing outdoors, or do many of them dig swanky indoor affairs? Do you have several elderly family members who would be best suited for an indoor gathering, away from the elements or uneven ground surfaces, or is your extended family packed with tons of tiny kids in need of space to run, play and explore?
No matter how much time you devote to choosing a venue, you won't make everyone happy. Where your reunion location is concerned, aim to please the vast majority of your family members. Know that when it comes to planning and large groups, there will almost always be a difference of opinions, and at least a few family members who go against the majority rule. Do your best in choosing a space that checks off most of the location boxes for reunion participants, and move on to the next task.
Decide on a Date and Time
In landing on a venue and booking other important party vendors, you'll need to decide on a hard and fast date and possibly a time for your gathering. When deciding on a date, keep the following considerations in mind:
Allow at least six months' time for the family members who might have to save up for travel or let their workplace know they will be taking time off.
Steer clear of major holidays or the time of year where kids start or end school.
If you are holding a one-day reunion, be sure to have it in the daytime so guests can drive home at night should they choose.
Consider sending out a survey to family members asking for the top three months that a reunion would work best for them. Use the survey results to help land on a month and then a date to have the party.
What Is Your Budget, and Where Is That Money Coming From?
Big parties don't come cheap. Before you go booking venues, ordering food, and hiring entertainment, know how much you can afford to spend. Are you shouldering the entire bash? Who is helping pay for the reunion? Is there a fund to draw from? Know where the money is coming from and how much money you have to work with. All the choices you make in your party planning have to work within a decided-on budget.
If you are planning on a tight budget, think about where you can shave expenses down. Maybe a family member knows of a band that will play for a fraction of their going rate? Perhaps everyone local can join together and make the food that will be served? Locate and utilize your resources as best you can!
Recruit Help and Assign Tasks
If your family reunion is bound to be a massive, over-the-top soiree, you are going to need all hands on deck. Who in the family can you turn to for help? Find those reliable family members and ask for their assistance.
Find Helpful Family Members
You don't need every single person in the brood to take on a task. The saying "too many cooks in the kitchen" exists for a reason! You should identify a few trusty family members to delegate planning responsibilities to. Ask someone to head up entertainment and decor, another person to do invitations and accommodations, and possibly a third person to look into catering options. Be sure only to ask people you can rely on for help. A ball dropped by anyone on the reunion planning committee could mean complete disaster.
If you don't feel that anyone in your family can tackle the major tasks, give them smaller ones, like planning games or making name tags. Maybe some people can help with a task alongside you, which will ensure the job gets done correctly and lightens the load for you.
Decide Who Does What
Once you have your team of helping hands, be clear on who is responsible for what. Sometimes well-meaning people do more than what is asked of them. They might take on the task you gave them, but also take the liberty to perform another reunion task. The problem here is they likely don't know if you yourself took care of that "bonus" task or gave it to someone else. You don't want to find out that two venues or caterers got booked for your reunion! While miscommunications often occur in families, reduce any major communication bumps by specifically telling the people helping you what jobs you need them to do.
Keep Everyone Assisting in the Loop
With several people working to put the reunion together, keeping an open communication thread will be essential. How will you touch base with the family members helping plan or update other planners of party progress? These days, keeping everyone in the loop is simple, thanks to new modalities of connecting with others. Do the following to streamline your process:
Create a text thread containing only the people charged with an aspect of party planning.
Set up an email with the addresses of the family members who have assigned planning duties.
Hold biweekly or monthly Zoom meetings with other planners to remain in close contact and stay on the same page.
Make a spreadsheet for the planning participants to report progress, make notes, and jot down information.
Set Up a Means to Communicate Leading Up to the Reunion
Not only do you have to keep in touch with any family members you ask to help you plan the reunion, but you should also keep those you invite in the loop regarding party updates. Should a date or venue change, you will want to make SURE everyone invited knows about the alteration. Consider setting up a Facebook page specific to your reunion and only invite people who are in the family to join the page. You can post updates at this space, and family members can use it to ask questions, make suggestions, or simply connect before the big day.
Party Must-Haves
Your reunion should be designed to meet the needs and interests of your extended family. As you are the planner, you really can go wild and be creative in what you choose to plan. That said, there are some party must-haves that you probably don't want to pass on.
You Have to Feed Your Family
Hungry guests are never happy guests, so make sure you plan to serve some food or snacks at your family reunion if it is a single-day event. Include vegetarian and gluten-free options for those with dietary restrictions, and have options for children as well.
If you are planning a buffet, keep everything orderly by having a dish sign-up system for volunteers. This helps to ensure the party isn't overloaded with desserts and short on main dishes. It will also alleviate the possibility of four dishes of potatoes au gratin showing up.
Some people plan extravagant, weekend, or week-long retreats for family to relax and reconnect. If this is something you are considering, organize a group dinner reservation each night of the reunion. You will likely need to reserve a room at a restaurant for large parties, or at the very least secure several tables. Be sure to speak directly to a manager and see what the options there are regarding dining reservations. A daily brunch option is also a good idea for retreat-like reunions. You can have the brunch catered at a space people are staying, hire a chef, or make reservations at nearby eateries.
Liven Up the Party
If your reunion is an all-day event, have some activities set aside for guests to partake in. If you will be outdoors, focus on outdoor games, nature scavenger hunts, or organized sports like frisbee golf or flag football. If you will be indoors, consider hiring live music or a DJ, and encourage everyone to let loose and cut a rug.
If your reunion is lengthy and spanning several days, you'll want at least one organized activity planned for each day the family will be together. A guided tour of a museum or aquarium is a great idea if your clan includes many kids. Purchasing group tickets for a professional sport is another popular idea. Organize a boating or canoeing trip or a cross-country ski day if you plan on spending most of your time outside. If your reunion is lengthy and the guest list is long, have two daily excursions for people to choose from. Include one outing for active people and one for those who need to spend less time on their feet. Organizing activity options takes time and communication, especially where purchasing tickets is essential. Having a group email or a group Facebook page is an excellent means to communicate with everyone invited so you can set up daily events in a timeless and efficient manner.
Look at Lodging Options
If you've got out-of-town guests, it's helpful and respectful to offer them lodging options. You can include a section on the invitations for people to mark if they need accommodations. Make a list of potential places to stay that fit their unique needs. If you have a budget or fundraise for future reunions, designate a portion of the budget to reimburse travelers for mileage and lodging to make the reunion more accessible. Another way to save money is allowing guests to stay in local family members' homes for a night or two. Campgrounds are also cost-effective spaces for lodging, and many campgrounds offer large group accommodations at a reasonable price.
Most Important Aspect of a Family Reunion
Without a shadow of a doubt, planning a reunion is an intense process, and it is going to be a hefty project for even the most organized taskmaster. While you might sometimes feel bogged down by the planning, the communicating, and the stressing over details, remember that reunions are a time for connecting and fun. When the big day finally arrives, don't forget to enjoy your hard work and beautiful family.