Hello, introvert. It's me, a fellow introvert. And I don't mean, "I'm an extrovert putting on an introvert hat to give you advice!" I mean, cancel plans because the idea of new people is overwhelming introvert. But you know what we need? We need to meet new people, and even though we don't need much, we need to socialize.
So how do you make friends as an introvert? Can you? The short answer: yes. Let's break down how to make friends as an introvert - painlessly and easily.
1. Start Small
Think back to when you were little. You didn't charge onto the playground expecting to go home with three new best friends that day. Start small, start slow. But that doesn't mean painful small talk. Talk about their band t-shirt, a book they read, or what they've been binge-watching (or quit binge-watching).
2. Join a Club or Team
Having something in common is an easy way to strike up a conversation with someone new. And ensure you don't drift into small talk too quickly. Join a club, such as a book club or sewing circle, or even a professional group that pertains to your career. Even group exercise classes such as yoga, spinning, or pick-up sports teams make for a good start.
3. Check Out a Concert
No one notices if you're at a concert alone - how many times have you noticed who is together at a concert? Hang back, chat between sets, and connect with other concert goers. You have the music in common!
4. Use Your Hobbies To Make a Connection
Take a peek at a local newspaper to see if there are any groups that meet regularly for a game night, games of dart, ultimate frisbee, hiking - whatever it may be. It's easier to bridge the gap between strangers when you already have something in common.
And if you're participating in that activity? You don't need to worry about filling the time or conversations. MeetUp is an excellent source for finding all sorts of hobbies and groups, from books to sports to events.
5. Start Online
Whether in an online forum, through a social media friend app, or social media such as Twitter or Reddit, online friends are real friends. And those can be easier because you're not constantly worried about how fast or slow you can respond, what your facial expressions are saying, and you have full control over when you want to socialize. Bumble BFF is a great way to dip your toes into meeting new people from the safety of your bed, too.
6. Check Out a Book Club
You don't need to hit the cafe after the book club in order to socialize. Readers are good people (okay, so maybe we're biased) but a book club is an easy and very low-stakes way to get some socializing in and possibly forge new friendships.
7. Reach Out to Old Friends
It's hard to keep in touch with everyone that you meet. Especially if you have dabbled in different clubs, communities, and cities along the way. Reach out to an old friend; it doesn't matter if they're local or hundreds of miles away. Reconnecting with an old friend puts you steps ahead and you can skip the introduction.
Quick Tip
Reach out to friends that are on the peripheral of your group, too! The ones you've always wanted to know more. It doesn't need to be face-to-face; sliding into someone's DMs is a great way to make friends.
8. Network With Your Existing Friends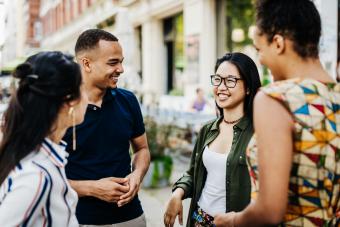 To tell the truth, I'm a lucky introvert. Most of my friends have come from my closest friend that moved away for college! While she has since moved to another state, I'm still very close with her college roommates and friends, and even their wives and husbands! Take a look at your social circle and be willing to hang out with the friends of your friends.
9. Assume the Best
Most people are kind, and while some may have bad days and not be ready for a new friend, allow your heart and hope to lead you to new friends. Andrea Dorfman might be talking about dancing in her poem, but the line "assume it is with best of human intentions" can apply to making new friends too. But the poem is also an excellent how-to for living life as an introvert.
10. Introvert Life Hack: Befriend an Extrovert
You know those extroverts that you need to gear up for, the ones that carry the conversation effortlessly and make new friends everywhere they go? Hang out with them a little extra. Let them break the ice and get the ball rolling. Better yet, let them in on your goal to find some new friends.
Bonus Tip: Consider a Therapist
If you're nervous to put yourself out there or to strike up a conversation with a stranger, seeing a therapist can help you get that much-needed social fill while you navigate the world of making friends as an introvert. They can listen to your fears, anxieties, and trepidations and offer up advice or, at the very least, someone to chat with and practice your social skills in a safe place. In fact, when I moved to Boston and didn't know anyone, having a therapist helped me to come out of my shell and ease into new friendships!
Friendship Starts With a Hello
There's nothing wrong with being a fierce introvert or an introvert that toes the line with ambivert tendencies. But no matter where you are when it comes to your desire for solitude or quality time with another person, it's good to have friends. And all it takes is a "Hello!"