A list of 15 purse essentials can serve as a checklist for everything you need to carry in your purse. When you know what to keep in your purse, you'll always have what you need!
15 Purse Essentials
You can organize your purse essentials with various sizes of pouches/bags. Many people opt to group their essentials together and then choose a specific colored pouch/bag for each group.
1. Makeup
A zipper top cosmetic bag is an excellent way to keep all your grab and go cosmetics together. This can include foundation, mascara, lipstick, eye shadow, lipstick pencil, perfume, and other essential cosmetics you might need.
2. Hairbrush
A hairbrush can take up a lot of purse space, so you can opt for a short-handled, smaller one. If you don't want to go smaller, you may want to purchase an extra one like your favorite hairbrush, so you can keep it in your purse for that last-minute touch up.
3. Feminine Products
You can group your feminine products other in a separate pouch/bag. This grouping should include a couple of extras to ensure you always have enough for any circumstance, especially if you are out on the town or traveling. Make this a mainstay category in your essential purse list.
4. Hygiene Backups
Life can feel like you're always trying to catch up. In your rush to get to class or work, you might forget something important, such as brushing your teeth or applying deodorant. You can keep these and other hygienic travel-size backups in a pouch/bag just for those instances.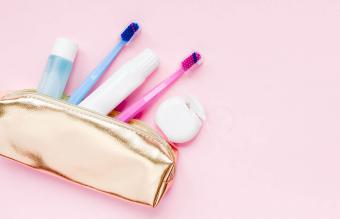 5. Emergency Related Essentials
You may want to include a category for emergency supplies. This pouch/bag can hold things like travel size hand sanitizer, band-aid, antiseptic ointment, small packet of alcohol wipes, and an extra face mask.
6. Hand Care
An important essential category is hand care. This bag will contain travel size hand moisturizer, fingernail file, fingernail buffer, fingernail polish or nail strips, nail polish remover, and nail repair kit. You can also include a pair of disposable gloves for any unexpected situation.
7. Eye Care
Essential eye care may be an important pouch for you to include in your purse. This can contain eye drops, packet of lid cleansing wipes, an extra pair of glasses or contact lens, sunglasses, and blue screen glasses. It helps to consider what things you use at home for eye care that you might want to include in this bag.
8. Nasal Care
You can never have enough tissues. You can include a travel size of facial tissues tucked in one of the open pockets or pouches in your purse for easy retrieval. If you use a nasal spray, then you may need to include a small pouch/bag to keep these together with any other nasal essentials.
9. Medications Pouch/Bag
If you have regular medications you take or if you're being treated for an infection/disease, you'll want to include pill box with your daily doses and maybe extra. You might prefer to carry the Rx bottle. Whatever you decide, keep your pills in their own pouch/bag for easy access. You may want to include ibuprofen or aspirin.
10. Vitamins and Herbal Essentials
If you take specific vitamins and/or herbal tinctures/pills at certain times of the day, then you can keep them handy in their own pouch/bag. If you're using tincture, you may want to select a bag that is lined with waterproof material, in case the glass tincture bottle leaks or breaks.
11. Grooming Kit
A zipper travel grooming kit is a great way to have tweezers, nail clipper and other grooming essentials. If the kit case is too bulky, simply transfer the grooming tools you need into a slender zip pouch or bag.
12. Sewing Kit
You never know when a needle and thread will come in handy. You can select a travel kit in a small self-contained envelope. You may want to add a couple of small safety pins, just in case.
13. Pens, Pencils and Post-Its
You don't want to forget to include a pouch/bag to keep all your pens, pencils and post-it pad together. This bag will need to be longer than most of your pouches. Include a small pencil sharpener so you are always ready to take that test or write a grocery list.
14. Plastic Bag(s)
You never know when you might need a plastic bag. You can use a sandwich size zip top plastic bag to hold a folded plastic grocery bag. You can neatly tuck this away in the bottom of your purse for any emergency.
15. Battery Charger
You can include an emergency battery charger for your cell phone. This way, you'll always have use of your cell phone when you need it. Make sure you regularly recharge your emergency battery so it's always available.
15 Purse Essentials and What to Keep in Your Purse
The 15 purse essentials help you decide what to keep in your purse. You can always choose the essentials if your purse won't accommodate everything.