You can learn how to store handbags properly when you follow 7 easy tips. When you use these valuable tips on how to store your handbags, you can keep your handbags looking like new and enjoy using them for many years.
How to Store Handbags Properly
Some of the tips for how to store handbags properly begin with the very basics, such as cleaning, stuffing, and proper air circulation. Each tip ensures you don't do anything that will damage and reduce the value of your handbags.
Clean Your Handbag Before Storing
It doesn't do any good to take precautions in storing your handbag if it is dirty or soiled. Just using your handbags leaves soil, oils, and dirt behind. You need to remove these prior to storing your handbag. Some experts recommend using non-alcohol and fragrance free baby wipes. If you're concerned, simply use a damp soft towel to go over your bag to remove any accumulated grime. You shouldn't forget to clean the interior of your bag to ensure you store your handbag properly.
For a leather bag, it's best to use a dry, soft cloth. This is especially important for untreated leather bags or natural leather bags since water can stain leather. Although most leather bags will recover from water stains, there's no need to risk damaging your handbag. You can use a commercial leather cleaning solution if you prefer. Just be sure you allow the handbag to dry before storing it.
Don't Hang Handbags in Storage
One of the most popular ways to store handbags is to hang them on the back of a door or a rack. This type of storage can warp your bag or misshapen the purse handles.
Place Handbags on Shelf or Flat Surface
Many people simply store their handbags on the top shelf of a closet. This can be a simple way to store your purses. There are a few problems you may encounter when doing this.
Your closet shelf may not have enough space to accommodate all your purses. When you place your handbags on a shelf, you need to set them, so the purses don't touch each other. You don't want to risk leaving discoloration or marks on your handbags from cramped storage. You need to keep the handbag hardware from touching other handbags. This is especially problematic for patent leather bags, since the leather can be easily discolored or scratched. Another problem is the handle placements. Sometimes the available space between the shelf and ceiling doesn't provide ample room for the purse handles. This can result in the handles being pushed into the handbag or distorted due to the cramped space.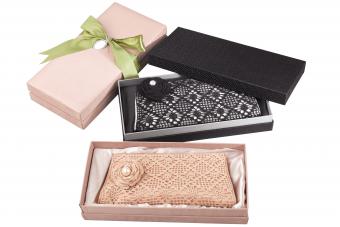 Some people store their purses in the original box. The problem with doing this is a lack of air circulation around the purse. This lack of air movement can create mold and mildew. Some designer bags, like Louis Vuitton bags, are intended to be stored folded flat. You want to properly fold the handbag. This will prevent any unwanted folds in the leather bag and prevent transference of the finish from handles onto the canvas. Some bags, like the Speedy, are designed to be folded underneath the bag:
Zip top closed
Turn bag upside down
Press air out of the center by pushing down
Allow both ends to collapse into center of bag
Press ends further into bottom center
Turn bag over
Zipper is now in center with one handle on either side
Slip folded bag into dust bag
Stuff Your Handbag
The majority of handbags aren't designed to be folded. The best way to store most handbags is to re-stuff them, the same way they were when you bought them. The easiest way to stuff a handbag is to save the original stuffing that came with your handbag. You can use fabric remnants, acid-free paper towel/tissue paper. You should never use newspaper to stuff your handbag since the ink can easily transfer onto the purse lining. Stuffed purses should be stored by setting them flat onto a shelf or flat surface. It's advised to avoid bubble wrap for stuffing your purse since the density of the bubble wrap blocks air circulation and can set up conditions for mold and mildew, especially if you live in a humid environment.
You can also use purse pillows or purse pillow inserts. Purse pillows or pillow inserts are designed to provide structure through firmness. Just slip a purse pillow insert inside your purse when storing it. You can wrap the hardware with acid-free tissue paper, making sure you wrap any expose hardware, such as zip pulls, strap hooks, and buckles. The practice of wrapping hardware will prevent the risk of leaving imprints on the purse.
Store Handbags in Dust Bag or Pillowcase
Most designer purses and some non-designer purses come with a dust bag. You want to take full advantage of this valuable storage tool. If you don't have a dust bag, you can use 100% cotton pillowcase.
Know Where (and Where Not) to Store Your Handbags
When storing your handbags, you want to avoid placing your purses in direct sunlight since this will damage the material and cause fading and cracking. You should select a closet that is dark and dry. There should be adequate ventilation to prevent the growth of mold and mildew. You shouldn't store leather handbags in a high humidity environment since the moisture can cause peeling as well as mold/mildew. In such instances, a small dehumidifier may be all you need to ensure your handbags aren't damaged.
Do a Three-Month Checkup
Every three months you want to give your handbags a quick checkup. You can remove them from the dust covers to inspect for mold, mildew, any cracking, or other signs of deterioration. If you aren't using dust covers, then you'll want to dust each handbag. For leather handbags, you might decide to use a leather conditioner (allow to dry before returning to storage).
Tips on How to Store Handbags Properly
There are many bag storage ideas for small spaces, handbag display ideas for homes, and various ideas for purse storage there are smart and stylish. When you learn how to organize your purses, you can ensure the integrity of your investments.