Getting a promotion at work is very exciting. Not only is it great to advance in your career and get a raise, but it's also terrific to be recognized and rewarded for the hard work that you've already done. Let your boss know you appreciate the vote of confidence by saying thank you in writing. You can do this via a short thank-you note or a formal business letter.
Short Thank You for the Promotion Note
If you and your boss have a close working relationship and are in the habit of communicating via email or text, consider sending a short thank-you note to express your appreciation. You can send this type of message digitally or in writing.
Sample Wording: What to Say
Writing a thank you note to the boss is all about expressing appreciation in a personalized way. For example:
General appreciation: I cannot thank you enough for choosing me for the [fill in with new job title] role in our department. I have enjoyed being part of this team and working with you since I first started. It means so much to have an opportunity to move up and to serve the team in a different way. I know this wouldn't have happened without your support. I appreciate you.
Mentorship/guidance: Thank you so much for promoting me to [fill in with new position]. It is largely because of your mentorship and guidance that I am ready for this step. I am honored to have been selected for this opportunity and cannot wait to get started. I appreciate everything you have done to help me succeed, and I look forward to continuing to work with you long into the future.
Taking a chance: Thank you so much for being confident enough in my abilities to select me for promotion to [fill in with new role]. I know that I am not the most experienced among those who applied. It really means a lot to me that you see my potential and made a decision to select me for this promotion over candidates with more years of experience. I appreciate this opportunity and will work diligently every day to demonstrate that you made the correct choice.
Recommendation: Thank you so much for recommending me for the [insert job title] role with the [insert department name] department. I am so grateful and excited about this opportunity to advance within the company. I will miss working directly with you every day. You have been a wonderful boss. I will always be grateful for your leadership and willingness to recommend me for this promotion.
If your boss recommended you for a promotion that will result in you moving to a different division of the company or a different geographic location, review these sample employee farewell thank you notes for ideas of what to say in that situation.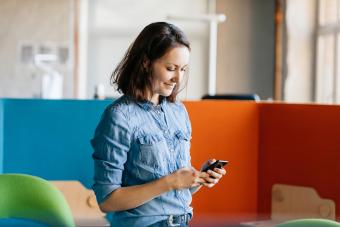 How to Send a Thank You Note to Your Boss
No matter what you decide to say, be sure to send it in a manner that is appropriate for the relationship you have with your boss.
Text: Only text the note if that is the preferred form of communication for your boss. Send it at a time that you won't be in the middle of other text exchanges with your boss, so that the thank-you message doesn't get buried in other items.
Email: If you and your boss primarily communicate via email, put your words of appreciation in the body of an email and use a relevant subject line (such as "Promotion Appreciation" or "Thank You"). Don't combine it with any other information.
Hand-written: For a special touch, consider sending a handwritten thank you note. Use a preprinted notecard or printable template. You can hand-deliver the note, use your company's internal message distribution system, or mail it.
Formal Letter to Thank Your Boss for Your Promotion
If you have been promoted to a new department and don't already have a close relationship with your boss, it's probably more appropriate to say thank you in a more formal manner. In this case, consider writing a business letter of appreciation to share in print form or via email. You can use wording from the thank you note examples, though you'll need to expand a bit to work the message into a full letter.
Letter Template: Thank You for the Promotion
Use an appropriate business letter format, adapting it based on the nature of your relationship. For example, if you and your boss are on a first-name basis, you don't have to open with a formal greeting. Feel free to use the template below as a starting point for your letter, adjusting the text as needed to apply to your situation. Just click the image and a customizable PDF printable will open. Click anywhere to type, then save to your computer.
This guide to PDF printables should provide any assistance you might need with the document.
How to Send a Thank-You Letter to Your Boss
There are a few different options to consider when you've chosen to send a full letter of appreciation to your boss.
Printed format: If you want to provide a printed letter, you can hand-deliver it to your boss or send it via the company's internal mail system. Or, if you work remotely, you'll need to send it via postal mail.
Email attachment: You can send the letter as an email attachment. If you choose this option, be sure to save your letter as a PDF, so it will appear like a properly formatted letter no matter what word processing software your boss uses.
Body of an email: You could copy the text of your letter into the body of an email message. In this case, you don't need to include the address or date at the top of the letter. Just start with "Dear [Name]," and move directly to the first paragraph.
If you do opt for email, consider if it might be a good idea to copy your boss's boss on the message. After all, if the higher-ups know how great of a supervisor your boss really is, you might actually help put your boss on track to being considered for a promotion as well.
Say Thanks for the Vote of Confidence
When you get a promotion, that means that your boss is confident in your abilities and has chosen you to move up. After all, your boss is most likely the person who had the most influence regarding the decision to select you for advancement. Surely a vote of confidence like this deserves a thoughtful thank you note or letter. Use the examples provided here as inspiration to draft a meaningful thank-you message to share with your boss. Your thoughtfulness is sure to provide a bit of reinforcement to the boss that promoting you was the right decision.