Makeup for eye allergy sufferers should be gentle and natural. Many products are designed for those with sensitive eyes and will not cause irritation when worn.
About Eye Allergies
Allergies can be caused by numerous things from environmental to cosmetic. There are endless triggers that can cause your eyes to swell and become puffy and irritated. Does this mean that you need to stop wearing makeup and let your eyes be bare? Not necessarily. There are several options that can be used to help stave off further irritation to your sensitive eyes.
Best Brands of Makeup for Eye Allergy Sufferers
Those suffering from eye allergies need to be careful when choosing to wear makeup around their eyes. There are certain ingredients in makeup that can cause irritation and discomfort for those already suffering with allergies.
When shopping for eye makeup, be sure to choose brands that are made for sensitive eyes and always read the labels to make sure that there are not any harsh chemicals that may bother your eyes in them. Look for makeup that is free of fragrance as well since it can be irritating to your eyes. Many brands will clearly state that they have been dermatologist tested and approved by ophthalmologists. They may also state that they are hypoallergenic as well.
Almay
Almay is frequently mentioned as a good option for sensitive, allergy-prone eyes. Beyond that, part of the beauty of Almay products is that you can get them at drugstores and Ulta, so you won't need to go out of your way to place an order online or make a special trip to a department store. Some of their products are specially formulated for sensitive eyes and contact lenses, and since they are available at drugstores can be found at affordable price points.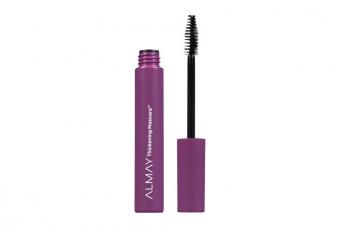 Clinique
Clinique is well-known for being gentle and great for sensitive skin, sensitive eyes, and contact lenses (which can make your eyes feel more sensitive). These products, from eyeliner to foundation, don't have any known allergens, so it's a good brand to try if all others seem to bother your eyes.
Health magazine points out that you should wear black mascara instead of any other color, as black dyes tend to be more eye-friendly than the more colorful ones. That same article warns against using waterproof formulas because they're harder to remove, however, so you may have to experiment to see which kind works best for your eyes.
Health recommends Clinique High Impact Mascara (around $20.00) for sensitive eyes. Total Beauty echoes that recommendation, adding that ladies with sensitive eyes should steer clear of lengthening mascaras with fibers because they can flake off into the eyes and cause irritation. This formula is designed to resist smudging and provide deep, dark color. It makes lashes look longer and fuller without fibers.
Fix Your Skin calls Clinique "the best hypoallergenic makeup you could ask for your skin and your eyes." They recommend the Brush-on Cream Liners (long-wearing and waterproof but can be smudged out right after application, under $20.00), Brow Shapers (pressed powder that comes with an angled brush for under $20.00), cream and powder shadows (prices vary), and waterproof kohl liners (under $20.00) that can give you a crisp or smoky line, have a built-in sharpener, and come in brown or black .
Physicians Formula
Jezebel recommends another drugstore line for sensitive eyes: Physician's Formula. Favorites include eyeshadow that also works as a bronzer, fine-tipped liquid liner, and wet-to-dry shadow. Allure also mentions them in their allergy-friendly mascara roundup and Total Beauty recommends their concealer. Try the:
Shimmer Strips (the eyeshadow/bronzer product, though other shades are available) for just over $10.00 per set of five shades. These can be used separately or swirled together on the eyes or face.
Eye Definer Liquid Eyeliner (under $10.00), which is a felt-tip eye marker that's meant to go on without pulling at the skin. It's available in black.
Physicians Formula Organic Wear 100% Natural Lash Boosting Mascara (around $10.00), which boosts length and volume not just while you're wearing it, but overall. It has ingredients that promote lash health, so your lashes become longer and stronger over time.
100% Pure
100% Pure is a makeup and skin care brand that is dedicated to providing natural products that are free from toxins and harmful ingredients. They do not use artificial colors or fragrances, nor do they use synthetic chemical preservatives in any of their products. The brand was covered on The Derm Review website, which cites the "generally positive" user reviews online. This brand was also recommended by ELUX magazine as one of the best natural makeup brands.
Products that get high ratings and reviews from the brand include:
Fruit-Pigmented Eye Shadow: This product blends easily, doesn't irritate, and lasts all day, according to reviewers. Available in 12 different shades, this eye shadow is available for about $20.00. It is vegan and formulated with fruit pigments instead of synthetic dyes.
Creamy Long Last Eyeliner: This eye liner is designed with soothing jojoba oil and shea butter that make it glide on smoothly. Users report that it doesn't cause stinging or itching, and it lasts all day. It is available for about $26.00 and comes in Dark Cacao, Royal, Gleaming Pewter, and Blackest.
Kiss Freely
Recommended on independent blogs such as Busy Bee Kate, Kiss Freely is a brand that strives to offer products that are free from common allergens, including the top eight known food allergens (some women that have allergic reactions to makeup find it may be because of gluten or soy). Products to consider include:
The Kiss Freely Eyeliner (available in black; about $22.00) has only five ingredients, and it is vegan and gluten-free.
Kiss Freely Eye Shadow comes in four shades (Taupe, Tickled Pink, Pumpking, and Pixie Dust) for about $13.00 each. Again the ingredient list is kept simple to prevent reactions and irritations, containing only micas, oxides, and clay.
La Roche-Posay Toleriane Waterproof Mascara
Vogue and Bellatory recommend La Roche-Posay Toleriane Waterproof Mascara (about $45.00) because it can stand up to the occasional tear without smudging, makes lashes look thick, doesn't have parabens or fragrances, and doesn't flake. This product has been allergy-tested.
Consider Cream Eyeshadow
No matter which brand you like, Total Beauty points out the need to use cream shadows instead of powders, but still steer clear of high-shimmer, glittery, and metallic shades as they can still irritate your eyes. The pigments in powder and cream formulas are different enough that the powders can cause more eye irritation than the creams. The article at Total Beauty does say that if you can't let go of your powders, at least use a shadow primer first. It'll give the powder something to adhere to so it's less likely to end up in your eyes. Try:
Maybelline Eye Studio Color Tattoo 24Hr Cream Gel Shadow (under $10.00 each), which could stay on for up to 24 hours. You can apply it with your fingertips, so it's a low-maintenance option.
The Fashion Spot recommends the Clarins Ombre Matte Cream-to-Powder Eyeshadow (about $20.00) because it gives you a shimmering finish without the risk of big chunks of glitter or other particles falling into your eyes. It's available in several colors and ophthalmologist-tested, too.
Trial and Error
Unfortunately, no brand or product will work for everyone with eye allergies so there will still be some trial and error involved in your search for products that won't irritate your eyes. Dr. Noëlle Sherber in an Elle article on cosmetic allergies suggests that a patch test is a good way to narrow down if you are having a reaction to a specific cosmetic product. Unless you already love a particular brand, try starting with the drugstore recommendations to save money. Check the store's return policy before making a purchase so you won't be out of luck (and money) if something doesn't work for you.