You want style but practicality when it comes to finding the best organizer wallet designed for women. Organizer wallets feature credit card slots, zip pockets, open pockets, and other valuable components.
Ideas for Best Organizer Wallet Styles Designed for Women
A few shopping ideas can help you narrow the search for the perfect wallet designed to meet your needs. Consider what items you need to accommodate and set these are your search parameters.
Women's Checkbook Wallet Organizer
Buxton Heiress leather checkbook clutch wallet is made with washed top-grain leather with embossed floral logo oval. The exterior features a slip pocket with snap and zip around closures. The interior features checkbook slip, ID window, seven credit card slots, and eight slip pockets. Available in red and black for around $40.
Kipling New Teddi Wallet
The Kipling New Teddi Wallet (formerly Brownie) offers a world of function at an affordable price of around $34. Made of crinkled black nylon for a stylish finish, this wallet offers 12 credit card slots, gusseted open pockets for frequently used items, one interior zip pocket, and two ID slots.
Women's Credit Card Wallet Organizer
The Anuschka Wallet on a String 1834 brings style and organization. With a gorgeous hand-painted, tropical bouquet exterior, this wallet features front and back zipper pockets. This opening flap features a snap button closure. This wallet wristlet has an adjustable and removable handle. The interior offers 20 credit card slots, four slip pockets, and a gusseted interior compartment with a double snap button closure. This wallet sells for around $132.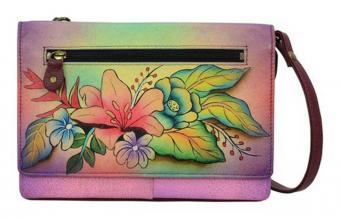 Women's Travel Wallet Organizer
Travel wallets are some of the most organized and functional styles around, and the Victorinox Travel Organizer is no exception. The zip-around enclosure keeps items secure and your credit cards safe from theft with built-in RFID (Radio-Frequency Identification) protection. This travel organizer features an exterior slip pocket. The interior features include, 11 card slots, two-section slip pocket, large zip pocket, ID slot, clear zip pocket, and a pen slot. The price is around $40.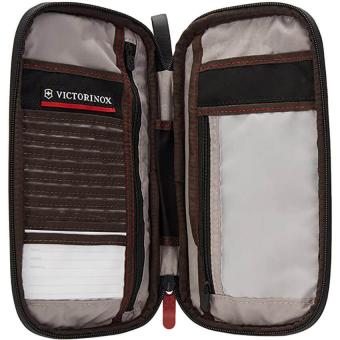 Brighton Bellissimo Crossbody Wallet Organizer
The Brighton Bellissimo Heart Downtown Organizer is the only wallet you'll ever need. Finished in a black patent, croco embossed finish of high-gloss leather, this wallet shows off a Balinese heart design. The wallet features double zip top with four interior pockets, eight credit card slots and one exterior pocket, making it a stylish choice. This wallet can double as a crossbody accessory or masquerade as clutch when you remove the strap. It's priced around $240.
Women's Leather Cross Body Wallet Organizer
Duluth Trading Co's Women's Lifetime Leather Organizer Wallet is packed with great features. The exterior features a convenient zip pocket. Inside you'll find a divided bill carrier, six credit card slots, interior zip pocket, ID window, and a pouch that runs the full width of the wallet. The adjustable 48" strap is detachable in case you wish to use it as an organizer wallet purse.
Travelambo Womens RFID Bifold Wallet
Amazon's Choice Travelambo Womens RFID Bifold Wallet features two exterior zipper pockets. You can stash cash, coin and your phone, then snap the two pocket together for a secure wallet. Between the two zip pockets are 18 credit card slots. This unique wallet is available in 41 colors! Made of PU vegan leather, it sell for around $15.
Toughergun Womens RFID Small Compact Bifold
Amazon's Choice Toughergun Womens RFID Small Compact Bifold is a great choice for anyone wishing to keep everything simple. The bifold closure make this wallet easy to slip into your purse. The RFID blocking feature adds security to any credit cards you carry in the six card slots. This wallet also features one zipper coin pocket, one ID window and one cash slot. This wallet is available in 45 colors and sells for around $9.
Specialty Wallet Organizers
The organizer wallet you need may require special features. There are various types of wallet organizers that are designed for specific needs.
Militray Wallets
Military personnel may benefit from a specialty organizer wallet. The BDU compact organizer wallet can accommodate most essential items. This wallet organizer features a fob with a clip, zipper closure, snap on/off strap, lanyard strap with a clip. Costs around $14.
eBags Heiress Double Zip-Around Coupon Indexer
Avid couponers may need a wallet like the eBags Heiress Double Zip-Around Indexer. This wallet has a slide pocket on the front exterior along with a thumb slide out ID window and mirror. The exterior also boasts a zip pocket and a slide out pocket. Inside you'll find two zip around compartments, four utility/stash pockets, a deep currency.coupon pocket, zip coin compartment, key fob, and 11 credit card slots. Available in red or mahogany for around $24 to $26.
Additional Options
Other possible speciality wallets include:
Large organizer wallets for people with low vision: Designed with easy to use openings and larger slots, there are several types of wallets made for those with low vision. These may have magnifiers, lighted lenses, make audio noises or beeps, or have unique separated compartments to identify different bills.
Medical or diabetic organizing wallets: Diabetics or those taking certain medications may need a medical wallet organizer. These may be designed to enclose pills or insulin supplies and may additionally have pockets of other storage for additional daily necessities.
Organizer neck wallets: Those that need their hands free due to being differently abled, handling luggage, needing to have ID shown for employment, or any other reason, may benefit from a neck organizer.
Features to Look For in an Organizer Wallet
Although everyone has individual needs when it comes to finding the perfect wallet, there are also some general features to look for. A great organizer wallet:
Is a comfortable size
Offers quick and easy access to the things you need
Is large enough to stow things that are essentials, but doesn't waste space for things that aren't
Has secured or zippered pouches or compartments for loose change and other small items
Has an efficient way to store paper money
Has card slots or a place for ID, insurance card, credit card, or other card necessities
Is durable enough to resist wear and tear from riding around in a handbag or pants pocket
Assess What You Need
Now that you know in general what to look for, think specifically about the types of things you want and need in a wallet. Do you carry a checkbook regularly? A framed checkbook wallet organizer might be the organizer wallet for you. Do you need an ultra thin wallet? A money clip or card-case wallet might be the organizing accessory for you. Need something small, functional, and water-resistant? A mini sports wallet might be the perfect find.
Create List of Wallet Features Desired
List items you usually carry and then think about the features you do and don't like about your current wallet. A snap pouch for change, for example, might be easily accessible, but might become disorganized and allow change to slip out if jostled. A more organized option might be a zippered change compartment.
Finding the Best Organizer Wallet Style of Women
You have many choices when it comes to women's organizer wallet styles. Whether you need a wallet organizer for work, travel, special needs, or just everyday life, you're sure to find plenty of stylish and functional ones.